RGN - Growing the Rural Economy

Friday, 7 February 2014 from 09:30 to 16:30 (GMT)
Event Details
36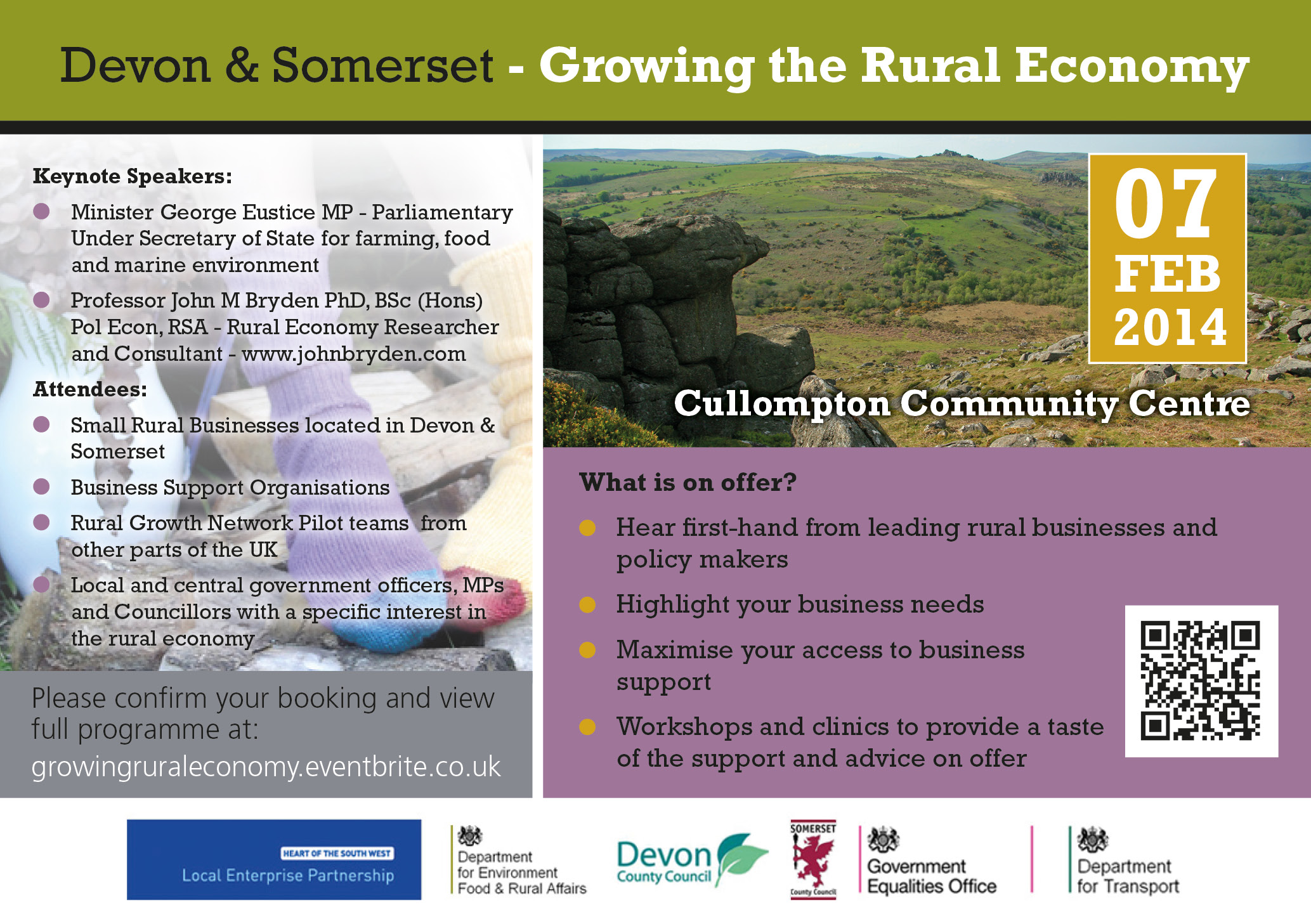 DRAFT RGN Event Programme
Growing the Rural Economy 
Purpose of event: To highlight to businesses and organisations in rural areas of the Heart of the SW, the current work that is underway to support the rural economy, and to engage them in discussions as to how, in light of this, future activity should be shaped and what may be missing.
Audience:
Other RGN's nationally
Defra including RGN / REG teams nationally
Rural Micro Businesses (Devon & Somerset)
Business Support Organisations & Providers
HOTSW RGN Project Leads
When: 7th Feb 2014
Where: Cullompton Community Centre
LEP RGN Board Chair Stephen Bird to host.
Time

Duration

Name

Organisation

Content

10.00

15 mins

Stephen Bird

SWW / LEP

Welcome & Introduction

10.05

20 mins

Minister George Eustice MP

DEFRA

Future of Rural Growth policy

10.25

20 mins

John Bryden

Rural Growth Expert

What makes Rural Development Work EU connection & eg's – ingredients for growth and parallels with the EU.

10.45

15 mins

Matt Lobley

University of Exeter / RGN project

Family succession planning

11.00

25 mins

Morning break

11.25

10 mins

Dr Sam Walls

SW Archaeology

 TBC

11.35

15 mins

Richard Soffe

Duchy College

Rural Training

12.50

10 mins

James Morrish

Kivells

Holsworthy RGN Capital Project

12.00

20 mins

Nick Cork 

Andrew Cooper

Colin Tyler

SW Food & Drink

Wild Beer

Radfords Fine Fudge

Innovative Food & Drink manufacturing in Devon & Somerset

12.20

15 mins

Nick Ames 

Supacat

Manufacturing growth  in Rural Areas

12.35

15 mins

Questions to the panel

12.55

5 mins

Stephen Bird

SWW / LEP

Round up followed by LEP strategic overview of rural issues

13.00

45 mins

Lunch break

13.45

45 mins

Break out facilitated sessions to seek business views on key issues for the rural economy and what's missing, picking up on inspirational speakers from the morning. To be facilitated by Exeter University. 

14.35

15:10

15:45

 

Delegates choose three workshop session slots listed below (see important information below). All workshops offer the opportunity for further support following the event.

The workshops will include:

Phil Halse (SW MAS): Manufacturing Support – New Markets – New Opportunities. (Manufacturers only)
Emma Collum (UKTI): Opportunities and pitfalls of moving into an export market
Andrew Lightfoot (SWIG): Alternative Finance
Kevin Balding (DCC Procurement): Trading with / supplying the public sector
Ali Cox / Sue Hensman (Peninsula Enterprise): Superfast Business Initiative
Richard Soffe (Duchy College): Apprenticeships
Lucie Renny  / Dave Morgan (Enterprise Europe Network SW): Intellectual Property Rights
Jan Spenser (Women's Development Unlimited): Women Led Enterprise
Business advisers (RGN): General Business Support

 

30 mins each

16:15

15 mins

Quick closing remarks by chair.

Finished at 16:30
Follow the conversation on Twitter using #growruraleconomy
Here is a link to the Cullompton Community Centre website with travel and contact information. http://cullomptoncommunitycentre.org.uk/contact-and-find-us
Important Information on Booking Workshops
More information about the 9 workshops and how to reserve your place will be available in the next stage of the booking process. Please follow the instructions on the booking confirmation page.
When & Where

Cullompton Community Centre
Pye Corner
EX15 1JX Cullompton
United Kingdom


Friday, 7 February 2014 from 09:30 to 16:30 (GMT)
Add to my calendar
RGN - Growing the Rural Economy