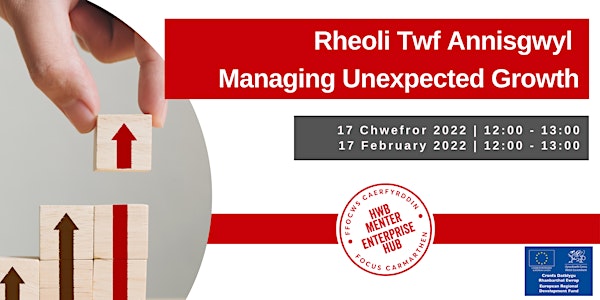 Rheoli Twf Annisgwyl | Managing Unexpected Growth
Rheoli Twf Annisgwyl | Managing Unexpected Growth
About this event
MI FYDD Y SESIWN HON YN CAEL EI GYNNAL YN SAESNEG AR-LEIN. Mae yna ddogfennau Cymraeg ar gael os oes angen.
THIS SESSION WILL BE DELIVERED IN ENGLISH ONLINE. Welsh documents are available upon request.
------------------------------------------------------
Nid oes unrhyw gyfyngiadau ar yr effeithiau sydd wedi wynebu busnesau yn sgil Covid-19. Un enghraifft bosib yw cynnydd annisgwyl mewn twf, sydd wedi herio adnoddau a chynhwysedd eich busnes. Mae rheoli'r twf hwn yn effeithiol yn allweddol er mwyn cynnal eich busnes ar y tir newydd rydych wedi ei ennill, yn hytrach na gweld dychweliad at y lefelau cyn Covid.
Beth fydd cynnwys y cwrs?
Yn ystod y weminar hon byddwn yn ystyried:
Sut i asesu twf busnes yn y tymor byr, canolig a hir
Sut i greu cyfres glir, weithredol o amcanion i ddiwallu anghenion newydd a galluogi busnes fel arfer
Sut i ymgorffori twf annisgwyl i'ch strategaeth fusnes ehangach
Ar gyfer pwy mae'r gweithdy hwn?
Mae'r gweithdy'n agored ar gyfer pawb o fewn y gymuned sy'n awyddus i ddysgu am reoli twf annisgwyl. Mae'n addas ar gyfer sefydliadau cyn ac ar ôl cychwyn fel ei gilydd.
Cefndir y siaradwr
Mae'r Hwb yn uno gydag Adeiladwr Busnes NatWest ar gyfer y digwyddiad hwn. Mae Adeiladwr Busnes yn offeryn digidol sydd wedi'i ddylunio i roi'r cymorth cywir, ar yr adeg gywir i chi a'ch busnes.
P'un a ydych yn chwilio i ddilysu syniad, dod o hyd i gwsmeriaid newydd neu archwilio'r opsiynau cyllido sydd ar gael i chi, mae cymorth ar gael ar-lein 24/7, gan gynnwys modiwlau digidol, mynediad at gymuned ar-lein a digwyddiadau cyffredinol. Os ydych yn dal i fod yn y camau cychwynnol, neu eisiau tyfu, cymerwch eich camau nesaf yn hyderus.
******************************************************************************************************
There's no limit to the impacts that businesses have been faced with in the wake of COVID-19. One example may be an unexpected increase in growth that has stretched your business resources and capacity. Effectively managing this growth is key to maintaining a building on the new ground you have gained, rather than seeing it return to pre-COVID levels.
What will the event cover?
During this webinar we will consider:
How to assess business growth over the short, medium and long term
How create a clear, actionable series of goals to meet new demands and allow them to become business as usual
How to incorporate unexpected growth into your wider business strategy
Who is this workshop for?
This workshop is open to all within the community who are looking to learn about managing unexpected growth. It is suitable for both pre and post-start organisations.
About the speaker
The Hub is teaming up with NatWest Business Builder for this event. Business Builder is a digital tool designed to give you the right support, at the right time for you and your business.
Whether you are looking to validate an idea, find new customers or explore the funding options available to you, there is support available online 24/7, including digital modules, access to an online community and wraparound events. If you're still in the idea phase, or looking to grow, take your next steps with confidence.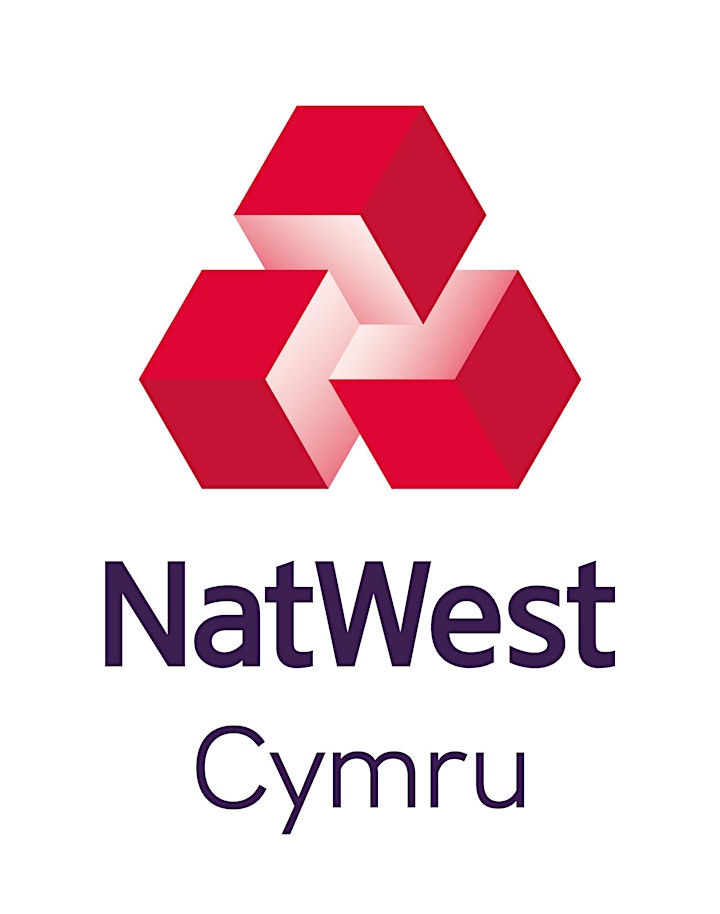 Mae Hybiau Menter Ffocws yn darparu gofod arloesol i ddeori a sbarduno busnesau newydd a'r rhai sy'n ehangu. Mae Hwb Menter Ffocws y Drenewydd a Hwb Menter Ffocws Caerfyrddin yn cael eu hariannu'n rhannol gan Gronfa Datblygu Rhanbarthol Ewrop trwy Lywodraeth Cymru
Mae'r digwyddiadau a ddarperir neu a gynhelir gan raglen Hybiau Menter Ffocws Llywodraeth Cymru am ddim ac yn agored i bobl o bob oedran, ond rhaid archebu lle ymlaen llaw. Mae'r niferoedd yn brin a disgwyliwn alw mawr am lefydd, felly archebwch yn gynnar i ddiogelu'ch lle.
Focus Enterprise Hubs are an innovative space to incubate and accelerate new, and growing businesses. Focus Newtown and Focus Carmarthen Enterprise Hubs are part funded by the European Regional Development Fund through the Welsh Government
Events delivered or hosted by the Focus Enterprise Hubs programme for the Welsh Government are free and open to all ages but must be booked in advance. Please be advised that numbers are limited and we expect high demand for places, so book early to secure your place.