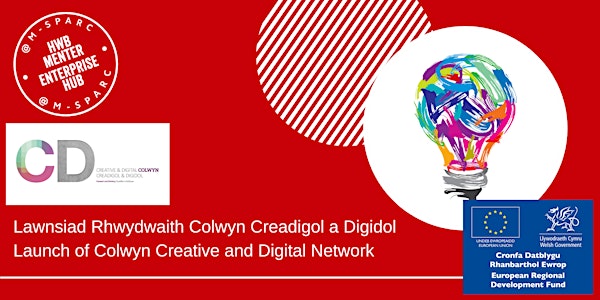 Rhwydwaith Creadigol a Digidol Colwyn /Creative and Digital Colwyn Network
Lawnsio Rhwydwaith Creadigol a Digidol Colwyn / Launch of Creative and Digital Colwyn
About this event
(Scroll down for English)
**GWEMINAR AR-LEIN**
Lawnsiad sesiwn rhwydweithio ar gyfer busnesau craedigol a Digidol neu unigolion sydd yn edrych i gychwyn busnes eu hunain o fewn y sector .
Bydd y sesiwn yma yn cael ei gynnal yn Saesneg.
Ymunwch â'r Hwb Menter a Imagine Colwyn Bay ar gyfer sesiwn rwydweithio gyda busnesau a unigolion sydd eisiau cychwyn busnes o fewn y sector creadigol a digidol. Bydd y sesiwn yn gyfle i glywed gan fusnesau profiadol ar sefydliadau sydd yno I'ch helpu ar y siwrne. Cyfle i ddysgu am y cyfleoedd busnes sydd ar gael ac i adeiladu cysylltiadau yn y sector hwn sy'n tyfu'n gyflym!
Ariennir yr Hwb Menter yn rhannol gan Cronfa Datblygu Rhanbarthol Ewrop drwy Lywodraeth Cymru.
- - - - - - - - - - - - - - - - - - - - - - - - - - - - -
**ONLINE WEBINAR**
Launch of a new networking session for creative and Digital businesses or individuals looking to start their own business within the sector.
This session will be conducted in English.
Join the Enterprise Hub and Imagine Colwyn Bay for a networking session with businesses and individuals wanting to start a business within the creative and digital sector. The session will be an opportunity to hear from experienced businesses and organizations that are there to help you along the way. Learn about the business opportunities available and build contacts in this fast-growing sector!
The Enterprise Hub is part funded by the European Regional Development Fund through the Welsh Government.