Description
You are invited to a different kind of musical event hosted by the Bagel Shop.
Rhythm and Roots is set to be a beautiful gathering of powerful, emotive and stirring sounds to fundraise for two inspiring causes. This event is part of a response to our awareness of the state of ecological and social crisis upon the Earth. We see the threat of extinction from the climate emergency, and every day we witness the oppression of vulnerable people through an intolerant system.
We are holding this event as part of our initiative to act on these heart-breaking, hard to swallow truths. With this intention in mind, we have invited a collective of incredible medicine musicians to make some noise to aid our mission. They carry with them songs that will move us all, sounding the call of the Earth and an elevation of human consciousness that stands for change. This is sure to be a gathering of wonderful souls and sound people with positive intentions. It will be a gift for our hearts and ears, including live music, DJs and the opportunity to shake and stomp our cares away in a euphoric Ecstatic Dance session. It is our wish that the energy created from this event will seed a great deal of good deeds and help many people.
To support this event, The Bagel Shop will be a offering a delicious free Vegan Bagel for every ticket sold. **SOME TICKETS AVAILABLE ON THE DOOR, HOWEVER THE VEGAN BAGEL MIGHT ONLY BE AVAILABLE FOR PRE-PURCHASED TICKETS (we need to know numbers).
There will also be an array of other treats, including Ceremonial grade CACAO and swanky fruit mocktails available for purchase. All are welcome, all are related. See below for our causes and line up.
Doors open 6.30pm / Opening ceremony 6.45pm / First act 7.00pm
ALL PROCEEDS FROM TICKET SALES SHALL GO TOWARDS THESE CAUSES:
CAUSES
THE FELLOWSHIP OF THE TREES:
The Fellowship of the Trees is one branch of a conscious environmental action group of individuals called to ground their care for the Earth and bring it into action. Inspired by our deep love for the Earth, sacred ways and the recent call to action from Extinction Rebellion, we are a meeting of minds and hearts in celebrated co-creation. Our project is dedicated to the intentional planting of mass trees in response to the climate emergency. We are a collective of dedicated people from all walks of life, celebrating diversity, difference but with a shared dream. We are all ready to step up and own responsibility for our earth. Each tree we plant will carry a prayer and an intention for the Earth, we will plant trees giving thanks for our ancestors, and with hopes and wishes for those yet to come. Our over-arching mission is that our work may be part of the SOLUTION to the current ecological crisis. We plant seeds of hope in these times of uncertainty. We hope to inspire solidarity in communities and embody authentic guardianship to bring the earth and our minds back into balance. In the longer term, we see this expanding into a fully thriving diverse guardianship platforms welcoming other committed, courageous and caring individuals to form new Fellowships in all elements and areas. We want to create platforms that make it easy for everyday people to step into caring action in support of community.
In the first instance and the first wave, our project will target areas where it is free and available to plant trees. The funds we are raising from the crowdfunder will go towards the costs of the trees, promotion, our expenses and tools in being able to achieve this mission. We shall plant as many trees as possible and build strong communities.
In the second greater wave, we intend to use the funds that have lovingly been shared with us to buy land in which we can plant our trees, and they will be protected. On an even grander scale, our prayer is that we can collaborate with community and social projects, empowering vulnerable individuals and children to join us. We aim to promote opportunities, supporting those who may currently be in darkness or feel lost to find direction in offering service to these sacred lands.
As part of this wider vision we would also hope to create space in which we can practice sacred ceremony, prayer and offering to the Earth. We would aim to use our protected lands as a safe space for healing and for the return of tribal ways of being. We would hope that the Guardianship platforms expand and multiple Conscious actions were carried out together.
EARTH STAR C.I.C
Earthstar C.I.C's vision is to create a safer future for our planet by providing a web of support in the North of England for the most vulnerable among us whilst replanting our forests with much-needed trees. We aim to do this by offering services to the homeless and vulnerable which coincide with economically friendly living. We envision the construction of mobile shelters in cities and the transformation of derelict buildings into well-being centres offering high-vibrational food, haircuts, shelter, showers and support from trained staff. Eventually we wish to employ resources into the building of replanting of our country's forests, namely Sherwood with the intent of opening job opportunities in this work for those without. By supporting the most vulnerable, we visualise the support of our planet.
ARTISTS
JARRALOO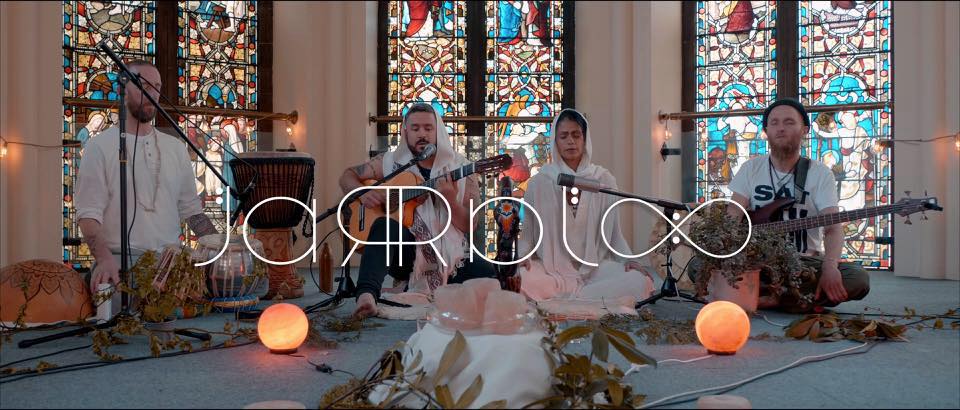 JarraLoo's music is infused with sounds from around the world. Coming from a place of love and high frequency, the music is a gift, not to be performed but offered for healing, awakening and positive vibes , their music takes your hand and gently leads you into the new earth. Manchester based JarraLoo's music is usually played in sacred healing circles but is now finding its way out into festivals and amazing venues around the UK. Combining their shamanic path with the Technologies of Kundalini, JarraLoo will also be holding special healing sound journeys interspersed with the live music, icaros, mantras and gong. You could say this is more than music but music is everything.
https://www.facebook.com/JarraLoo-2302141393440718/
OLIVIA FERN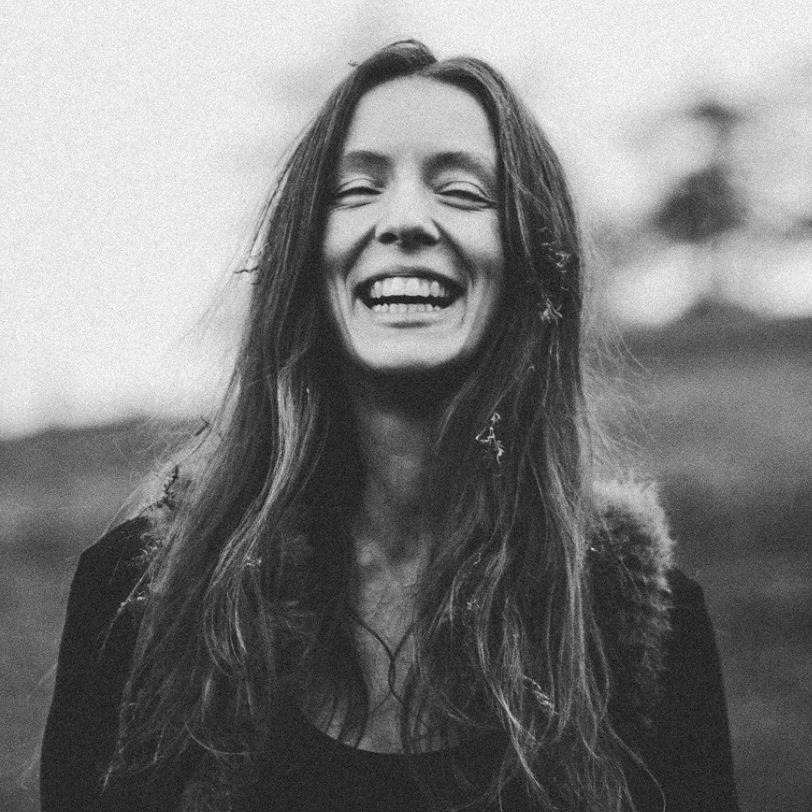 Heavily inspired by the earth and its wisdom Olivia's music is soulful and deep and has been described as medicine for the soul.

"Incredible melodies, voice, lyrics and soul." – BBC Introducing
"Close to haunting, touching upon the surreal, the simplicity, the voice, the tastefulness & the way it carries me somewhere…."- Bandcamp Review
"Olivia's music is fervent and earthy- reflecting the depth of her spirit and soul. With vocals more haunting than a graveyard full of lost souls, a captivating presence and a truly beautiful voice. Expect goosebumps"- Beatherder Festival
https://oliviafern.bandcamp.com/
LUCY WYLDE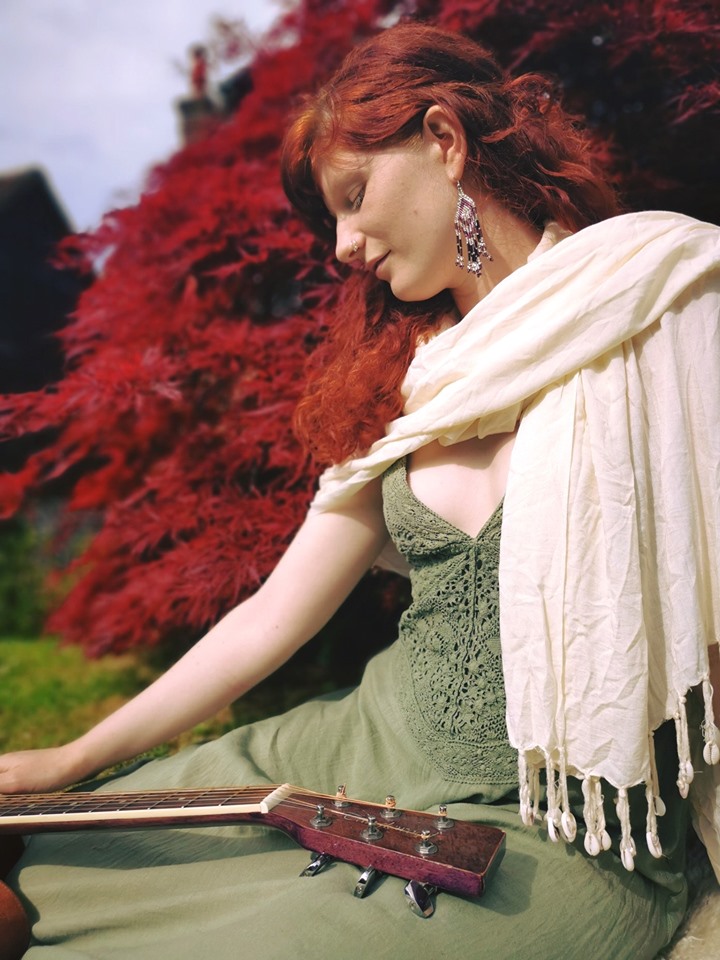 Lucy Wylde, Singer/Songwriter/ Voice worker from East Devon, has been described as celestial, unique and unforgettable in her vocal tone. Her spiritual path has set her on a journey to bring people together through her music, to bring a sense of atonement (at-one-ment). She works closely with the healing/ folk/ spiritual community in Brighton and is progressing her work further, sharing her knowledge on 'The healing voice' through workshops across the UK.
Her insights and intentions through her songs are closely displayed in her emotive response with each song bringing a different landscape to your ears. Lucy Wylde is passionate about her creative lifestyle and is working to build this life into a full-time commitment.
She is striving towards recording an EP this spring with a well known producer in the spiritual-folk community and will be releasing and touring later this year.


SILKEN EYES
Inspired from an eclectic source, Silken Eyes - an up and coming band formed by Identical twins - use the power of story telling to drive their audience into dance. Four years of former band experience and producing for other artists has led them to understand what really gets people moving and grooving. Emotional yet hearty lyrics accompanied with uplifting rock riffs and melodic motifs will be sure to bring their audience through a memorable journey. The twins are currently in the process of part-recording/producing an EP each to share with the world with the intention of inspiring and empowering others to express their voice.
DAMIEN MAHONEY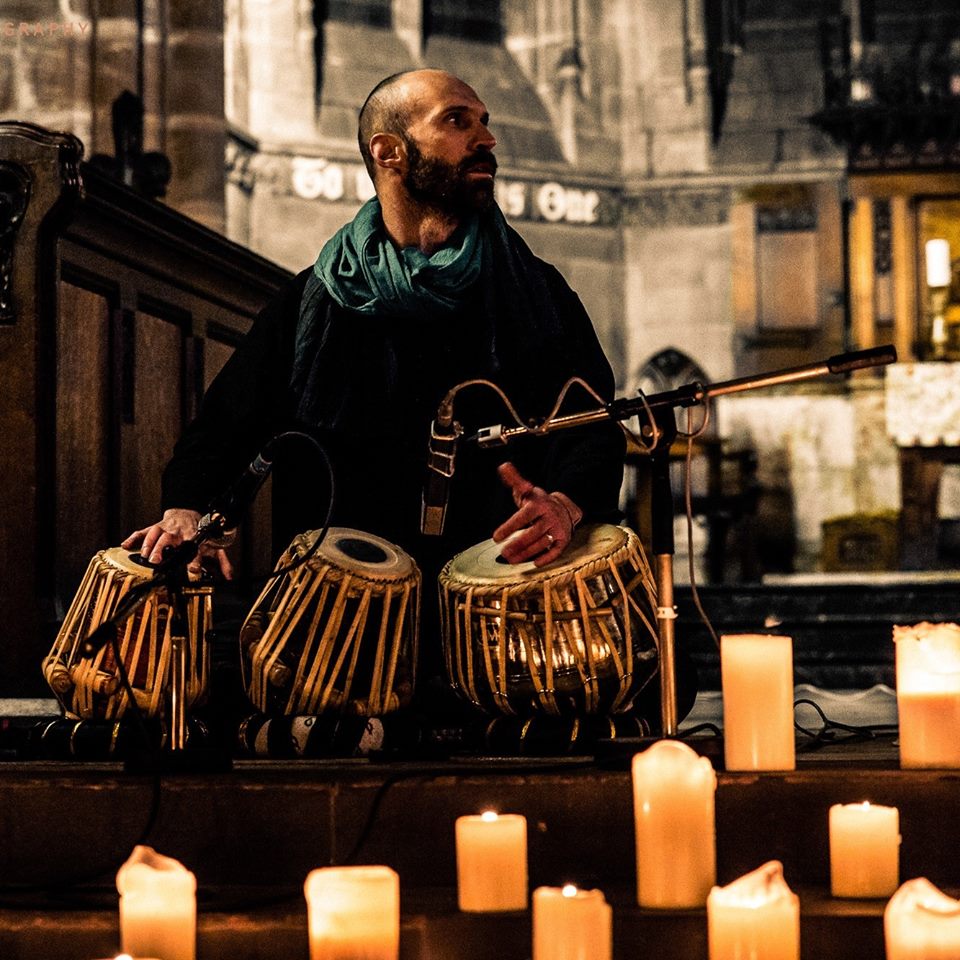 Damien is a vocalist, percussionist and producer based in Manchester. A student of tabla in north India, he has collaborated in live fusion performances with many artists including Ravi JI (world renowned Kora player and multi instrumentalist), beatboxer Jason Singh and played with Gnawa Master, Maalam Azouz Soudani (Morocco) Damien is the writer and co-lead singer with Caulbearers, an 8 piece Manchester ensemble creating archaic funk fables and soul migrations. Described as roots music from the rainy city, this is psychedelic soul with poetic, social observation. An album of their material is due to be released later in 2019. Passionate about the healing power of sound, Damien regularly provides live music for therapeutic events including meditation, dance, breathwork and yoga sessions, retreats and ceremonies. This work includes the live improvisation trio, The Order Of Love. He is the curator of 'Music As Medicine', a live music event aiming to bring communities together through the healing power of sound and music, performance and dancing, drawing on world influences and encouraging collaboration and improvisation between artists. Damien has performed, produced and recorded in many styles. His creative output and collaborations span from funk, soul, and reggae, through acid house, balearic dub to Indian and Afro beat influences. Commercial releases range from remixing a major R+B artist for EMI through to underground DIY collective projects, with international compilations and radio documentary soundtracks along the way. Recent collaborations with RSC soundtrack composer, Sarah Sayeed have included a BBC Radio 3 new writers launch, the 'Sufi In The City' art & sound installation and performances at Nottingham Mela and Hull City Of Culture. https://www.facebook.com/musicasmedicinemanchester/
RUTH BLAKE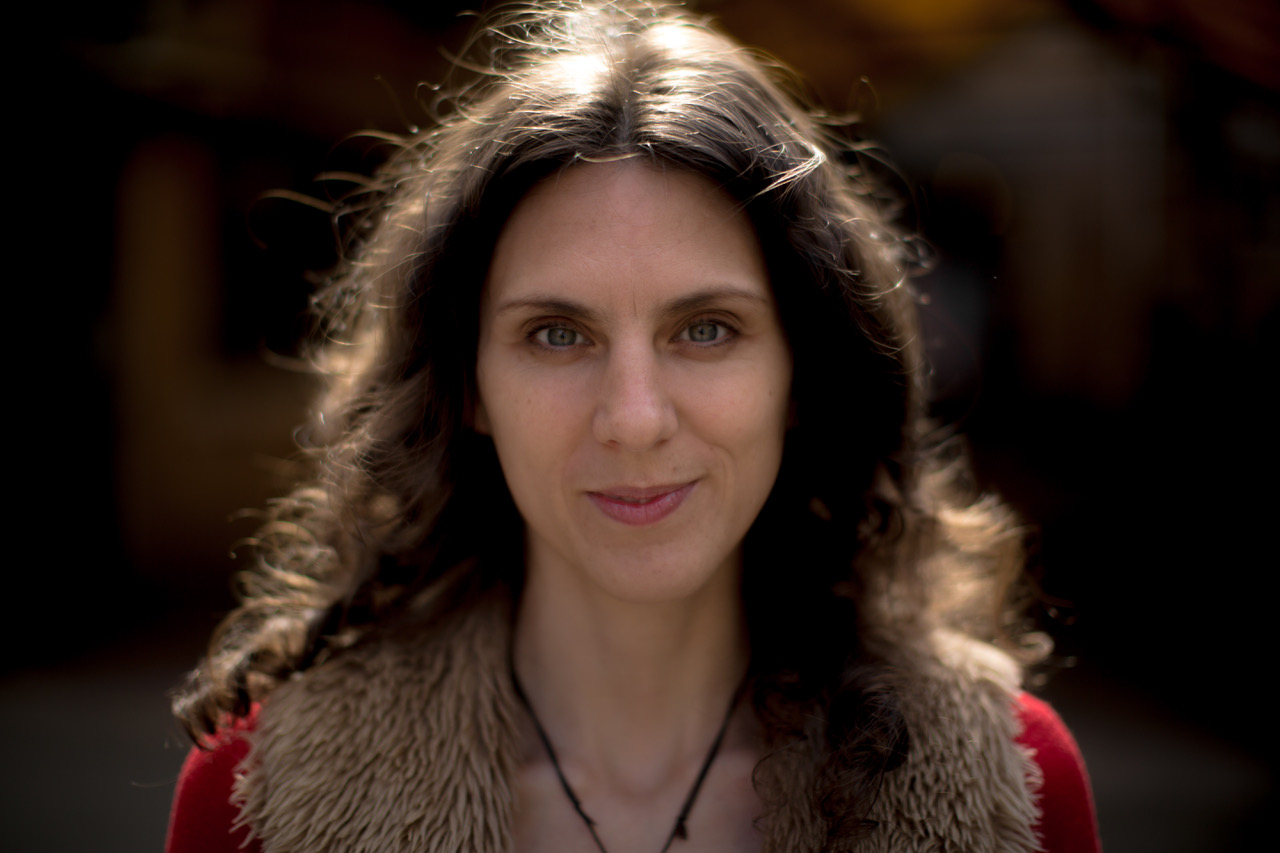 Hypnotic and otherworldly yet profoundly human, Ruth Blake's music brings essential medicine at this time in history. Her unique presence and captivating voice are spell-binding, at once impossibly delicate and fiercely strong, conveying a timeless wisdom and ancient magic that reconnects and awakens us to the truth of our own heart's wisdom. With poetic lyricism rich in symbol and storytelling, each concert is an exquisite journey of breath-taking depth and tenderness.
Ruth has two stunning studio albums, 'Lullabies for Grown-Ups' and 'Creation' available from her website www.ruthblake.com , Bandcamp, iTunes, Amazon and Spotify, but the chance to experience her live is not to be missed.
JOIE DE WINTER / SOUND TRAVELLERS

Joie de Winter, offers singing ceremonies and offers soulful song and sound with energetic harp, and live loop landscapes. She hopes her vibrational music can help us drop into the subtle realm of the heart and welcome expansion and deeper harmony with the earth and spirit. She loves to get out of the way and sing the dance of what is. Joie witnessed in Mexico how song is vibration and pours and pushes through us, effecting everything around. She's enchanted by the space music takes us too and it's power to transmute limitations. She's also on a mission making 13 Luna harps for sisters and teaches intuitive singing and harp playing in London Banstead. She is passionate about helping others tap into intuitive authentic expression and offers Heart Song Circles, Horse & Harp Singing Journeys, and one to one Harp & Voice deepening sessions in UK and abroad. She often supports wellbeing retreats and offers bespoke singing ceremonies.
SOUND TRAVELLERS // LUNA HARP + HANG + VOICE
Joie de winter & Francesco Bertelini
Joie & Francesco, offer meditative medicine soundscapes for us to travel and transmute.
They meet full heart and offer music to help us drop into the energetic heart dimension for expansion and deeper connection. They fuse shamanic, sound healing with emotive lyrics and melodies.

www.joiedewintermusic.wordpress.com
DANIEL COLLINS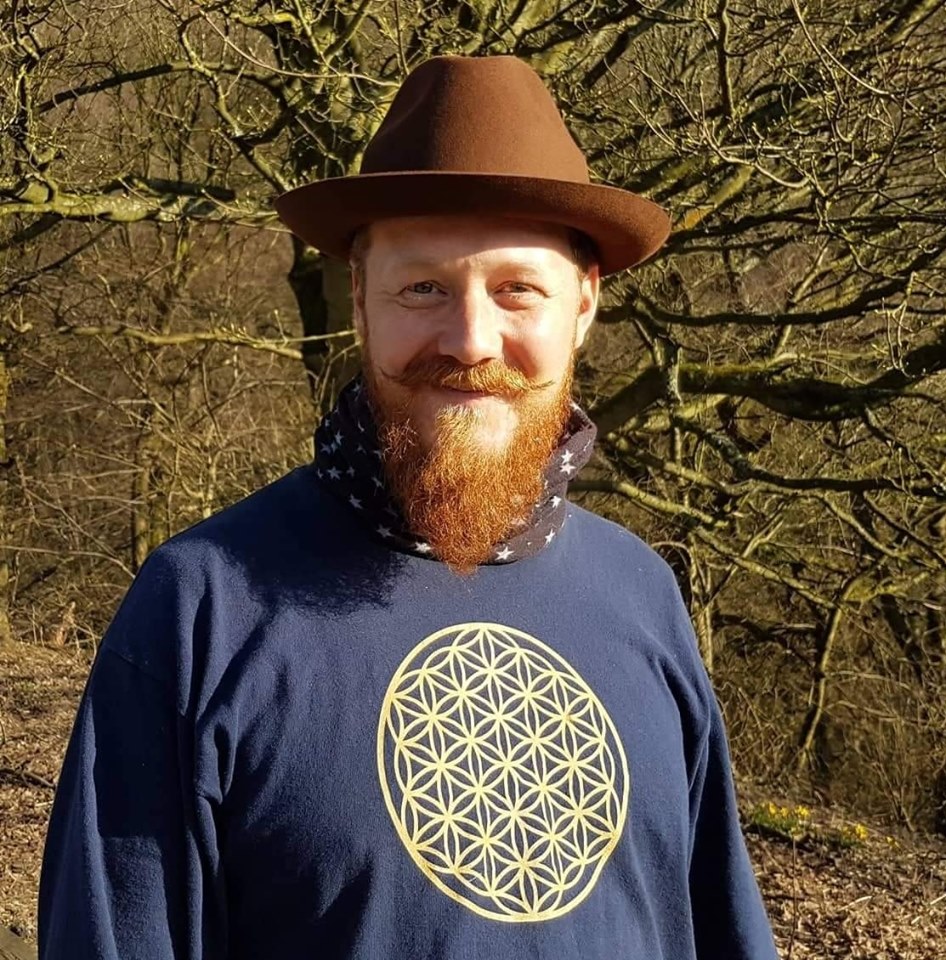 Daniel Collins is our resident musical medicine man and is the director of Earth Star C.I.C, one of our causes in focus. Dan has been playing the guitar for about 20 years, carrying songs that twist and turn with many a journey to be had. He normally offers his music in sacred circles, with his magical presence captivating hearts and igniting curiosity. Dan is a wayshower of the wyrd, and his songs bring the healing power of love, nature and creativity. He likes to combine sacred songs with many musical styles from classical to psychedelic rock, flamenco and blues. Dan's deep and grounding vocals weave into his enchanting acoustic riffs, sounding like the call of wise ancients from avalonian mists.
ECSTATIC DANCE DJ SET
DJ QUANTUM & FACILITATED BY SHELLY SKYE
DJ quantum (Iain Fearn) is creating high quality quantum level 432hz sound journeys with tunes from around the world. His set will include African music, deep spiritual vibes, bouncy tunes with soul and joy. DJ Quantum lifts vibrations with a healthy balance of all of the elements. He has DJ'd at Various events around the world such as Panama tribal Gathering Festival and recently Rumble festival. He has recently built a fully off grid high efficiency Digital sound system running off lithium technology.
SHELLY SKYE (ECSTATIC DANCE FACILITATOR)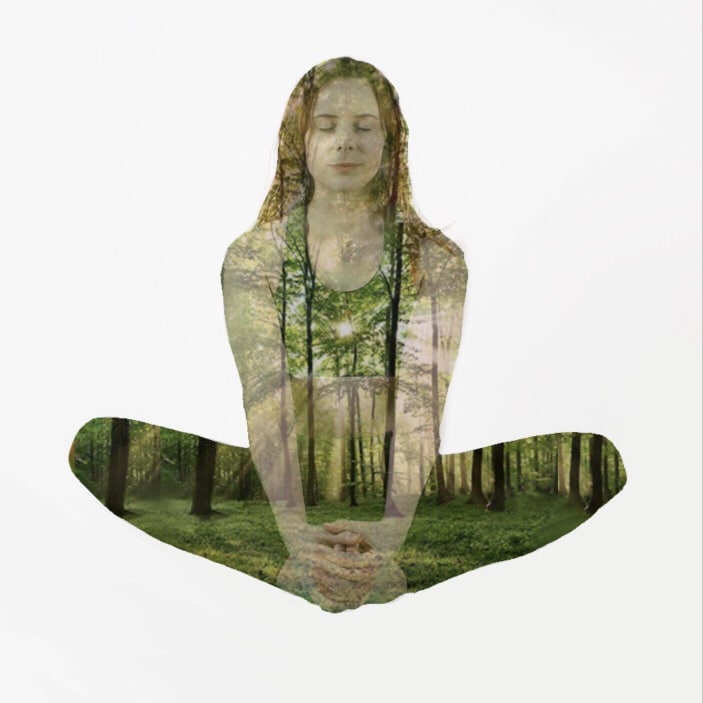 Shelly Skye is a Yoga Instructor, Circus Performer and Ecstatic Dance facilitator interested in using sound and frequency to unlock the possibilities of the body and its many subtle layers. Fascinated by eastern cultures and traditions, Shelly was steered towards India, where she studied and explored Yoga and energetic practises, such as Tantra, Kundalini Yoga and Ecstatic Dance. This paved the way for deeper understanding into the nature of sound, movement and consciousness. Shelly's recent exploration into live sound in combination with Yoga and Dance aims to shift energy using frequency to create harmony and well-being. The healing practise of Yoga, Meditation and Sound awakens the senses allowing for deeper states of relaxation
FREEQUEENSEA
Freequeensea is an Electronic/Indietronica artist that brings electronic music to the streets. This summer she will be busking through Europe with the mission to make more people dance in their everyday live. By merging psychedelic guitar riffs and downtempo beats she creates creates a dreamy and melodic musical journey.Her first release -Out Of Space And Time- will be out on July 27th. You can meet her those days playing at Bricklane London, where she makes people dance.
ANEURIN
Aneurin is a London-born, Cardiff-based psytrance DJ and promoter. For eleven years he has toured the UK psytrance festival circuit. At home in Wales, he has developed and built his sound within the capital and cofounded SUB:CULTURE, a mainstay techno event in Cardiff. Introduced to psychedelic culture and music from an early age, it has been a prominent influence on the music he has developed and performed. A usual purveyor of deep, infectious dance grooves and a feel-good atmosphere, it's not unknown to see him just as animated behind the decks as the crowd is on the dancefloor. His love for turning unusual sounds and unordinary rhythms into pulsating, psychedelic trance has lit up free party fields, intimate club locations, bank vaults and abandoned buildings with an enlightening, soulful drive to bring the one consciousness together in a melody of dance.