About this Event
This event will be hosted online using zoom and gotowebinar. For guidance on these platforms and event joining instructions see the bottom of this page.
WITH THE GRAIN will run throughout the week culminating with presentations from our Friday speakers Roz Barr (Roz Barr Architects) Andy Groarke (Carmody Groarke), Andrew Waugh (Waugh Thistleton), William Mann (Witherford Watson Mann Architects) and the opportunity to ask them questions as part of our live Q&A panel session – chaired by Euan Leitch (Built Environment Forum Scotland)
The event will take place online using zoom and gotowebinar. All webinars will be recorded and available for attendees after the event.
WITH THE GRAIN will bring architects, built environment professionals and the wider public together online for discussion around how we can work with nature, natural materials and our climate to build resilient communities - reshaping spaces, re-purposing the buildings we live and work in and exploring innovative solutions from architects.
The programme will include the announcement of the A&DS and RIAS Student Awards at our virtual ceremony and contributions from Architecture Fringe, Scottish Ecological Design Association, Zero Waste Scotland, Glasgow Institute of Architects and much more!
Join us and be part of the conversation #RIASWITHTHEGRAIN
TICKETS:
Tickets cost £20 per person and will give delegates access to the full programme of activity for the week. A proportion of ticket sale proceeds will be donated to Architects Benevolent Society (ABS) covid-19 appeal.
After purchasing a ticket delegates will be given a digital programme with links to register for the individual sessions you would like to attend.
PROGRAMME:
Speaker bios and more detail on the programme can be viewed on our website: https://riasconvention.squarespace.com/
MONDAY 28TH SEPTEMBER
09.30am - 10.30am Christina Gaiger PRIAS in Conversation with Will Hurst
Opening address to launch WITH THE GRAIN 2020 where Christina will be joined in conversation with Managing Editor at Architect's Journal Will Hurst.
11.30am - 12.30pm Architecture Fringe
Speakers: Imandeep Kaur (Director/Co-Founder, Civic Square) & Léopold Lambert (Founder and Editor-In-Chief The Funambulist magazine) Chaired by Andy Summers (Director/Co-Founder, Architecture Fringe)
1.30pm - 2.30pm Studio Up
Speakers: Scott McAulay (Anthropocene Architectural School) & Chloe Yuill (RIAS Sustainability Working Group)
TUESDAY 29TH SEPTEMBER
11.30am - 11.50am Gartcarron Fire Engineering Webinar
Speaker: Sandy Killbourn, Director Gartcarron Fire Engineering
3.30pm - 4.00pm The Repurposing of our Building Stock: The Ever-Changing Dilemma - Hardies
Speaker: Kevin Webster (Partner, Hardies)
6.30pm - 7.30pm What is Build Back Better? – Scottish Ecological Design Association
Speakers: David Seel (Chair of SEDA), Catherine Cosgrove (Vice Chair SEDA & Associate, Austin-Smith: Lord) & Chris Stewart (Director SEDA & Collective Architecture)
WEDNESDAY 30TH SEPTEMBER
11.30am - 12.30pm Professional Indemnity Insurance, The Market, and Future Innovation - Lockton
Speakers: Dave Bathgate (Account Executive, Lockton) & Shanna Renaud (Account Executive, Lockton)
1.30pm - 2.30pm Cone on the Cop with The Lost Woods and Halo Project
Speakers: Phil Zoechbauer (JM Architects/President of the GIA), Chris Stewart (Director, Collective Architecture), Vas Piyasena (Associate, Hoskins Architects) & Felicity Steers (ERZ)
3.30pm - 4.30pm Reaching Net Zero - Kingspan
Speaker: Rita Singh, Kingspan
6.15pm - 7.15pm Fabric First: A Green Recovery - Cross Party Group on Architecture and the Built Environment
Speakers: Chris Morgan (Director John Gilbert Architects), Duncan Smith (Housing Asset & Energy Strategy Manager at Renfrewshire Council),David Pierpoint (CEO The Retrofit Academy Community Interest Company),Prof. Sandy Halliday (Principal at Gaia Research. Recent winner in the Top 50 women in Engineering)
THURSDAY 1ST OCTOBER
1.30pm - 2.30pm RENOLIT ALKORPLAN: The Evolving Built Environment - Single Ply Waterproofing - Adapting to change
Speaker: Tony Brown, National Technical Manager, RENOLIT
3.30pm - 4.30pm Circular Economy and Whole Life Value – Better Decision Making for Future Fit Communities - Zero Waste Scotland
Speaker: Clive Bowman (Project Manager – Circular Economy Construction, Zero Waste Scotland)
6.00pm – 6.30pm A&DS/RIAS Student Awards for Architecture & Landscape Institute Scotland/ESALA Student Awards Virtual Ceremony J
Join us for the announcement of the student award winners celebrating talent from students of the Scottish architecture schools.
FRIDAY 2ND OCTOBER
10.00am - 10.30am Roz Barr, Founder, Roz Barr Architect
10.45am - 11.25am Andy Groarke, Co-founder, Carmody Groarke - Not Forever
11.30am - 12.00pm Andrew Waugh, Founding Director, Waugh Thistleton
12.15pm - 12.45pm William Mann, Director, Witherford Watson Mann Architects - Transformations
1.30pm - 2.30pm Q&A, Chaired by Euan Leitch, Director of Built Environment Forum Scotland
This live Q&A panel session will give delegates the chance to put their questions to our four Friday speakers (Roz Barr, Andy Groarke, William Mann and Andrew Waugh)
Refunds: as this is an online/on demand event refunds cannot be offered.
Joining Instructions:
The events will be run using zoom and gotowebinar. As an attendee you will be view only but for sessions where there will be a Q&A, attendees can interact by asking questions via a text box. You will receive links to join the webinars on each morning of the events. If you have purchased a ticket and are having trouble with the joining instructions or did not receive the email please get in touch events@rias.org.uk. Please remember to check your junk folder.
Using Zoom and Gotowebinar
Zoom: Click the link provided and enter the password when prompted. Zoom will open automatically, and you will enter the webinar. When prompted, you should add your email address and your name.
If this is your first time using Zoom you will be asked to download and run the programme so please allow this (it should only take a few mins to download however you can also download Zoom in advance if preferable – download by clicking on the "Zoom Client for Meetings" option here. If using a mobile phone please download Zoom from your app store).
Gotowebinar: simply click the link provided, you will be asked to enter your name and email address and press the "register" button. Please do this and you will then be taken to a screen to view the webinar. There is no download required however if you are viewing on your mobile you can download the app from your app store.
________________________________________________________________________________________________
The RIAS is grateful to our lead partners Kingspan Insulation and Renolit and supporting partners Gartcarron Fire Engineering, Hardies and Lockton for sponsorship of this event.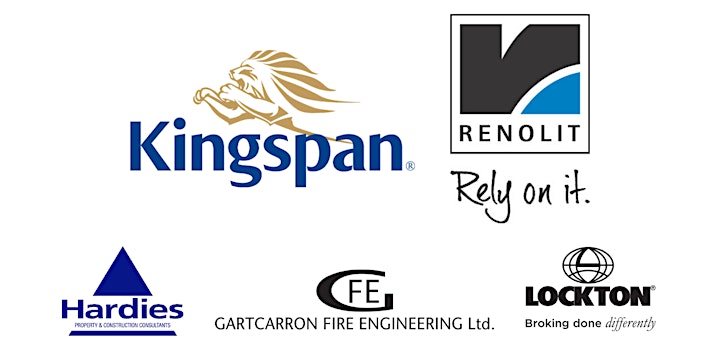 Date and Time
Location
Refund Policy