RIASA Summer Retreat 2021 | Summer Soccer Camp in the UK
8-day Professional Soccer Academy Experience. Enjoy intense training sessions and compete under the guidance of UEFA Licensed coaches.
About this Event
BLACK FRIDAY SPECIAL PRICE. SAVE 25% OFF TICKET ADMISSION FOR A LIMITED TIME ONLY. ENTER CODE 'BLACKFRIDAY' WHEN COMPLETING CHECK OUT.
The RIASA UK Summer Retreat Camp is back for 2021!
Join us at Woodhouse Grove School, Apperley Bridge, West Yorkshire, Bradford for an unforgettable 8-day student-athlete experience.
The RIASA UK Summer Retreat is the perfect opportunity for aspiring or already-enrolled student-athletes to embrace UK soccer. Students will enjoy the full academy experience by learning, training and competing under the guidance of RIASA's highly qualified UEFA Licensed coaches.
During the 8-day camp students will also culturally grow, spend time with like-minded student-athletes and hopefully develop on and off the pitch. The camp will take place over 8 days from Saturday 10th July - Sunday 18th July 2021.
On the RIASA UK Summer Retreat, you will:
Train every day with high intensity under UEFA Licensed coaches
Play in 2 competitive 11-a-side games against local academy teams
Experience a professional academy setup
Live with and build friendships with other aspiring student-athletes
Culturally learn by exploring your new surroundings
Be taken on an exclusive tour of Old Trafford or the Etihad Stadium (TBC)
Understanding what the day-to-day life of a student-athlete is really like
Receive FREE RIASA kit to keep
Start to build a strong relationship with RIASA coaches and staff
Understand how our academy can help you reach your maximum potential
Play & train on a mixture of professional standard grass & 3G/4G pitches
Visit Leeds city centre to take in the home of our academy
Bradford City Stadium tour
Leeds Beckett Campus tour
During the 8-day camp RIASA will also provide social media coverage as well as LIVE streaming training and competitive games so parents can watch from home.
This really is a unique chance for students to dive into a professional soccer academy, allowing them to gain the full picture of how RIASA can help them develop and thrive in a supportive environment.
Logan Lafferty is a great example of how our Summer Retreat Camp can help play a huge part in helping student-athletes decide their future. Logan joined us and embarked on attending our 2019 summer camp, he is now going into his sophomore year with RIASA.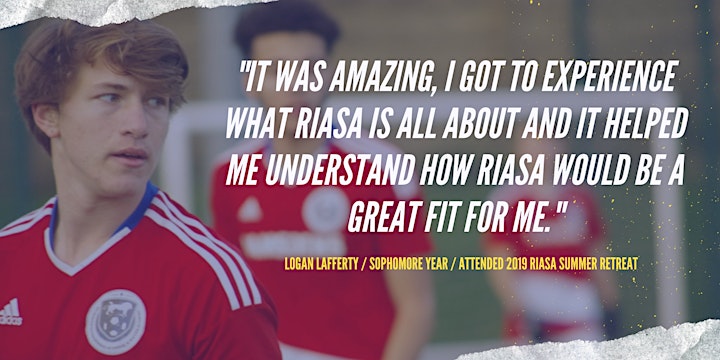 Spaces on the immersive RIASA UK Summer Retreat are limited, so don't miss out and book onto this amazing opportunity today. Payment Options:
- One-time payment: $1,200
- 3x monthly Instalments of $416.67 = $1,250
- 6x monthly Instalments of $216.67 = $1,300
Please don't hesitate to contact us if you have any questions in regards to the RIASA Summer Retreat camp or about monthly payments, you can email us at hello@riasasoccer.org.
The full 8-day itinerary will be sent to all attending students 3 weeks prior to arriving.
Cancellation policy:
if you need to cancel a purchased ticket, you will need to do this 14 days before the event. Any refunds closer to the event date will not be refunded.