RIASA UK FOOTBALL EXPERIENCE | UK FOOTBALL EVENT | UK FOOTBALL DEGREE
Train with RIASA for the day and discover how you can develop on our unique academic and soccer programme in the UK.
About this event
Who are RIASA and what do we offer?
Richmond International Academic & Soccer Academy (RIASA) is the world's only football programme that offers a dual accredited US/UK degree alongside a 9 month professional soccer academy experience in the UK.
In partnership with Richmond, The American International University in London, we offer students the opportunity to pursue an undergraduate degree in International Sports Management whilst playing Football under the guidance of ex-professional players and highly qualified UEFA A & Pro Licensed coaches.
By the time you graduate you will be unbeatable! The dual accredited degree will make you more employable, in more countries, opening up more future options for you as a graduate seeking pro soccer or an alternative career within the sporting industry
RIASA are based at Leeds Beckett Headingley campus in West Yorkshire, where our students have access to professional training facilities, accommodation and an idyllic 100 acres of parkland.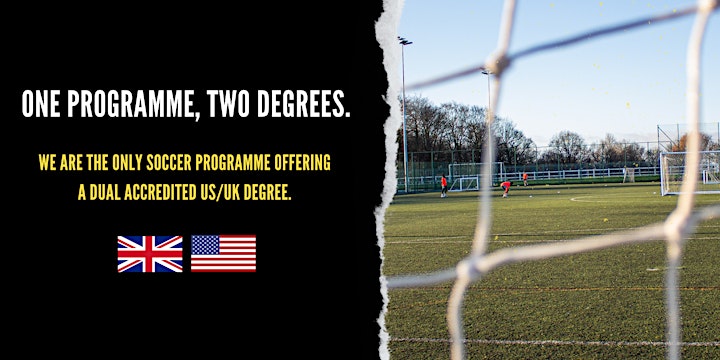 What is a RIASA ID Event?
RIASA run football events in both the US and UK. The UK ID event is planned so that you can experience what it's like to be a student-athlete on our prestigious football programme and gives you the chance to showcase your abilities. Whilst on the event we will evaluate you as a player and identify if you fit into our programme.
During the day you will meet our highly qualified coaches and other academy team members. You'll train for 4 hours over two separate sessions and the RIASA team will deliver a presentation to you, highlighting how our programme can help you achieve your aspirations.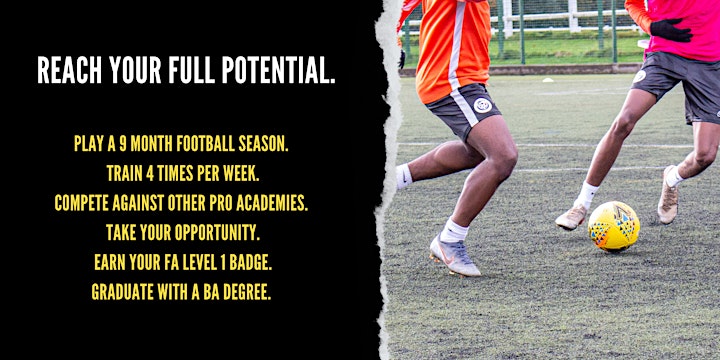 Who should attend the RIASA ID Camp?
Our UK events are perfect for aspiring FEMALE & MALE footballers who want to develop tactically and athletically as they work towards earning a valuable dual accredited US/UK degree in International Sports Management. We also welcome mature students who want to study postgraduate degrees.
If you are looking at studying any degree in the UK, then our soccer programme could be a great choice for you. UK students in England may have access to student funding from the government and academy scholarships may be available to selected students.
If your goal is to eventually continue your study in America, you can start your American degree with us, build up your credits and earn an associate degree, avoiding the poor level of soccer played at junior colleges in the US. You can then transfer to a D1 2 or NAIA American University, whilst developing as a player with the professional coaches at RIASA.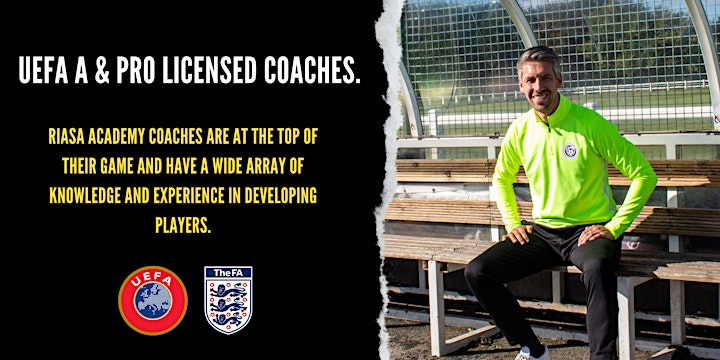 Who are the RIASA Coaches?
RIASA academy coaches are at the top of their game and have a wide array of knowledge and experience in developing players. On the day of the event you will meet two of our academy coaches, Gareth Prendergast and Martin Hunter.
Gareth Prendergast
UEFA A & B Qualifications
Master of Research in Sport & Exercise Science
FA Youth Qualifications & FA Education Qualifications
Talent Development Qualifications
Worked in football education for over 12 years
Hyde United Head of Academy for over 7 years
Hyde United under 17s, under 18s, and under 21s & 1st team coach
Gareth has a strong understanding of talent development after spending over 7 years at Hyde United progressing through different roles by helping players succeed on and off the pitch. Gareth is also academically strong with a Masters and undergraduate degree which all relate to the theory of the game.
Martin Hunter
UEFA A & Pro Licence
PFA & LMA Certificate in Applied Management
Technical Director at Southampton FC for 8+ years
England National coach U19 & U20
Norwich City & Watford FC first team coach
Senior FA Tutor
Over a 40 year career Martin has worked at several high profile clubs including 8 years at Southampton as Technical Director and premier league clubs including Watford and Norwich. Martin has worked with a number of high profile players including Michael Owen, Joe Cole and Theo Walcott.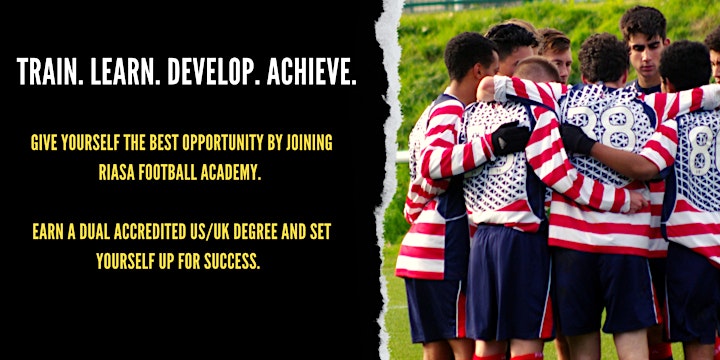 How will this event help me decide if I want to join the RIASA soccer programme?
If you're seeking a career within the sporting industry, whether that be a professional footballer, working for a football club in the marketing department or advancing your career to become a coach yourself, our soccer programme in Leeds will set you up for success.
The dual accredited US/UK degree has a strong focus on helping you understand sports specific modules such as Sports Management, Talent Identification and sports Marketing.
The RIASA high intensity soccer programme offers students the experience of a professional academy setup. You will train on average 4 times per week for at least two hours and regularly compete in league fixtures, friendlies and showcase games.
Combined together, this experience will change your life. After graduating you'll be unbeatable and will open the door to more international opportunities.
This event will offer you and your parents the chance of seeing how our football programme can benefit you. You will be able to see the passion and dedication from our coaches, we will talk you through how the degree can help and you will soon see how RIASA could be the best option for you.
Tickets are priced at £25.00 + Eventbrite processing fees. Please book in advance to avoid disappointment.
Who can I speak to directly about this event?
Send us an email to hello@riasasoccer.org. We will happily answer any questions you may have about this ID Camp or our soccer programme in Leeds
Cancellation policy:
if you need to cancel a purchased ticket, you will need to do this 14 days before the event. Any refunds closer to the event date will not be refunded.
Find out more: https://riasasoccer.org