Description
The RIBA Exeter Branch is deligthed to invite you to a tour of Sanctuary House, a new-build replacement dwelling overlooking the bird sanctuary at Bowling Green Marsh on the east bank of the Exe Estuary in Topsham.
Event schedule
4.00pm Delegates arrival and registration
4.10pm Introductions
Walk around the site with the architect and contractor
5.30pm End and departure
5.45pm Meet at the Lighter Inn for a drink (10 minutes walk from the site)
---
IMPORTANT NOTES
PPE is required for all delegates - please bring your own: no safety equipment no entry

Cancellation This event is capped at 20 delegates: we would appreciate if you could please cancel in due course if you have booked but cannot attend the event, allowing others to take your place

There will be no refreshments due to the residential nature of this project
---
The project
Barc Architects were commissioned to design a home that would be a sanctuary for the clients whilst having minimal impact on the local wildlife. The building is designed to nestle into the setting of Mount Howe, it is a simple form that has been carefully refined to take full advantage of the panoramic views to the estuary, whilst also maintaining privacy from the road. It has a natural palette of materials, including stone cladding, larch, zinc, porcelain tiles and lime render. The stone-clad base of the building has a sense of solidity around which the garden can flow, this solidity is balanced by the transparency of the glazed pavilion above.
The summer house sinks into the garden and a glazed gallery link serves to create an exterior sheltered courtyard between it and the main house. Internally a sweeping staircase rises between the levels and the views are revealed as one ascends. Spaces for reflection have been carefully considered as have areas for socialising and entertainment.
The clients brief for a light building, with little glare has resulted in the integration of large overhanging eaves which will block the high summer sun but allow the winter sun to penetrate the space. There is level access throughout, along with an internal lift, wide hallways, doors and wheelchair accessible spaces, all which will ensure that the building will be suitable for the lifetime of its occupants. The house is designed to surpass building regulations standards in terms of energy efficiency, it incorporates pv panels, an air source heat pump, mechanical ventilation and heat recovery and a Tesla battery.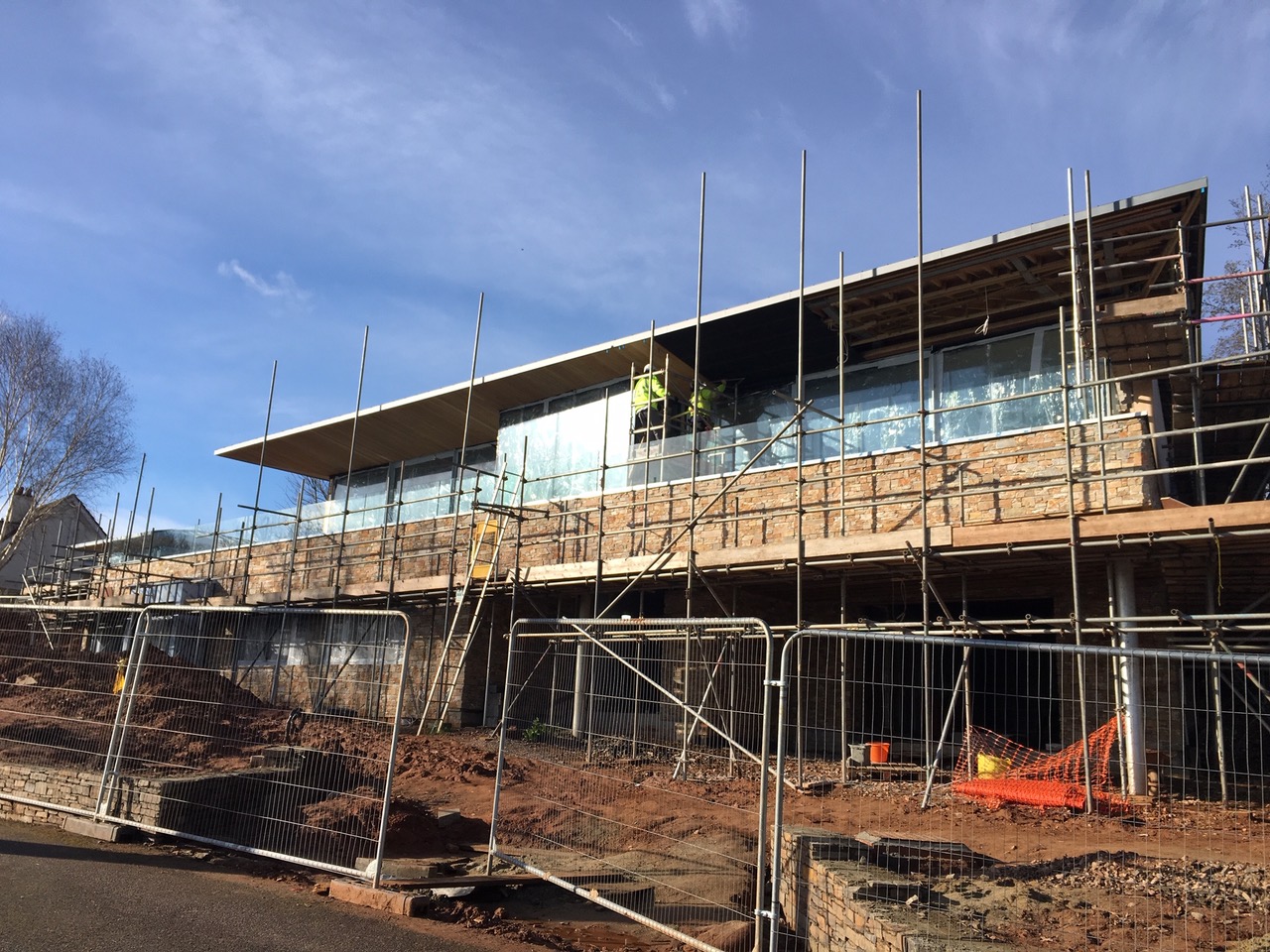 Architects: Barc Architects. Barc are a client focused architect's practice who specialise in the design and delivery of high quality contemporary buildings, extensions and renovations.
Tour by: Caroline Shortt, Director, Barc Architects & Neil Turner, Director, Bovey Construction.
Client: Private
Main Contractor: Bovey Construction
Quantity Surveyor: Hosken Parks
Structural Engineer: Airey and Coles
M&E Consultants: SDS Engineering Consultants
---
Parking: limited in Topsham, please car share
There is NO parking on site and no access from Mount Howe. The site can be accessed from Bowling Green Lane, which has some parking.
Free parking at top of Monmouth Hill and along Elm Grove Roard partly with street lights, best parking place. No street lights in road outside the Sanctuary site. Also paid parking with street lights by Lighter Inn and free along Holman Way. Depending on where you park, we suggest you bring a torch / use phone app if required.