An online networking event designed to create dialogue and discussion for members in Cambridgeshire.
About this event
The North Cambridgeshire Society of Architects are proud to host Alan McCartney, Director & John Fisher, Architect from Glenn Howells Architects. They will introduce the Lakeside Activity Centre, Nene Park and discuss what the sustainable landmark building will look like when work is complete.
Won through an invited design competition, Glenn Howells Architects' design seeks to create a sustainable and memorable beacon for Nene Park. The bespoke building will include a 20 metre Olympic-standard climbing wall, children's indoor play area and a lakeside café.
The design celebrates the landscape and waterscape of Nene Park by offering visitors views of the lake. The form of the centre takes precedent from the geometry and materials of climbing and play, and forms an important catalyst for local community development, placemaking and sporting participation.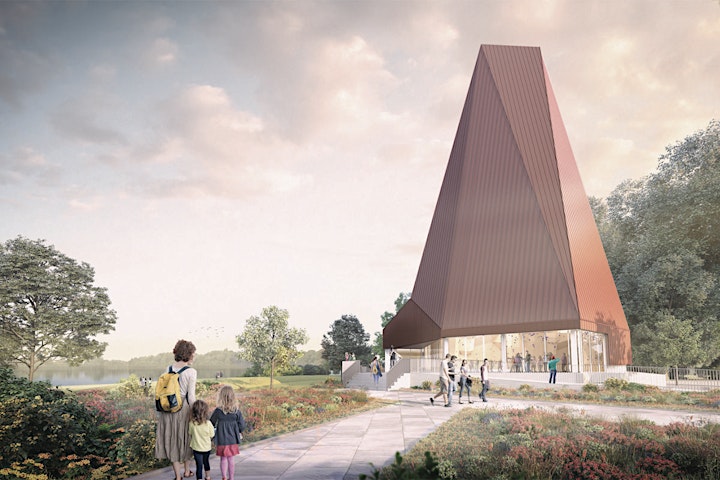 Alan McCartney, Director
Alan leads a design studio within the Birmingham office, with a particular focus on masterplanning, residential and infrastructure. His precise approach makes him an integral member of our Project Board, providing business-wide leadership into standards and protocol, quality insurance and measurement methodologies, including the relationship between RICS and RIBA.
Having joined Glenn Howells Architects in 2004, he has gained experience on a wide variety of major mixed-use schemes across the UK, including the urban realm design for HS2 Birmingham Curzon Street, the extension of Birmingham Airport and the NEC masterplan.
Alan read architecture at Queen's University Belfast and the Welsh School of Architecture at Cardiff University. He loves mountaineering in his spare time.
John Fisher, Architect
John joined GHA's Birmingham office in July 2017. He studied at the Birmingham School of Architecture and Design, graduating with distinction. John's thesis project, based in Gibraltar, was nominated for the prestigious RIBA President's Medals.
Since joining the practice, John has worked on a number of competitions and was part of the team that won the bid for the Lakeside Activity Centre at Nene Park, Peterborough. John has worked on a broad range of projects from masterplans to footbridges.
Prior to joining GHA, John worked for a smaller practice in the West Midlands specializing in the Leisure and Tourism industry.
With the pandemic limiting opportunities for face-to-face meetings over the past 12 months, a new series of digital meetings are planned to ensure architects working across North Cambridgeshire can remain connected. If you would like to get involved with the NCSA please contact fiona.fowell@riba.org.
Organiser of RIBA North Cambridgeshire Society of Architects – Lakeside Activity Centre