About this Event
Richard Maguire is a valuable member of the team at Autism Oxford, working as a Senior Training Consultant helping parents and professionals throughout the UK to establish coping mechanisms in day to day situations.
Diagnosed in his forties with Asperger's Syndrome + Dyslexia, Richard grew up knowing he was unique... but not why.
Criticised for being different and considered lazy, he wore all the accusations of being rude, unsociable, an embarrassment to society and worse... social exclusion from his peers.
Although intelligent (now highly experienced in his field), Richard left school without much to show for it. He fell into dead end jobs and found getting on with colleagues excruciatingly difficult. Not understanding work-based politics meant he suffered bullying which led to attempted suicide.
A positive turning point came when Richard stumbled into a role supporting learning disabled people and found that his time helping autistic individuals proved invaluable.
Says Richard, "It was fabulous to work with people like me. They too had suffered like I had and I really understood them. My support made a difference in their lives and 30 years later I still love getting up to go to work. I am defined by my results".
Married, with a son at University, Richard enjoys cycling around the countryside in his spare time. Encouraged to write his life story; I Dream In Autism has helped many families around the world and is available via Amazon - click the link below or see: Autism Live Training.
This seminar is a superb opportunity to hear a fully qualified professional, dedicated to raising awareness and helping others on the Autism spectrum share insight. Attendees will benefit from first hand advice, along with personal perspectives.
Time will be made to ask Richard questions throughout the seminar.
• I Dream In Autism will also be on sale (take home a signed copy)
We look forward to meeting you at Oxford Quaker House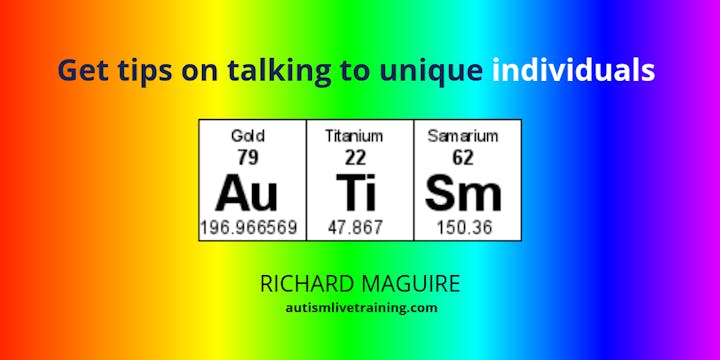 WHAT PEOPLE SAY...
'We don't have enough of this type of learning'
'Articulate and enlightening'
'So helpful, thank you!'
'I will be changing my clinical practice when assessing and treating autistic patients'
'The teams I work with should have access to Richard'