Description
On Tuesday 14th November, join Richard Rex at Heffers as he celebrates the launch of his new book,The Making of Martin Luther.
"A major new account of the most intensely creative years of Luther's career, The Making of Martin Luther takes a provocative look at the intellectual emergence of one of the most original and influential minds of the sixteenth century."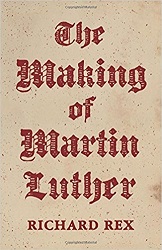 Richard Rex is Professor of Reformation History at Cambridge, and a Fellow of Queens' College. He is the author of several books and many articles on the Reformation and on Tudor history. The Making of Martin Luther is the fruit of about 25 years of reflection on Luther and his teachings. It will be available to purchase at the launch and Richard will be signing copies for guests.
The event is free to attend but spaces are limited; please RSVP through this page to be guaranteed entry. Please note this is an informal, standing event not a seated talk; a limited number of chairs will be available.

Like this event? See our full programme here.