Richard Strange - An Accent Waiting To Happen | The Art House SO14 | Sat 15.06.19, 7.30PM

Saturday, 15 June 2019 from 19:30 to 22:00 (BST)
Event Details
Richard Strange - An Accent Waiting To Happen | Art House SO14 | Saturday 15th June, 7.30PM
"18 years after first meeting him, just thinking about Richard still reduces me to a state of near hysteria…and terror.  He restores one's faith in the ability of the human spirit to soar." - James Nesbitt, Actor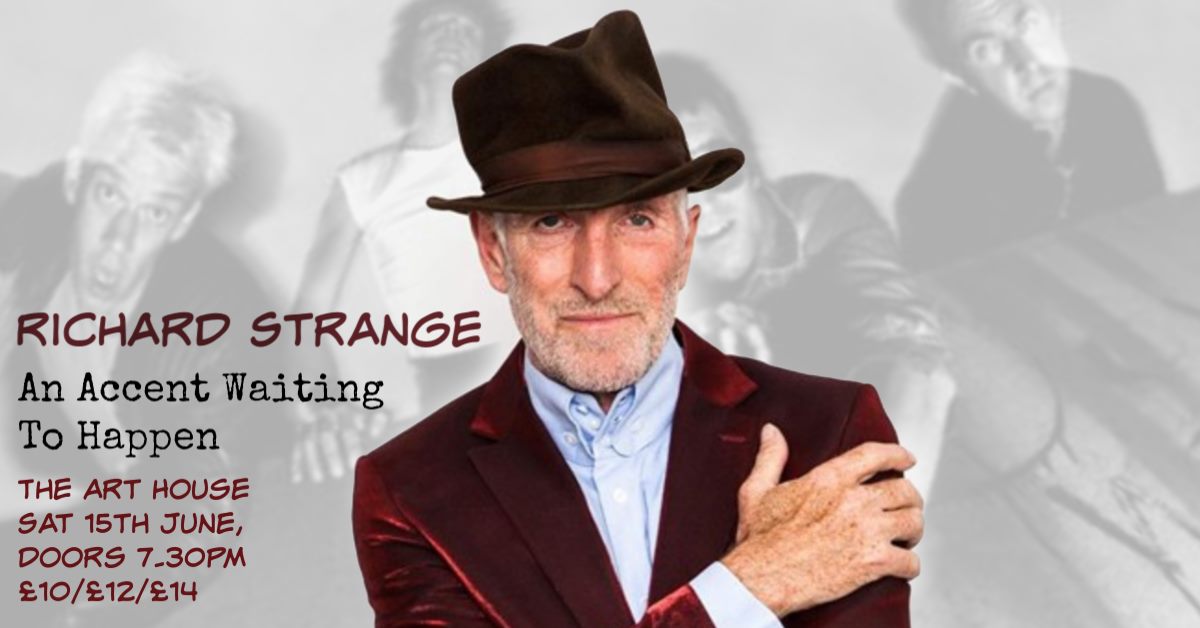 Writer, musician, composer, nightclub host, curator, actor and adventurer, Richard Strange was born in London in 1951. Since his proto-punk rock band The Doctors of Madness ("The missing link between David Bowie and The Sex Pistols…" wrote The Guardian in May 2017) was first unleashed on an uncomprehending public in 1975 (the band was supported by the Sex Pistols, The Jam and Joy Division) he has been a Zelig-like figure whose presence has been felt in every corner of London's cultural life.

Listen to Doctors of Madness - "I think we're alone."
https://www.youtube.com/embed/7pT98QZ4z4s?start=19
"If you have never heard the Doctors of Madness, you should. Musically they are the Velvet Underground, New York Dolls with shades of glam, hippie, prog and punk all rolled into one, yet are still totally original. Vastly underrated, they should have been huge. Pure genius." - Vic Reeves, Comedian
Strange has been seen in films as diverse as Batman, Mona Lisa, Robin Hood-Prince of Thieves, Gangs of New York & Harry Potter!
Now comes his solo show An Accent Waiting To Happen, an evening of songs, films clips, stories, readings and downright scurrilous gossip from his 40 years in the arts and entertainment world, with a selection of readings from Richard's critically-acclaimed memoir "Strange-Punks & Drunks & Flicks & Kicks".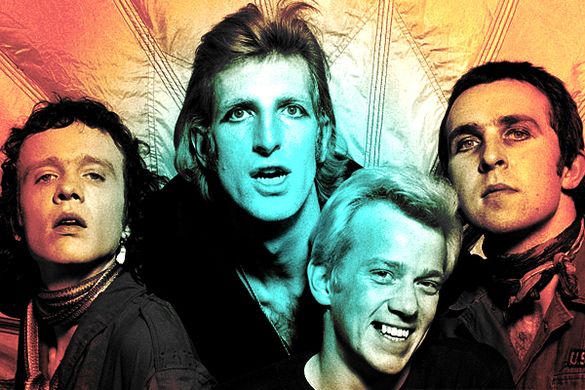 "An extraordinary memoir of an extraordinary life" - Jools Holland
Things you probably didn't know about Richard Strange:
- He has been robbed by The Sex Pistols
- He has executed John Cleese in five different ways in just two days
- He trashed an art gallery with Jack Nicholson
- He dribbled over Christian Slater
- He has played cricket with Imran Khan
- He knocked out a London Showbiz journalist with a single blow, and been rewarded with a bottle of champagne
- He paid Depeche Mode £15 to play a half hour set
- He has cooked shepherd's pie for Mariella Frostrup and spaghetti with Sophia Loren
---oOo---
He is a little more about the man for those who are curious:
He founded the hugely influential mixed-media Cabaret Futura in 1980, and has subsequently worked as an actor, appearing extensively on stage, in films and on television. He has made numerous TV appearances, including a number of episodes of Men Behaving Badly, and as a stage actor he has worked alongside household names such as James Nesbitt, Peter Capaldi and Marianne Faithfull.
As a writer he is a regular contributor to publications as diverse as The Guardian, Tatler, Culture and Travel and Vogue. In 1989/90 he toured the world in a Russian Hamlet directed by Yuri Lyubimov. 
In 2003 he toured the UK with the award-winning Dance Theatre Company Protein Dance, contributing as an actor, narrator, musician and writer.
Throughout 2004-7 Richard worked with Marianne Faithfull on the Tom Waits/William Burroughs/Robert Wilson collaboration "The Black Rider", performing in theatres in London, San Francisco, Sydney and Los Angeles.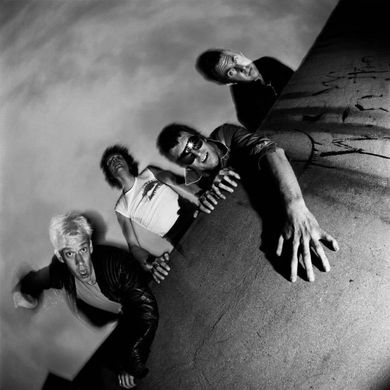 In 2007 he was part of Jarvis Cocker's Meltdown Festival, at the RFH, in an evening of songs from Walt Disney movies, and this year performed with the producer/arranger Hal Wilner in Brooklyn and at The Barbican, alongside such luminaries as David Byrne, Tim Robbins, Steve Buscemi, Shane McGowan and Suzanne Vega.
He has composed music and written a number of songs for the Contemporary Dance Company Protein Dance. In 2010 he re-opened his groundbreaking mixed-media Cabaret Futura after a 30-year hiatus, and curated the 2011 New Territories International Festival Of Live Art in Glasgow.
In 2011 he curated Cabaret Apocalyptica for the Tate Gallery, London, an event which drew 3000 people to Late at The Tate on a single evening. Cabaret Apocalyptica was Strange's response to the exhibition "John Martin and The Apocalypse". 
His two monthly events, Cabaret Futura and A Mighty Big If are critically-acclaimed fixtures of the London art and cultural calendar, and his recent guests on the latter, an informal live chat show held in Soho's Church of St Barnabas, have included such giants of their genres as film-maker Mike Figgis, composer Michael Nyman, theatrical maestro Robert Wilson, musician, producer and composer Nile Rodgers, Gary Kemp, Marc Almond, Peter Capaldi, Brian Cox, and the artists Cornelia Parker, Richard Wilson, and Gavin Turk.
In 2012 he was also commissioned to write the song for the closing credits of the Hollywood film Dark Hearts. The resulting song was called BloodBrother and Dark Hearts was screened at The Cannes International Film Festival in 2012.
His collaborative artwork, A Sleek Dry Yell, created with the award-winning artist Haroon Mirza, was bought for the nation by the Contemporary Art Society in 2012, and is currently touring the UK Art gallery circuit. 
Increasingly involved in the worlds of education and academia, he teaches Creative Musicianship to BA students at The Institute of Contemporary Music Performance in London, and is also a mentor on the National Music Education charity, Music For Youth. Overseas, he was elevated last year to Visiting Fellow by The Hong Kong Design Institute, where he also lectures and co-ordinates collaborative creative projects. He is also a Principal Fellow at the Higher Education Academy, one of only 350 in the country.
In 2013 he was Narrator and sang baritone in the UK premiere of Frank Zappa's 200 Motels, which played to a rapturous full house at The Royal Festival Hall and was praised by critics from every area of the media, and also featured in Hal Willner's concert Amarcord…Nino Rota, the Barbican tribute to Fellini's composer, with Marc Almond, Nitin Sawnhey and Kate St John.
"Language Is A Virus From Outer Space", Richard's collaborative project with the composer Gavin Bryars, a cantata based around the life and work of William Burroughs, received its World Premiere at London's Queen Elizabeth Hall on October 11th 2014, Burroughs' centenary year. It was greeted with a standing ovation from the sold-out house. Conceived, curated, co-written and directed by Richard, the show featured contributions from Gavin Turk, Sarah Jane Morris, Rupert Thomson, Jeremy Reed, Haroon Mirza, Anni Hogan, David Coulter, Seb Rochford and The Doctors of Madness. A feature-length film of the event is current in the editing stage. 
Perfect Past- The Complete Doctors of Madness, released to unanimous critical acclaim in May 2017 by Cherry Red Records, is a 3 x CD set of the complete recorded works of the band, with bonus tracks, live cuts and demos. The Doctors of Madness have just returned from a hugely successful club tour of Japan and will tour the UK and Europe in Autumn 2019. Richard will tour the UK with An Accent Waiting to Happen in Winter 2019. 
His memoir, Strange- Punks and Drunks and Flicks and Kicks was published by Andre Deutsch in 2005.
"Strange must surely be the funniest man in London…It is impossible to spend any time within his looming majesty without being engulfed in gales of health-inducing mirth and a sense of fraternal bohemian bonhomie long lost to our crassly commercial times."- Adrian Dannatt, The Art Newspaper
Comments on the show so far:
"Richard Strange's Doctors of Madness were amongst the first bands I saw, they were out there, a dramatic British beat generation band, most influential. I had no idea what amazing adventures had befallen him since then until this week at his fabulously entertaining show at Kardomah94". 
"Surely no artist, living or dead, can count among his collaborators WILLIAM BURROUGHS, FRANK ZAPPA, GAVIN BRYARS, TIM BURTON, ROBERT WILSON, 
TOM WAITS, MARTIN SCORSESE, HARMONY KORINE, SARAH JANE MORRIS, PETER CAPALDI, DAMON ALBARN, CRISTINA AND JARVIS COCKER. 
What an amazing life- Thank you for sharing it with us in your show".
"Great night…and that Alone Again Or moment was pure magic"
"I thought it was brilliant, and everyone I have spoken to was smitten"
"Now I'm feeling jealous".
"Marie and Joe was lovely. I wish I'd filmed it"
"What an enjoyable night. Yes…you MUST do it again here".
"I could have listened to his stories all night".
"What a story teller …what a story of life! Go ahead to see this gentleman! This is live culture history!"
What the British media have said about Richard Strange's memoir
"Strange- Punks and Drunks and Flicks and Kicks"
The press said :
The Independent: "A seminal figure at the crossroads of art, music, film and counter-culture" 
The Tatler: "Richard Strange passes the kool acid test with psychedelic colours"
Esquire: "A hilarious romp through the last 30 years of Pop Culture, as charming and amusing as the man himself"
Time Out: "This extraordinary memoir is gloriously indiscreet"
Evening Standard: "Sharply opinionated about all that he encounters, he has the essential characteristic of self-deprecation when it comes to his role of hero in the story of a life. (This is) a very particular social history, which illuminates some of the most interesting nooks and corners of the alternative lifestyles which bloomed and withered in such profusion during the second half of the twentieth century"
The Art Newspaper: "Strange is perhaps the only figure alive who has traversed so many art, performance and music movements. He can really understand the complex interplay between the elements of glamour, trash, provocation and outrage within British culture for the last 30 years. This book is the least academic, but most intelligent and entertaining analysis one could hope to read of a very specific London milieu, whose ramifications and rewards extend across the Western world."
Mojo:   "Strange is a cultured, gregarious chap who moves through London's gilded salons observing his peers' foibles. He observes the glitterati with a witty eye."
And on Radio and Television too
Ned Sherrin, BBC Radio 4 Loose Ends:
"A fascinating and very amusing read".
Robert Elms, BBC Radio London Live:  
"What a life!"
George Melly: 
"A good read. Wonderfully funny and well written."
Peter Curran, BBC London Live: 
"A fantastic read. Wit and truth writ large."
James Whale, Talk Radio:  
"The best autobiography I have read in a long while"
What they say about Richard Strange:
Paul Morley (Broadcaster): "In my Version of Rock History, Richard Strange looms a lot larger than Pete Townsend"
Joe Elliott (Musician, Def Leppard): "The Doctors of Madness were the best! Blue hair, sequinned eyelids, a guitar that spelled out "KID", space-age vaudeville that tipped this 16-year old kid over the edge! One of the most original songwriters & performers of my generation."
James Nesbitt (Actor): "12 years after first meeting him, just thinking about Richard still reduces me to a state of near hysteria…and terror.  He restores one's faith in the ability of the human spirit to soar."
Vic Reeves (Comedian) "If you have never heard (Richard Strange's band) the Doctors of Madness, you should. Musically they are the Velvet Underground, New York Dolls with shades of glam, hippie, prog and punk all rolled into one, yet are still totally original. Vastly underrated, they should have been huge. Pure genius"
Damien Hirst (Artist): "It's a Strange world"
Shane McGowan (Musician):  "Richard Strange is a diamond geezer
Jay Jopling (Art Dealer): "Richard –Stranger than Fiction"
Sam Taylor-Wood (Artist and film director): "Richard is the best gargoyle in town"
Julian Cope (Musician and writer): "When Ziggy shagged all of Amon Duul 2 at the Berlin premiere of "A Clockwork Orange", their divine progeny was undoubtedly Richard "Kid" Strange'
James Fox (Writer): "Richard Strange can do most things with a maniacal twist, and most cleverly, with unmatched originality: he can sing, write songs, he can act, he can show off like a six year old and he has the most dangerous sense of hilarity, sustainable in moments of deepest solemnity."  
Adrian Dannatt (Critic): "Strange must surely be the funniest man in London…It is impossible to spend any time within his looming majesty without being engulfed in gales of health-inducing mirth and a sense of fraternal bohemian bonhomie long lost to our ambitious and crassly commercial times.
---
Love The Art House and what we do? Want to get discounts, offers and all sorts of special goodies and behind-the-scenes stuff? Please consider joining our Patreon community here
We are about 10 minutes walk from Southampton City Centre train station (head up the hill toward the Guildhall clock tower) and on the route for most city centre buses (the Unilink U1 stops virtually outside.)
Do you have a question about coming to this event?  Please click here for a list of our event FAQs
Click here to go to The Art House what's on page
Accessibility info:-
Events are generally suitable for adults, young people and older children - children must be accompanied by an adult at all times, however. Young children are also welcome to come along but be aware some poems and songs may contain adult content (although we try to keep these until after children have left!)
Most events are held on our first floor, accessible by a wide staircase with a sturdy banner. Comformatable seating is provided.  We regret that, due to space and other constraints, we are generally unable to relocate our events to the ground floor for those who require ground level access - so sorry
FAQs
Are there ID requirements or an age limit to enter the event?
Events are open to all ages unless otherwise stated, however please note that our mission is to provide creative activity primarily to adults, therefore most of our programme is aimed at 16 years and over.  Performances may include stronger language.
Life drawing classes are open to over 18s only.
What are my transport/parking options getting to the event?
Please click here for details of how to find us.
What can/can't I bring to the event?
Please don't bring your own food or drink to The Art House.
Where can I contact the organiser with any questions?
The best way is by email to info@thearthousesouthampton.co.uk
Do I have to bring my printed ticket to the event?
If you have a smartphone, we prefer that you save paper and show us your ticket on a phone.
What is the refund policy?
Tickets are not refundable unless the event is cancelled.
The name on the registration/ticket doesn't match the attendee. Is that okay?
As long as the person making the booking is with you, that's fine. 
All bookings for events are subject to our Terms and Conditions which can be viewed here.
When & Where

The Art House Southampton CIC
178 Above Bar Street
SO14 7DW Southampton
United Kingdom


Saturday, 15 June 2019 from 19:30 to 22:00 (BST)
Add to my calendar