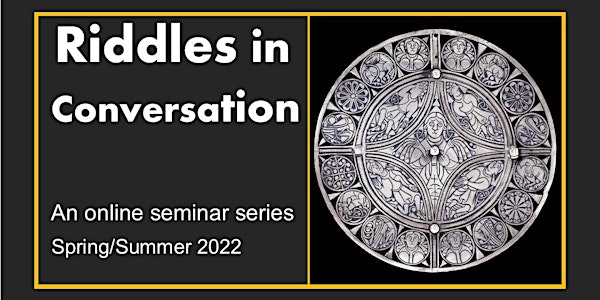 Riddles in Conversation 1: Avant Garde Translation Techniques
Judy Kendall on Old English Riddles and Translation
About this event
The Exeter Book riddles are often enlisted to illustrate what we think we know about early medieval culture, but the truth is that they are better at asking questions than giving answers. In this seminar series, therefore, we put the Exeter Book riddles in conversation with different kinds of knowing. Exploring in turn poetic translation, visual art, ornithology, and woodcraft, these four conversations will bring new insights to our understanding of early medieval culture.
The first of four seminars in the 2022 Riddles in Conversation seminar series will be given by Judy Kendall, Reader in English and Creative Writing at the University of Salford. She writes both creatively and critically on visual text, poetic processes and Old English riddle translation. Her third monograph, Where Language Thickens: meaning and effects at the threshold of the inarticulate in translated and original literary work is due out with Edinburgh University Press later this year, as is a chapter on the reception of 'Made-up' English in Paul Kingsnorth's The Wake' in a Boydell & Brewer edited collection on Old English Medievalism in the Twentieth and Twenty-First Centuries.
In her seminar she hopes to stimulate you to consider ways in which conventional translation practices can fall short, and instead to encourage you to engage with more unorthodox approaches to translation. With specific application to Old English texts and riddles, she demonstrates how the application of such avant garde translation techniques can bring us nearer to, or less far from, or at the very least differently far from the texts and cultures with which we wish to engage.
The seminar will be hosted on Zoom. A link will be sent to all participants shortly before the seminar. The series is organised by Megan Cavell (University of Birmingham) and Jennifer Neville (Royal Holloway, University of London) as part of the AHRC-funded Group Identity and the Early Medieval Riddle Tradition project. For more details, please contact Megan Cavell (m.c.cavell@bham.ac.uk) or Jennifer Neville (j.neville@rhul.ac.uk).