Description
From April through to September, Dirt Factory will be providing free bike activities in partnership with Mossley Sports Forum and the Big Lottery Fund.

Choose one of the dates on the right and book your ticket, please make sure participants are the correct age.
The first three sessions are detailed below with more dates to be announced very soon.

SESSION 1 - 10th April
10th April 10 - 2pm
Bike repairs (all ages) - COMPLETE

SESSION 2 - 12th April
12th April 10 - 1pm
Bike Skills & Ride (age 8-11) - COMPLETE
SESSION 3 - 29th May
10 - 1pm
Bike Skills & Ride (age 12-16)

Each eligible session you attend you will have the opportunity to collect a unique stamp.
If you collect three stamps you will earn the following reward:
1 x 50% Bronze Bike Service at Alphin Cycles plus a Bike Goody Bag.
If you haven't got one of our stamp cards, you can print the one below and bring it to your session.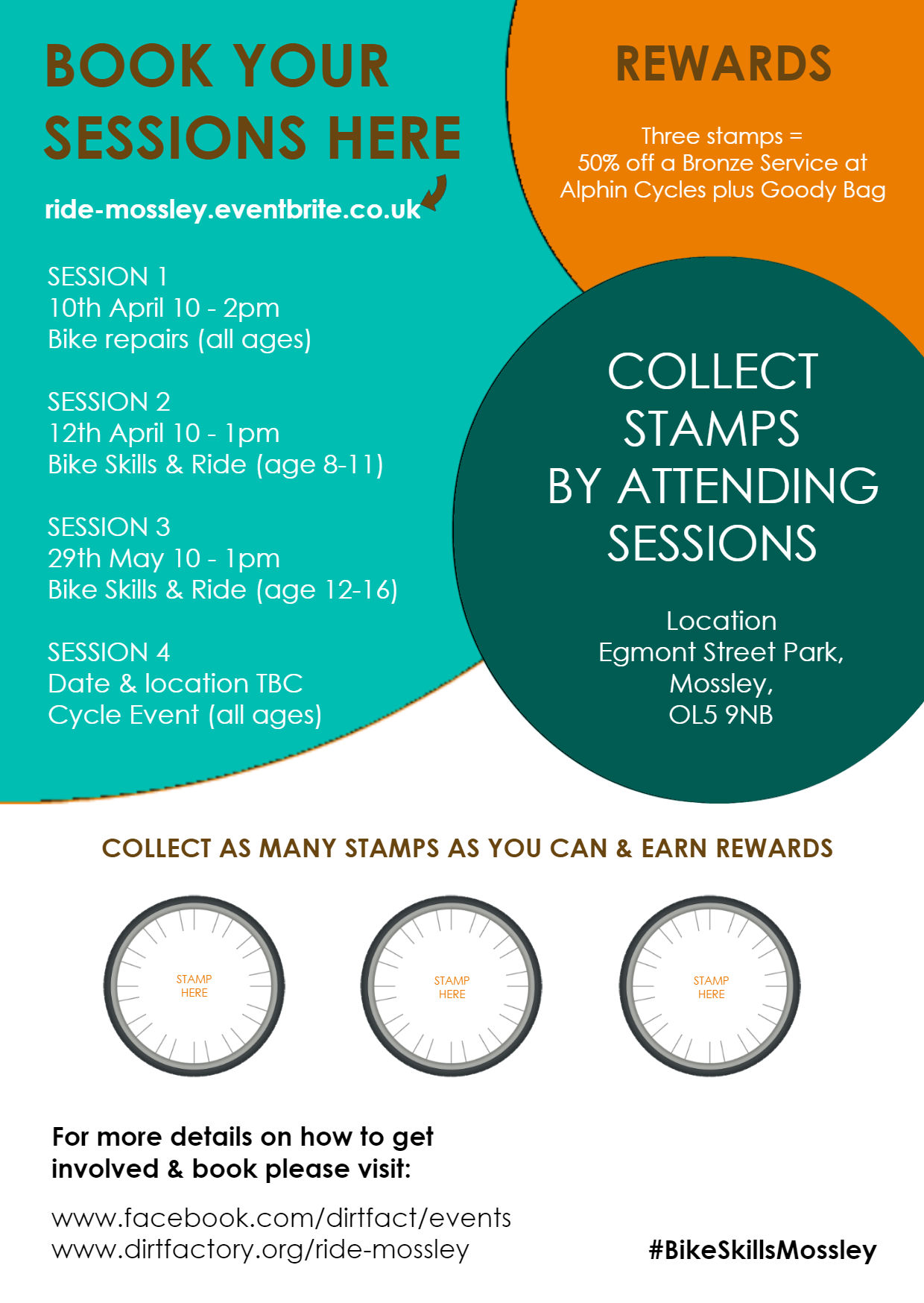 More sessions and rewards will be announced throughout the Spring and Summer months, so keep in touch.
We look forward to seeing you at one of the sessions.
FAQs
Do I need to wear a helmet?
Yes.
Do I need my own bike and helmet?
If you own your own bike and helmet please bring with you. We do have 14 spare bikes and helmets (for ages 8 - 16) for people who do not have their own.
Can I use one of your bikes and helmets?
Yes, if you are aged 8 - 16 and do not own a bike and helmet. However we only have 14 available and these will be booked out on a first come first serve basis. Please bring your own bike and helmet if possible.
Are staff DBS checked?
Yes.
Will there be a first aider on site?
Yes.