Description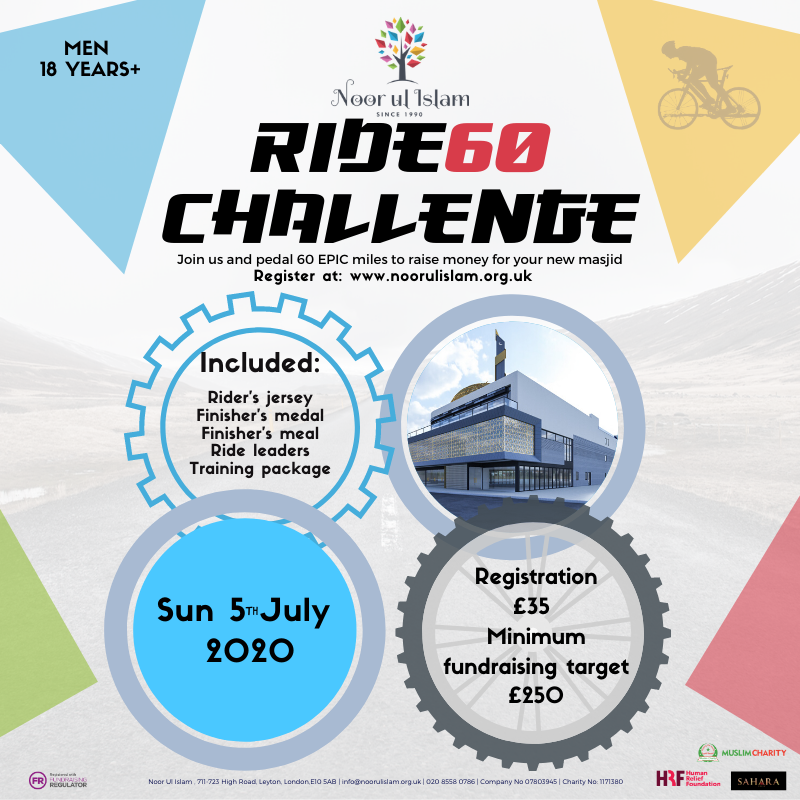 Over 30 challengers (men over 18 years) will take on the Ride60 event, riding from Noor Ul Islam Masjid, following scenic country lanes in Essex before heading to the finish line at Noor Ul Islam's annual summer fete 2020, completing an epic 60 mile loop! Join up for your opportunity to take part and help raise vital funds for #ProjectRebuild.
Ride Date: Sunday 5th July 2020
Start line: Noor Ul Islam
717-723 High Road, Leyton,
London. E10 5AB
This is a great opportunity to challenge yourself and earn great rewards by fundraising for the completion of your Masjid. Each registration (priced at £35) comes with a Rider's Jersey, Finisher's medal, and Finisher's meal.
We're here to support you with fundraising and training too in-shaa Allah – You'll be invited to a training schedule and on the day you will have support on route to ensure you complete the ride within your comfort zone.
Sign up today!

Visit www.noorulislam.org.uk/Ride60 for more information on the requirements for the ride.
Project Rebuild is Noor ul Islam's amazing project to build a masjid that mirrors the Prophetic model of a masjid being the centre of the community. The new centre will serve as the heart of the community providing many services under one roof in-shaa Allah.
We are heading into the last phase of the project now, with all the internal work beginning to take place maa shaa Allah. The minimum fundraising target for each individual is £250. However Ride60 has set an ambitious target of hoping to raise £50,000 in-shaa Allah to help towards the total cost of financing the water facilities for the men's main wudu area.