Description
RideStaffs Returns - it's the Lewis Partnership Stafford Sportive
It's been a great year of cycling for RideStaffs so far in 2017, but we're not done yet!
We've had some great rides so far this year and some great hosts too. So we thought it would be great to round off the summer by taking a tour of some of those highlights, stopping off at each along the way to say hello. We're really grateful to the Lewis Partnership for helping us to make this happen and becoming title sponsor of this ride.
Over the course of your fully signed 60miles you'll visit:
The Dog & Doublet Sandon
Lymestone Brewery (sorry, no beer, you've still got a few miles to do at this point)
Sugnall Walled Gardens
Red Lion Bradley.
Coming after just 6 miles, the first feed is just a water/toilet stop. But the remaining three feeds will all have free food and drink to fuel you on your way.
The ride starts and finishes on Greengate Street outside the Swan Hotel.
After listening to some of the feedback from previous events and chatting to many of you in person, we've decided not to have chip timing for this event, we'll be putting the ride route up on our Strava Club instead. That means we can keep the cost of entry down, but still provide a way for those who want to, to compare their times with other people. Just join our strava club and indicate that you're attending our event there to get the route.
Safe and (mechanically) sound
First aid for the rides comes courtesy of Hearts Cross who've supported all our events this year. We hope you'll never need their services, but it's reassuring to know that they're there if you do.
Mechanical support for the event is provided by Shimano. They'll be on hand at registration on Saturday and Sunday to diagnose problems and deal with minor tweeks and challenges to keep you running smoothly.
And at the end?
A medal and goody pack will be waiting for you at the end of the ride, as well as a voucher to claim a free half at either the Shrewsbury Arms or Bird in Hand courtesy of Black Country Brewery and we'll be making our official photos available for you free of charge following the event. All feed stops are free of charge too.
Anything else?
Watch this space for further announcements on more things happening on September 10th.
Pricing:
Enter during July and it'll cost just £18.31 to grab a place on the ride.
Leave it till August and the price goes up to £24.09
September entries are £29.35
The Route
The Lewis Partnership Stafford Sportive is an end of season tour of some of the places we've enjoyed taking our rides this year. So we're using some of our favourite roads to get to some of our favourite places. Check out the details below: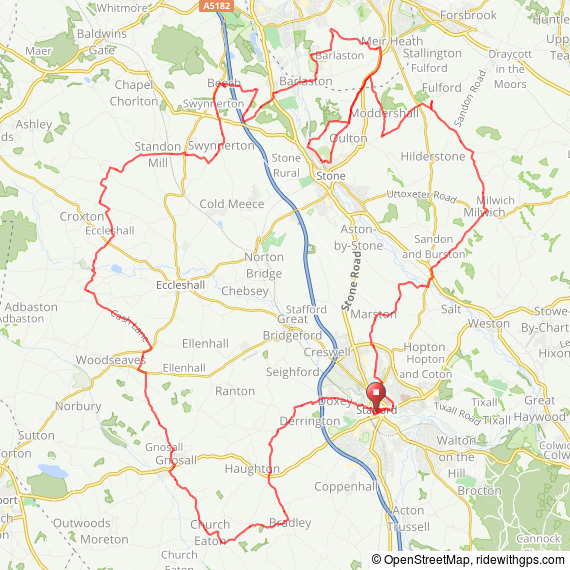 The route has 3500ft of climbing and the feed/water stations come at 6, 20, 42 and 56 miles.
The stand out climbs on the route come at Millwich, Oulton Heath, Tittensor & Beech Caves, the good news is that they're all in the first half of the ride and once under your belt it's a much less brutal second half to your day in the saddle.
GPX files:
You'll be able to access a GPX file of the route for this event from our Strava Club page.
Ready to enter? Just hit the Tickets button
Organiser of RideStaffs Returns - with the Lewis Partnership Stafford Sportive
Leadout Consulting is owned and run by Paul Rowlands. Paul has worked on some of the biggest cycling events to visit the UK over the last decade including the Tour de France, Tour of Britain and World Championships and world cups in BMX, MTB and Track Racing. RideStaffs events have been organised and delivered by Leadout since 2010.