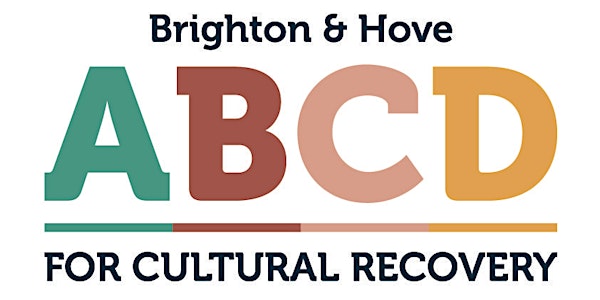 Right Here, Right Now: Where next for culture in our city and how?
Location
Soundrooms
3 Pelham Terrace
Brighton
BN2 4AF
United Kingdom
An opportunity to review & refresh the ABCD Plan for Cultural Recovery and to input into the future of culture in the city.
About this event
A lot has happened since the ABCD Plan for Cultural Recovery in Brighton & Hove was published at the end of 2020. The world has changed, although the pandemic is still with us, and we've all learnt and experienced a great deal.
It's a good moment to reflect, but mainly to look forwards, so we're holding an open session – both for those who have been involved in ABCD so far, and those who might be new to the conversation. As Norman Cook says, we're the ones who are Right Here, Right Now, so we're the ones who can make a difference. The meeting will be a chance to refresh the direction of ABCD and to input into how choices and decisions are made about the future of culture in the city.
It will be an Open Space session, so the agenda gets set by participants on the day (see this blog by facilitators the hub about how Open Space works). Feel strongly about what the priorities should be? Got an idea about how we can collaborate more effectively? A provocation for the sector at large? Brilliant. Bring your thoughts, and invite your peers to explore them with you. Not got a specific idea, but keen to debate the future? That's great too.
Who is it for?
Creative and cultural organisations, businesses and workers interested in where next for culture in our city, and how we get there.
How can I take part?
You can take part in person or online, with dedicated facilitators for each group. We have a limited number of small bursaries for freelancers, which will be allocated on a first come first served basis, and there is an access budget to support people with particular needs.
About ABCD:
The disruption of the pandemic brought together over 100 creatives in Brighton & Hove to explore how arts & culture can be more inclusive, sustainable and collaborative in the City in the future. This resulted in a recovery plan, that runs to the end of 2022 and that has so far raised almost £500k for the cultural sector in the City. The plan is overseen by an independent group of people formed of a Governance Group and a series of Working Groups. The aims are to create paid work and professional opportunities for creative workers in the City, to develop a more inclusive cultural offer and to encourage partnership working to strengthen the creative sector in the long term.