Description
RIP PROJECT MANAGER EVENT
--- PLEASE NOTE THE CHANGE OF VENUE ---
Concourse Suites 1 & 2, National Exhibition Centre (NEC), Perimeter Road, Birmingham, B40 1NT
21 March 2018
---
Who is this event for?
This event is for all Assistant Project Managers (APM), Project Managers (PM) and Senior Project Managers (SPM) that work in the Regional Investment Programme (RIP), a division of the Major Projects Directorate in Highways England.
---
What is the agenda?
START 10:00
Welcome, introductions and safety moment
How are we performing
Case study discussions
Networking lunch
Sharing experiences
RIP of the Future
Q&A
CLOSE 15:30
---
Why should I attend?
The day has been designed specifically for RIP's PM Community. The objectives are to:

Continue building a single RIP team where our people can get to know each other, network and share knowledge regardless of where you are based.
Give everyone a clear understanding of their role as a leader in RIP and the potential responsibilities that come with it.
Open everyone's eyes to the opportunities available to them in RIP and how they can realise their career goals.
Help everyone understand more about what's coming their way through the MP Change Programme and the Future of RIP.
---
Where and when will the event be held?
PLEASE NOTE THE CHANGE OF VENUE

The event will be held at:
Concourse Suites 1 & 2
National Exhibition Centre
Perimeter Road
Birmingham
B40 1NT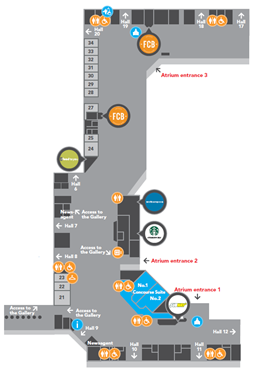 The venue is located inside the National Exhibition Centre (NEC) complex.
If travelling by train, tickets will need to be booked to Birmingham International railway station. The station is a part of the complex.
A small number of parking spaces are available for those who are unable to travel by train. These can be requested by emailing RIP.Events@highwaysengland.co.uk.
---
Is there anything I need to do before the event?

Please provide an example of a specific problem you have faced within your region or on one of your projects, which can be used as a case study at the Project Management forum. Note, these should not be process related problems.
The example will be used to facilitate a round table discussion for others from across the regions to share similar experiences, how they might have tackled the problem and things they would have considered.
To aid in the discussion please produce a slide which
describes the problem & circumstances around it
how you approached it
what were the challenges you faced
how you resolve it
whether & how were you able to draw on the wider experience of the RIP team
Send your example to RIP.Events@highwaysengland.co.uk by 12 noon on Friday 16 March 2018.
---
Please email RIP.Events@highwaysengland.co.uk if you have mobility or dietary requirements that need to be catered for, or if you have any other questions about the event.