Gathering of Seclusion in the Remembrance of the Divine, Surrounded by Righteous Company, Soaking in the Mist of the Heavenly Abode.
About this event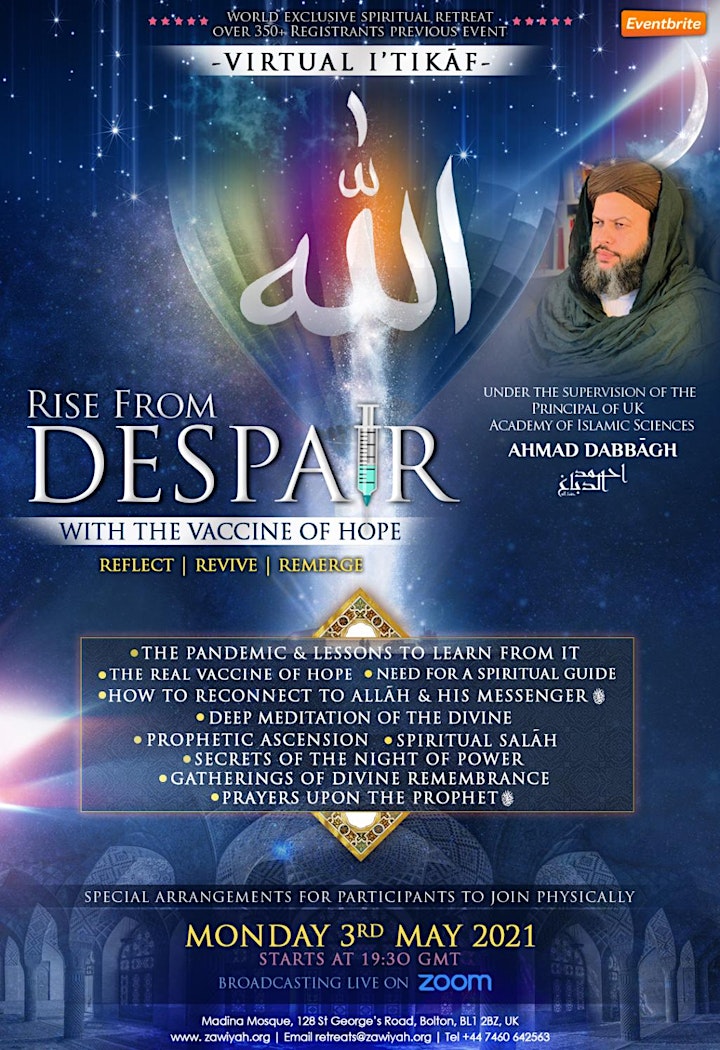 A Practical and Spiritual affair of absorbing the fragrance of Paradise, Our Rise from Despair | Virtual I'tikaf Retreat, is organised to fulfill the Prophetic Practice of The Beloved of Allah, the Prophet Muhammad ﷺ .
Come Join Us to obtain the Reward of 2 Hajj and 2 Umrah's, Our Prophetic Seclusion is designed to Re-Set | Re-Focus | Revive our Purpose of Life, Relationship with Allah The Merciful & His Messenger Muhammad ﷺ and the Creation of Allah.
The Night of Power consists within these 10 Nights and we look forward to seeking this and understanding how we can then Power our Life in obedience to Allah The Merciful for the Rest of the Year.
As we have national restrictions due to the Pandemic, we are forced to have a limited number of people who can participate with us for our Annual Spiritual I'tikāf Retreat, at our UK centre, based in the North West.
This will ONLY be offered to brothers based nationally in the UK or those who wish to travel from overseas that do not have any travelling restrictions.
Date & Time:
Date: 20th Night of Ramadan, Monday 3rd May 2021
Duration: Dedicated 9 or 10 days
Retreat Commences: 19:30pm GMT on the 20th Night of Ramadan
** The Entire Retreat will be Hosted from the UK and ran according to GMT time**
Venue:
Online | Broadcasting on Zoom
Physical Participation | Madina Mosque, 128 St. Georges Street, Bolton, BL1 2PZ, UK
What to Expect:
During this I'tikaf Spiritual Retreat; Allow yourself to be Gently Guided on a 'Spiritual Journey' Connecting with the Best of Creation ﷺ and Attaining the Closeness to the Divine.
During this Spiritual Retreat you will Learn:
Inner Dimensions of Fasting
Journey from Human being to Being Human
Discover the Purpose of Life
Prophetic Ascension
Secrets of the Night of Power
Divine Remembrance
Prayers Upon The Prophet ﷺ
Majestic Quran & How we Connect to the Divine Book
Establish Khushoo (presence of Allah) in your Salāh
Meditation Exercises to Deeply Connect with the Divine
Much More +
Discourses | Interactive Worskshops | Presentations | Meditattion | Divine Remembrance
His Eminence & Teachers:
Under the Supervision of the Principal of UK Academy of Islamic Sciences: Shaykh Ahmad Dabbāgh
Dr Shah Alom | Imam Qais | Ustadh Sajid | Ustadh Abdur Raheem | Ustadh Majid and Many more
Stay Connected For More Details to Follow:
Email: retreats@zawiyah.org
Brothers | +44 7460 642 563 and Sisters | +44 7752 341 654
Stay Connected by following us on: Facebook; YouTube; Instagram; Pinterest; TikTok
Date and time
Location
Refund policy