About this Event
Join us at this unique performance created by Rise Theatre for Corpus Christi Wokingham to help raise funds for the Corpus Christi Youth Group & equipment for the children's choir
The RISE performance is based on a quirky fictional style TV show, with faith-based themes being explored through a mix of short sketches, music, interviews, videos and creative reflection.
The RISE Theatre 'Happiness' performance explores how each of us is invited by God to experience life to the full!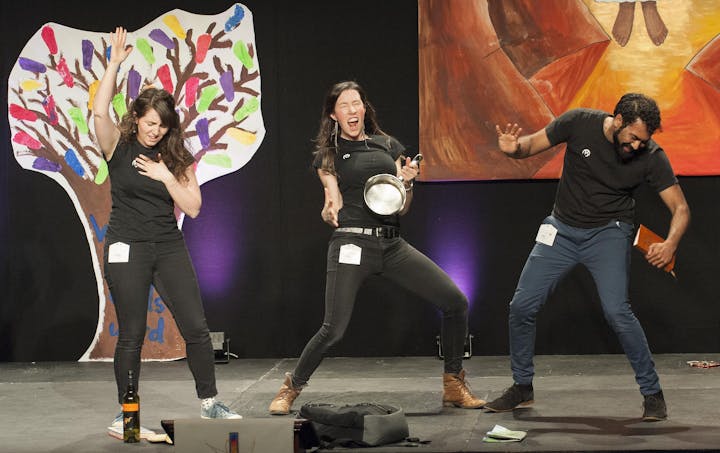 RISE Theatre CIC is a professional Christian theatre company with a passion for delivering exciting, original, transformative theatre. Using a mix of sketches, music, videos and interviews; the RISE Theatre 'Happiness' performance explores how each of us is invited by God to experience life to the full!
FAQs
Where is the Caudwell Hall Theatre? Caudwell Hall Theatre is the performing arts theatre of the Holme Grange School, Wokingham.It is located off Heathlands Road, Wokingham RG40 3AL. Simply follow the directions from the map on this page.
Are there ID or minimum age requirements to enter the performance?
Although it is a family show and suitable for all ages, the content is mainly geared towards adults, teenagers and older primary school children.
Is there a discount for children?There are no discounted tickets..
Are there any booking fees to pay? No. To ensure "what you see is what you pay" the ticket prices have been subsidised by Corpus Christi Church Wokingham so that all processing fees from this sales site are absorbed within the price. You only pay £5 per ticket.
If you wish to make a donation to go towards the processing fees charged by this booking site you can do so at the ticket page.
Will there be anything to eat/drink at the event?A range of snacks will be available to purchase prior to the start of the show and during the interval.
Please Note: All food and drink are prohibited inside the theatre auditorium itself; but if we have large numbers we will look to open up an adjoining sports hall where you can sit down with your cup of tea.
Is there an interval?
Yes, the performance is split into two 45 minute sections with an interval in the middle.
Where's the nearest parking? The Caudwell Hall Theatre is based within the school grounds of Holme Grange School, Wokingham RG40 3AL. There are plenty of FREE parking at the theatre.As you enter the school from the main road you just follow the driveway round to the right and the theatre is on the left of the car park.
Can I buy my ticket on the door?Yes, there will be a limited number of "on the door" tickets available. The theatre is large with tiered seating we should be able to fit you in. Just identify yourself to the front of house team in the theatre foyer and they will assist you.
To be certain of your seat please email ccygwokingham@gmail.com to let us know your name and the number of people coming.
Are you supporting an Parish groups or charities with this event?Yes. We are hoping to raise funds from this event to support two worthwhile youth groups in the parish.
Corpus Christi Wokingham Youth Group ''CCYG'' (ccygwokingham@gmail.com)CCYG are a newly formed youth group that prides itself on learning about God, having fun through the various planned activities and getting a hot meal at each youth meeting.The cost of some of the activities are outside of the reach of some of its attendees so it is important that no one is excluded. Sponsoring this youth group is important because without this group many would not have gone to church or know more about God. The young people have become more confident about their faith or talking about God and the aim is to continue to foster that. However, this cannot be properly achieved without some form of subsidies/donations.
Corpus Christi Wokingham Children choir (ccygwokingham@gmail.com)Corpus Christi RC Wokingham has seen the development of it's newly formed children's choir. The choir has grown from strength to strength but they need help. They need equipment such as a compatible sound system that would work with the church's system and a guitar. The aim is to help the choir to achieve their goal, that is purchasing a compatible system so their voices can be heard when they sing and give the little ones confidence in what they do. Check out the FAQs below for details of how you can donate a guitar at the performance. Both the youth group and the children's choir is self funded and relies on charitable donations to offset the costs of activities and equipment.
Can I donate any equipment to the children's choir?Yes. If you wish, we do need a guitar. Please contact ccygwokingham@gmail.com
Do I have to bring my printed ticket to the event?You just need to show evidence of payment; either a print out of your ticket or bring your phone/tablet with the confirmation receipt that you will receive from Eventbrite.
Is it ok if the name on my ticket doesn't match the person who attends?Yes that's fine. Just show your ticket/receipt as you enter the auditorium.
Can I get a refund?If after purchasing your ticket you discover (prior to the event) that you cannot attend. Please contact us via ccygwokingham@gmail.com so that we can re-sell your ticket.
How can I contact the organiser with any questions?If you have any questions about the performance please contact us at ccygwokingham@gmail.com