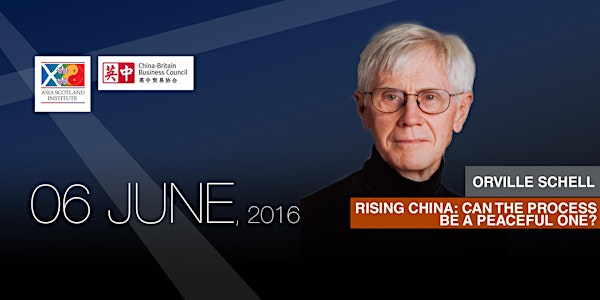 RISING CHINA: CAN THE PROCESS BE A PEACEFUL ONE?
Location
Ernst & Young
10 George St
Edinburgh
EH2 2DZ
United Kingdom
Description
WHAT WILL THE IMPACT OF THE U.S. PRESIDENTIAL ELECTION BE?
The Asia Scotland Institute and the China-Britain Business Council are delighted to welcome Orville Schell, a world renowned expert on China.
Orville Schell currently is the Arthur Ross Director of the Centre on U.S.- China Relations at the Asia Society in New York. He is a former professor and Dean at the University of California, Berkeley Graduate School of Journalism.
Schell Graduated Magna Cum Laude from Harvard University in Far Eastern History, was an exchange student at Taiwan University in the 1960s, and earned a PhD (Abd) in Chinese History at the University of California, Berkeley.
Schell was a Fellow at Columbia University's Graduate School of Journalism and the recipient of many prizes and fellowships, including a Guggenheim Fellowship, the Overseas Press Club Award, and the Harvard-Stanford Shorenstein Prize in Asian Journalism.
Schell is the author of fifteen books, ten of them about China, and a contributor to numerous edited volumes. His most recent book is Wealth and Power: China's long march to the Twenty-first Century.

Become a Member of the Asia Scotland Institute and receive a complimentary ticket!