RLC UK Book Club: God is Not a White Man (featuring author Chine McDonald)
Join us for a Zoom RLC UK Book Club discussion of God is Not a White Man featuring author Chine McDonald.
About this event
We are excited to welcome writer and broadcaster Chine McDonald for a special Red Letter Christians UK Book Club Discussion of her important new book, God is Not A White Man. The book will be released in May 2021 and is available for purchase here.
Our desire is to create an environment where we are not aiming to somehow 'critique' the book but to allow ourselves to hear from and engage with an important Black British voice and perspective. Last year, we held book club discussions of Reni Eddo-Lodge's Why I'm No Longer Talking to White People About Race and Ben Lindsay's We Need to Talk About Race. We'll hear from Chine about the book and also have a time of Q&A. As with our other Zoom Book Club gatherings, we will make time and space for dialogue in smaller breakout groups, too. Some of the questions we'll be discussing are:
- What did you learn for the first time reading this?
- How did it challenge what you already know or thought you knew?
- Have you recognised a way you could change or adapt your behaviour in the light of this new information?
- What now?
The event will be hosted by RLC UK's Naomi Bennett and Danielle Wilson. If you represent a church or community group and would like to have a dedicated 'breakout' room for your members, please get in touch and we'd be happy to facilitate that for you.
Chine McDonald is a writer, broadcaster and head of public engagement at Christian Aid. Prior to that, she led the media & PR team there and before that worked at World Vision as head of influence & engagement. She was previously director of communications at the Evangelical Alliance, including running threadsuk.com – an online collective for people in their 20s and 30s exploring faith and life. She read theology & religious studies at Cambridge University before training as a newspaper journalist and over the years has written for several regional and national publications. Chine is a regular contributor to BBC Religion & Ethics programmes, including Thought for the Day on Radio 4's Today programme, the Daily Service, Pause for Thought and Prayer for the Day. Chine is the author of 'Am I Beautiful?' – a book exploring body image among Christian women. She also sits on a number of charity boards, including Greenbelt Festival, the Church & Media Network and Christians Against Poverty. Chine regularly speaks and writes on issues of race and faith. Her second book God Is Not a White Man? will be published by Hodder & Stoughton in May 2021.
Red Letter Christians UK is a network for people who want to take Jesus' words seriously in our personal devotion, in our communities and in UK public life. Jesus' life and words move us to respond to poverty, injustice and exclusion with compassion and action.
If you have any questions, please email info@redletterchristians.org.uk.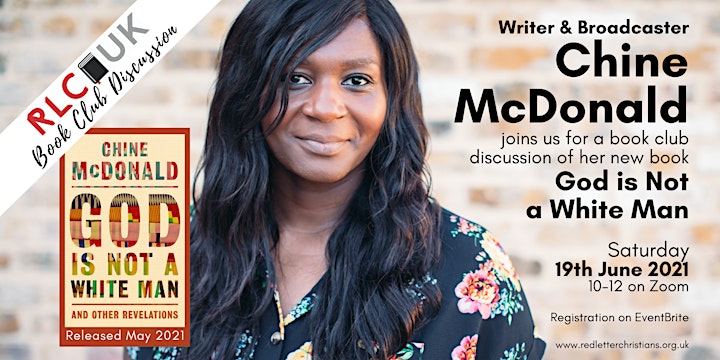 Organiser of RLC UK Book Club: God is Not a White Man (featuring author Chine McDonald)
Red Letter Christians UK is a relational network for those who want to live for Jesus and Justice. Our focus is connecting and supporting Christian activists and community leaders across the UK. We aim to provide practical tools for developing advocacy and organising skills alongside deepening spiritual resilience. We seek out spiritual and tactical resonance, creating opportunities to pursue justice together. We aim to amplify prophetic voices from the margins who bring spiritual depth, experience and a healthy dose of challenge to national conversations.