RLC UK Book Club: Jarel Robinson-Brown - Black Gay British Christian Queer
A Zoom RLC UK Book Club with Jarel Robinson-Brown discussing his book Black Gay British Christian Queer: Church & the Famine of Grace
About this event
We are excited to welcome writer and minister Jarel Robinson-Brown for a special Red Letter Christians UK Zoom Book Club Discussion of his important new book, Black Gay British Christian Queer: Church & the Famine of Grace. The book will be released in July 2021 and is available for purchase here.
Our desire is to create an environment where we are not aiming to somehow 'critique' the book but to allow ourselves to hear from and engage with an important Black British voice and perspective. Last year, we held several book club discussions engaging with anti-racism, and in June invited author Chine McDonald to discuss her book God is Not a White Man. We're thrilled to have Jarel join us and for this discussion to expand our learning journey even further.
We'll hear from Jarel about the book and also have a time of Q&A. We'll be recording the session. As with our other Zoom Book Club gatherings, we'll offer smaller breakout groups for those who would like to discuss things in a more personal context, too (and these breakout groups will not be recorded). Some of the questions we'll be discussing are:
- What did you learn for the first time reading this?
- How did it challenge what you already know or thought you knew?
- Have you recognised a way you could change or adapt your behaviour in the light of this new information?
- What now?
The event will be hosted by RLC UK's Naomi Bennett and Danielle Wilson. If you represent a church or community group and would like to have a dedicated 'breakout' room for your members, please get in touch and we'd be happy to facilitate that for you.
About the Book ...
If the church is ever tempted to think that it has its theology of grace sorted, it need only look at its reception of queer black bodies and it will see a very different story.
In this honest, timely and provocative book, Jarel Robinson-Brown argues that there is deeper work to be done if the body of Christ is going to fully accept the bodies of those who are black and gay.
A vital call to the Church and the world that Black, Queer, Christian lives matter, this book seeks to remind the Church of those who find themselves beyond its fellowship yet who directly suffer from the perpetual ecclesial terrorism of the Christian community through its speech and its silence.
About the Author ...
Jarel Robinson-Brown is preparing to serve as Assistant Curate of St Botolph's without Aldgate in the Diocese of London. Most recently he served as Associate Chaplain of King's College London and he is currently the Vice-Chair of OneBodyOneFaith. His research is mainly on bodies, ethnicity and desire in Late Antique Egypt and his most recent book is on Black Queer Bodies and Grace.
Red Letter Christians UK is a network for people who want to take Jesus' words seriously in our personal devotion, in our communities and in UK public life. Jesus' life and words move us to respond to poverty, injustice and exclusion with compassion and action.
If you have any questions, please email info@redletterchristians.org.uk.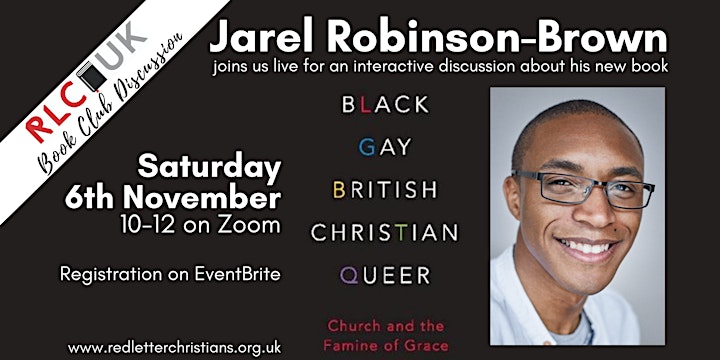 Organiser of RLC UK Book Club: Jarel Robinson-Brown - Black Gay British Christian Queer
Red Letter Christians UK is a relational network for those who want to live for Jesus and Justice. Our focus is connecting and supporting Christian activists and community leaders across the UK. We aim to provide practical tools for developing advocacy and organising skills alongside deepening spiritual resilience. We seek out spiritual and tactical resonance, creating opportunities to pursue justice together. We aim to amplify prophetic voices from the margins who bring spiritual depth, experience and a healthy dose of challenge to national conversations.