RMT in Sub-Atomic Physics and Beyond

Monday, 5 August 2019 at 08:00

-

Friday, 9 August 2019 at 18:00 (CEST)
Event Details
"RMT in Sub-Atomic Physics and Beyond"
05 – 09 August
Organizers:
Mario Kieburg (Bielefeld University)
Kim Splittorff (Niels Bohr Institute)
Tilo Wettig (University of Regensburg)
Abstract
This workshop shall highlight the past and current impact of Jac Verbaarschot's work on High Energy Physics and beyond using chiral Random Matrix Theory and chiral perturbation theory. In particular, the focus shall lie on recent developments in high energy physics, especially QCD and lattice QCD, and other topics such as condensed matter theory and time series analysis. Moreover, the workshop shall provide a platform for very recent developments in physics, e.g., spectral statistics of large eigenvalues of the Dirac operator and models of Majorana modes in quantum wires. New technical developments in random matrix theory, such as eigenvector statistics of non-Hermitian random matrices and exact models involving sums and products of matrices, shall also be presented. We aim to bring together experts from diverse fields who were strongly influenced by Jac Verbaarschot's work. In this way we hope to create the basis for new collaborations and innovative ideas.
When & Where

ECT*
Strada delle Tabarelle, 286
Villazzano
38123 Trento
Italy


Monday, 5 August 2019 at 08:00

-

Friday, 9 August 2019 at 18:00 (CEST)
Add to my calendar
Organiser
 ECT* - European Centre for Theoretical Studies in Nuclear Physics and Related Areas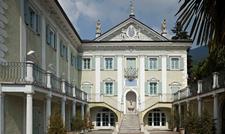 The European Centre for Theoretical Studies in Nuclear Physics and Related Areas (ECT*) in Trento (Italy) provides a dedicated and structured combination of scientific activities for a large international scientific community. ECT* acts as an "intellectual" centre of competence, complementary in scope and activities to existing research facilities based at universities or experimental laboratories. It promotes coordination of European research efforts in nuclear physics and related research areas.