TLA Black Women in tech network event every 2nd Thursday of the month, full of creativity, inspiration, and passionate conversations.
About this event
TLA Black Women in Tech hosts monthly events to bring together business professionals, and entrepreneurs and companies. The networking event is a great opportunity to meet other like-minded technology and digital businesses/individuals.
Please save those dates. Our events, virtual or in-house, are on the 2nd Thursday of the month from 18:00 to 20:00. Within our amazing community, we are fortunate to have many professionals willing to speak or host the events.
From 2021, our events will be featured around these 3 pillars, ensuring the subjects are relevant to tech entrepreneurs, tech companies and professionals in tech.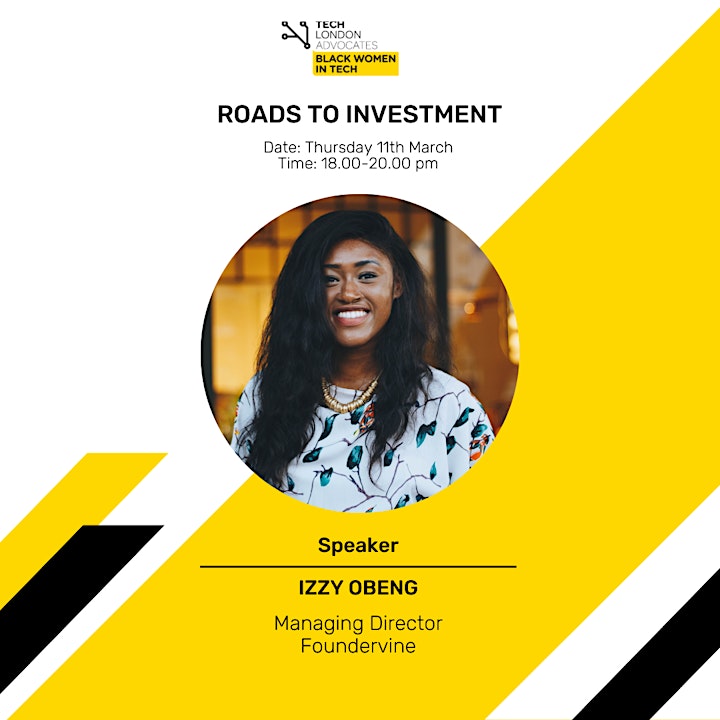 Izzy Obeng is an entrepreneur and business coach leading Foundervine – a non-profit training consultancy connecting purpose-driven companies to impactful start-ups. Foundervine work in partnership with world-leading companies, government, and educational institutions to help diverse founders grow. Since 2018, Over 2,000 people have been supported by Foundervine programmes, over 300 startups launched with 62% female participation.
Izzy is a Non-Executive Director for Capital Enterprise, a body that has raised £815m for UK start-ups and a Non-Executive Director for Traverse, a consultancy changing world of public services. She has been featured in the BBC, The Telegraph, The Times, Forbes and in 2019 was named by Tech Nation as one of the 50 most influential black voices in UK tech.
A tech founder with over 15 years experience in FinTech. Ez's journey has taken him from Software Developer to Co-Founder and CTO to Venture Capital.
He is currently a Founding Member, Principal and CTO in Residence at Impact X Capital Partners LLP a venture fund focused on supporting underrepresented entrepreneurs.
He is the Co-Founder of Code Untapped, a digital skills accelerator that helps companies find innovative product solutions by giving them access to diverse and underrepresented technologists through their innovation labs events.
He is a former Co-Founder of Neyber a multi-award-winning Fintech firm focused on financial wellbeing, where he was the founding CTO and held numerous roles during his tenure including brand ambassador and NED.
Ez also advises a number of boards. He is currently advisor to the board of UKITL (UK IT Leaders Network) and Albany Group. Ez is also a NED for Findexable the real-time Fintech Index.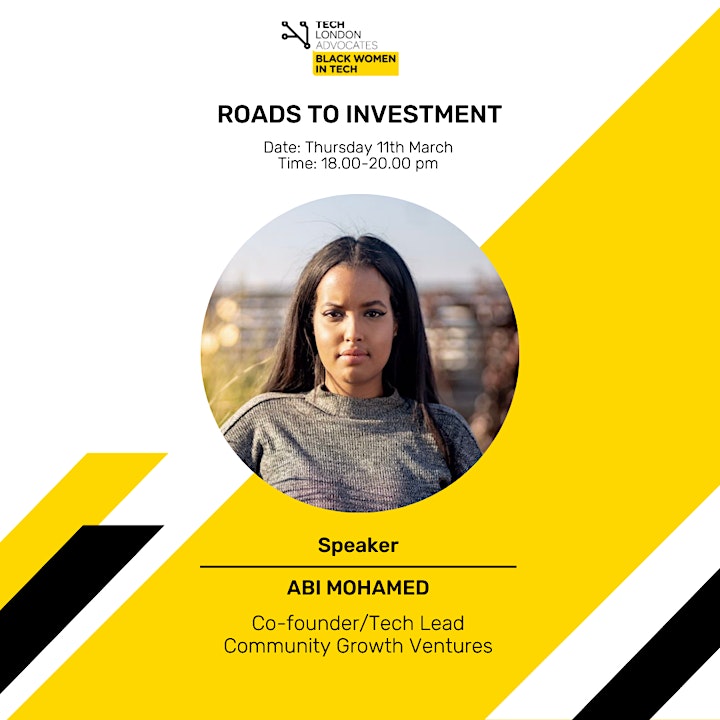 Abi Mohamed is the co-founder / Tech Lead of Community Growth Ventures, a London-based angel investment firm. CGV invests time, capital and resources to help passionate founders from minority and underestimated backgrounds create sustainable companies that deliver value to customers and the communities they operate in. Additionally, she is a Programme Manager at Tech Nation, an organisation focused on accelerating the growth of digital businesses across cities in the UK through growth programmes, digital entrepreneurship skills development and championing of the UK's digital tech sector through data and media campaigns.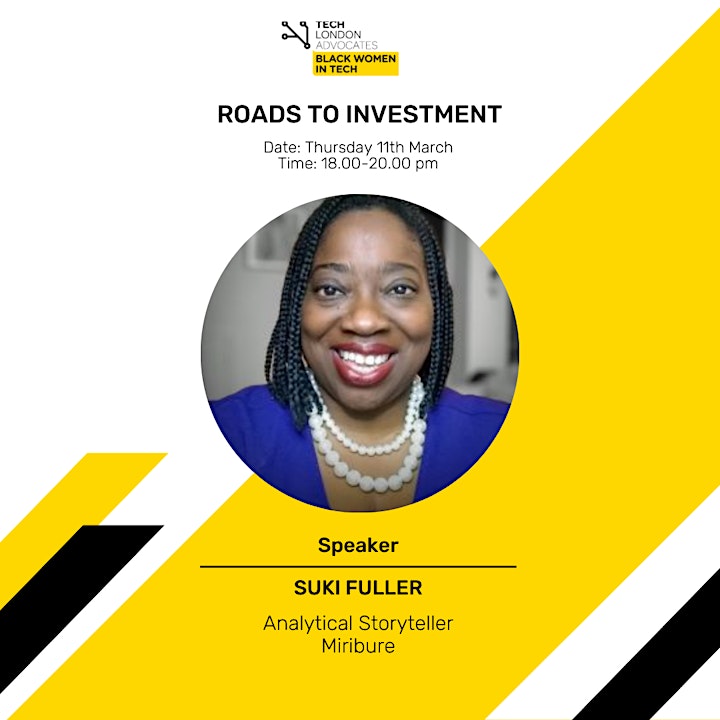 Suki Fuller is an Analytical Storyteller; globally recognised Competitive and Strategic Intelligence professional as one of 96 Fellows in The Council of Competitive Intelligence Fellows, speaker, advisor and mentor. From national security to non-profit; China to the Middle East. She is sought for her experience in the early adoption of emergent technologies and the ability to translate the quantitative into qualitative insights. She is also an advisor, board member, investor and NED to several startups.
She was recently named by Financial Times as one of the Top 100 Black, Asian, Minority Ethnic Leaders in UK Tech; as one of Computer Weekly Top 50 Most Influential Women in UK Tech 2020, 2019 and in 2018 as one of Five Rising Stars. She is also one of the "Black Powerlist Top 30 Titans of Tech".