How To Academy presents... Human Behaviour – the Biology of Human Beings at Our Best and Worst | Robert Sapolsky
About this Event
Join world-renowned Stanford neurologist and bestselling author Robert Sapolsky for the exhilarating story of the science underpinning the biggest question of all: what makes us human?
Why do human beings behave as they do? We are capable of savage acts of violence but also spectacular feats of kindness: is one side of our nature destined to win out over the other?
Stanford neurobiologist and the author of the critically acclaimed bestseller Behave Robert Sapolsky joins us with the answers.
Every act of human behaviour has multiple layers of causation, spiralling back seconds, minutes, hours, days, months, years, even centuries, right back to the dawn of time and the origins of our species. In the epic sweep of history, how does our biology affect the arc of war and peace, justice and persecution? How have our brains evolved alongside our cultures?
Fans of Jared Diamond, Yuval Noah Harari and Steven Pinker ought not to miss this exclusive livestream event.
Praise for Robert Sapolsky's Behave:
'One of the best scientist-writers of our time' Oliver Sacks
'It's no exaggeration to say that Behave is one of the best nonfiction books I've ever read' ― Wall Street Journal
'Magisterial … This extraordinary survey of the science of human behaviour takes the reader on an epic journey … Sapolsky makes the book consistently entertaining, with an infectious excitement at the puzzles he explains … a miraculous synthesis of scholarly domains' -- Steven Poole ― Guardian
'Awe-inspiring… You will learn more about human nature than in any other book I can think of' Henry Marsh, bestselling author of Do No Harm
'Behave is the best detective story ever written, and the most important. If you've ever wondered why someone did something – good or bad, vicious or generous – you need to read this book. If you think you already know why people behave as they do, you need to read this book. In other words, everybody needs to read it' -- Kate Fox, author of Watching the English
'A miraculous book, by far the best treatment of violence, aggression, and competition ever. Its depth and breadth of scholarship are amazing, building on Sapolsky's own research and his vast knowledge of the neurobiology, genetic, and behavioral literature. All this is done brilliantly with a light and funny touch that shows why Sapolsky is recognized as one of the greatest teachers in science today' -- Paul Ehrlich, author of Human Natures
Robert M. Sapolsky holds degrees from Harvard and Rockefeller Universities and is currently a Professor of Biology and Neurology at Stanford University and a Research Associate with the Institute of Primate Research, National Museums of Kenya. He is the author of The Trouble with Testosterone, Why Zebras Don't Get Ulcers (both finalists for the LA Times Book Award), and A Primate's Memoir. Sapolsky has contributed to Natural History, Discover, Men's Health, and Scientific American, and is a recipient of a MacArthur Foundation genius grant.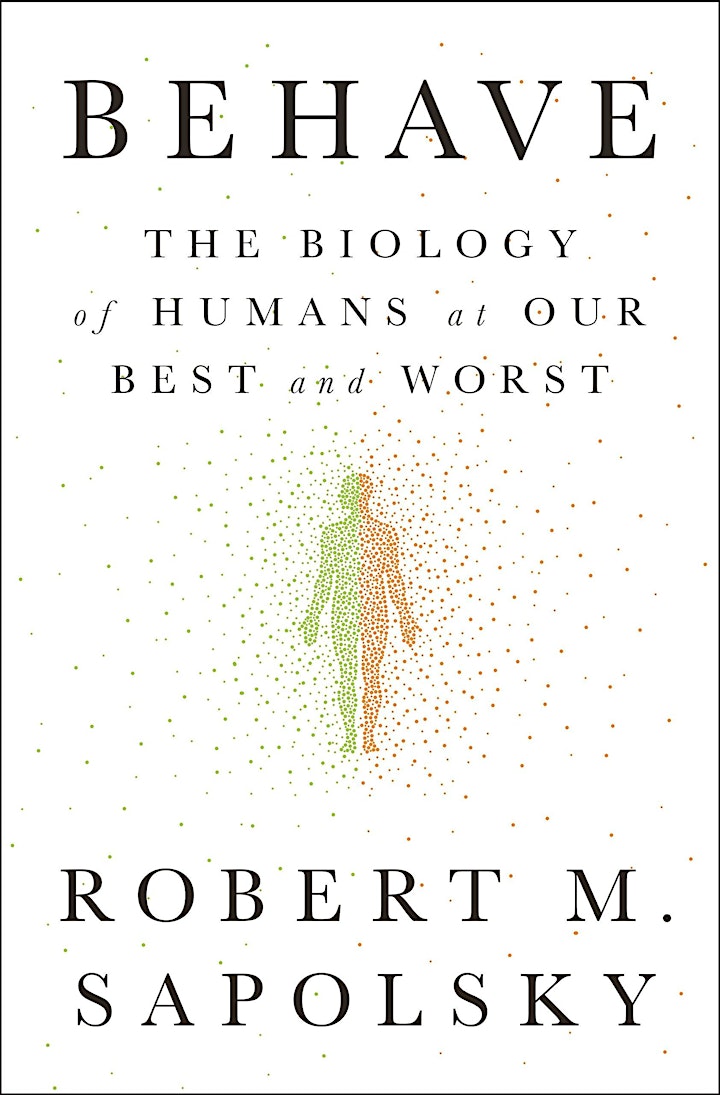 Date and Time
Location
Refund Policy