Robot House Event

Friday, May 17, 2013 from 3:00 PM to 7:00 PM (BST)
Event Details
Join Anna Dumitriu and Alex May in a smart home full of moving and talking robot companions and carers on Friday 17th between 3pm-7pm at The University of Hertfordshire's Robot House in a rare opportunity to visit this secret research location and see the artworks and interventions they have created after living there for one week!
The artists will be resident in The University of Hertfordshire's Robot House between 13th and 17th May 2013. The artists will spend a week living in the house surrounded by research robots and document their experiences here making artwork in response to the situation. So far no-one has spent longer living in the house. The residency aims to raise public awareness around of The University of Hertfordshire's work on the Accompany (Acceptable robotiCs COMPanions for AgeiNg Year) EU Project.
There will be a special event between 3pm and 7pm on 17th May with an exhibition, performance and a chance to meet the robots, including My New Robot Companion, which will be worked on throughout the week and there will be a chance to meet University of Hertfordshire's famous robot KASPAR (pictured below). To apply to attend the event please book a ticket, the house is in a secret location and you will need directions/instructions which you will be sent prior to the event. The house is near Hatfield Station in Hertfordshire.
Read about their experiences here on their residency blog.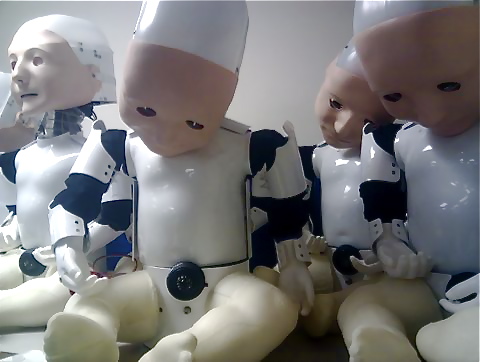 There will be an artists talk (open to the public) at 1pm 15th May as part of the Computer Science Research Colloquium on the University of Herfordshire Campus. See link for details.
When & Where

University of Hertfordshire
College Lane
Hatfield
AL10 9AB


Friday, May 17, 2013 from 3:00 PM to 7:00 PM (BST)
Add to my calendar
Organizer
Anna Dumitriu
Anna Dumitriu is a British artist whose work fuses craft, sculpture and bioscience to explore our relationship to the microbial world, technology and biomedicine. She has a strong international exhibition profile, having exhibited at The Picasso Museum in Barcelona, The Science Gallery in Dublin, The Museum of Contemporary Art (MOCA) Taipei, and The V & A Museum in London. Her work is held in several major public collections, including the Science Museum London and Eden Project. She is the founder and director of "The Institute of Unnecessary Research", a group of artists and scientists whose work crosses disciplinary boundaries and critiques contemporary research practice and won the 2012 Society for Applied Microbiology Communication Award.
Dumitriu holds the post of Artist in Residence on the Modernising Medical Microbiology Project at The University of Oxford in collaboration with Public Health England, a Visiting Research Fellowship: Artist in Residence position with the Department of Computer Science at The University of Hertfordshire, and a Visiting Research Fellowship: Lead Artist position with the Wellcome Trust Brighton and Sussex Centre for Global Health Research. She is also a Research Fellow with Waag Society and Lead Artist on the Creative Europe supported project "Trust Me, I'm an Artist" which investigates the novel ethical problems that arise when artists create artwork in laboratory settings. Her book of the same name, co-authored with Professor Bobbie Farsides, was published in 2014.
She recently completed a residency at the Liu Laboratory for Synthetic Evolution at The University of California in Irvine (USA) and the resulting artworks were featured in the groundbreaking exhibition "WETWARE" at the Beall Center for Art and Technology in Irvine (USA) curated by Jens Hauser and David Familian. Her work is featured in William Myers significant large format book on Bio Art, entitled "Bio Art: Altered Realities" published by Thames and Hudson in 2016. 

Recently Dumitriu has been collaborating with Professor Maggie Smith at The University of York to artistically explore "The Hunt for New Antimicrobials", and is currently working with the EU FET project MRG-Grammar to investigate the grammar of gene regulation at The Wellcome Sanger Institute, The Weizmann Institute (Israel) and Technion (Israel) through an EU FEAT residency. She is the artist partner and on the EU Horizon 2020 funded FET support action FEAT: Future Emerging Art and Technology.
Picture courtesy of Wired UK