Description
READ FULL EVENT DESCRIPTION HERE
---
Supported by
Hardware Pioneers is supported by Mouser Electronics, one of the leading online distributor of electronic components.

---
Robots are already in use everywhere. There is no doubt that robotics technology has been reported as the most innovative and disruptive across industries. Join us on the 7th of March to learn more about how robotics is shaping the high tech landscape directly from:
- A leading provider of microcontroller and analogue semiconductors, providing low-risk product development, lower total system cost and faster time to market for thousands of diverse customer applications worldwide (Microchip).
A London-based robotics start-up, their mission is to democratise robotics and deploy automation solutions at scale in all levels of manufacturing and industry (Automata).
- One of Britain's longest-running robotics firms and the leading experts for technology around grasping and manipulation for robotics (Shadow Robot Company).

See agenda below for full info about the speakers.
Drinks will be served throughout the night.
---
About the speakers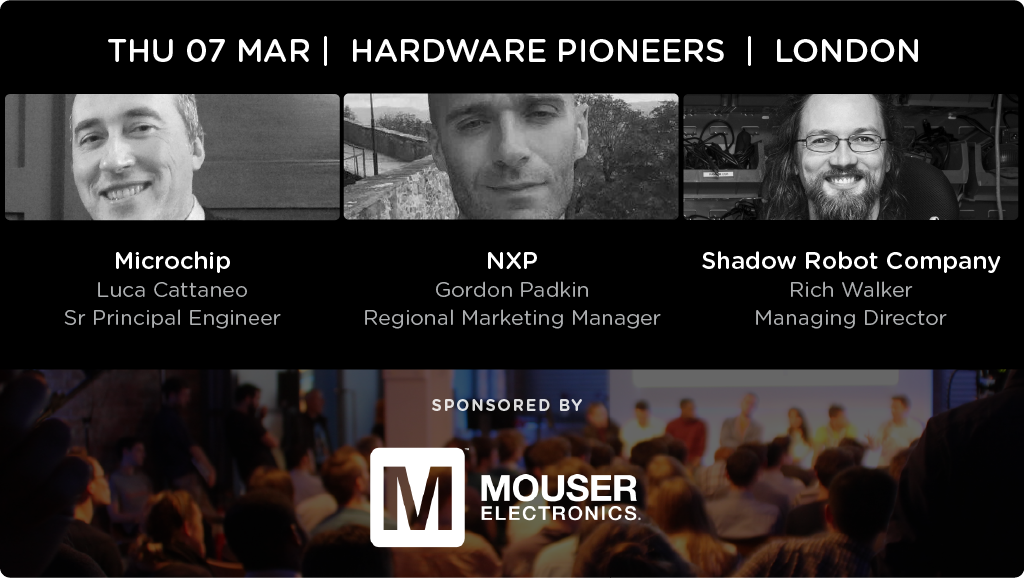 Speaker 1: Luca Cattaneo, Sr Principal Engineer at Microchip
Talk title: FPGA enabled smart embedded vision
About the speaker: Luca Cattaneo joined the FPGA BU in 2000 as high-level design specialist and served the company in various technical positions before taking on his current role in2013. Luca brings over 27 years' experience in HW architectures & design, ASIC/FPGA, and standards in several market sectors Consumer, Industrial, Military, Space. Prior to joining, Luca was a senior member in the R&D department of Lucent Technologies & Bell Labs. Luca has several granted patents and holds a Master of Science in Electronics Engineering fromPolytechnic of Milan, Italy.
About the company: Microchip Technology is an American manufacturer of microcontroller, memory and analogue semiconductors. Microchip serves over 70,000 customers in more than 65 countries who are designing high-volume embedded control applications in the consumer, automotive, office automation, communications and industrial-control markets worldwide. Headquartered in Chandler, Arizona, the company offers outstanding technical support along with dependable delivery and quality.
Speaker 2: Mostafa ElSayed, Co-founder at Automata
Talk Title: TBC
About the speaker: Mostafa ElSayed is the Co-Founder of Automata, he didn't have a have a history in robotics before starting Automata and trained as an architect, working for Zaha Hadid, the designer of the London Olympics Aquatics Centre, before pivoting onto the startup path. Mostafa and his co-founder Suryansh were on EF4 and their first product, Eva is a benchtop robot arm that can be set up in minutes, costs a fraction of other industrial arms, and can be used in a range of industries including metals, pharmaceuticals and electronics manufacturing.

About the company: Automata wants to democratize robotics for the SME & consumer markets by providing affordable and easy to use robots and software. They believe robotic automation can bring a huge amount of creativity in addition to enhancing productivity to small businesses and individual users. Over the coming years, these will change the way we live and work. But first, these robots need to become a whole lot easier to use, safer to work beside, and substantially more affordable. Eva is their first product in their commitment to meet those goals, by being a low-cost, easy to use and lightweight robotic arm. They like to think of Eva as an assistant that can give you a helping hand in a variety of uses whether you're a business, hobbyist, or an educator.
Automata Eva | Ability | Thoughtful Engineering
Automate Touchscreen Testing With a Robot Arm - Using Eva
Speaker 3: Rich Walker, Managing Director at Shadow Robot Company
Talk title: Advanced Teleoperation for Nuclear Decommissioning Tasks
About the speaker: Rich Walker has worked in robotics for over 20 years and leads the team at Shadow who are developing new robots/applications for robotics. He's active in developing and implementing European (FP7 and now Horizon 2020) and TSB/Innovate UK projects. He sits on the on the Innovate UK "Robotics and Autonomous Systems" SIG Advisory Board, which lets him influence the direction the UK takes in robotics in a way that makes sense to SMEs and innovators, as well as being a Director of EuRobotics, and various EPSRC and University networks and committees around robotics.
About the company: Shadow Robot Company designs and manufactures state-of-the-art anthropomorphic robot hands & related systems. They're one of Britain's longest-running robotics firms and the leading experts for technology around grasping and manipulation for robotics. They have over 20 years experience of Innovate UK and European research projects (FP7 and H2020) as researcher, developer and end-user. Shadow's broad expertise in robotics allows their engineers to engage in unique projects, helping their clients solve difficult problems through bespoke systems.
The Shadow Smart Grasping System
Grasping different objects quickly
---
Agenda
6:15 pm - Attendee check-in, drinks and networking.
6:50 pm - Event opening.
7:00 pm - Luca Cattaneo, Sr Principal Engineer at Microchip
7:20 pm - Rich Walker, Managing Director at Shadow Robot Company
7:40 pm - Mostafa ElSayed, Co-founder at Automata
8:00 pm - Community announcements: This is the time for you to share with the rest of the room what you are working on, or make any sort of announcement you like. You have 2 minutes max for a short shoutout.
8:20 pm - Drinks and networking.
9:30 pm - Event ends.
---
Media Partners
E&T - the IET's award-winning monthly magazine and associated website for professional engineers, with a circulation of approximately 140,000.
---
About Hardware Pioneers
Discover more about Hardware Pioneers on our website.
Get notified about future events by subscribing here.
Check out what people say about @HdwPioneers on Twitter!