Description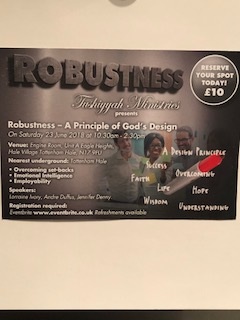 Merriam-Webster's definition of Robustness quotes the following:
Having or exhibiting strength or vigorous health
Having or showing vigour
Strongly formed or constructed and...
Capable of performing without failure under a wide range of conditions
Join us for this inspiring and motivating event!
You will discover truths to develop the principles of robustness in your personal and professional life, by overcoming setbacks, setting boundaries, improving your emotional intelligence and much more!
Facilitated by professional and qualified speakers.
This is an event not to be missed!