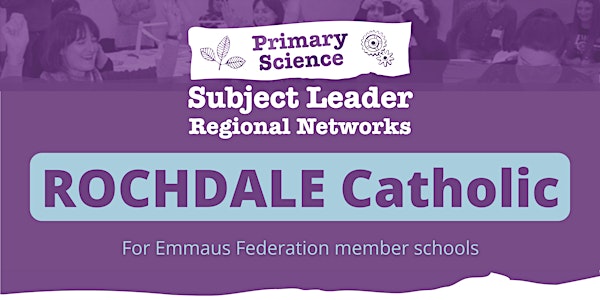 Rochdale Catholic Primary Science Subject Leader Network: Summer Meeting
Location
St Patrick's RC Primary School
Foxholes Road
Rochdale
OL12 0ET
United Kingdom
Rochdale Catholic Primary Science Subject Leader Regional Network Summer Meeting: Progression in Conceptual Understanding
About this event
We're delighted that SEERIH's termly Primary Science Subject Leader Regional Networks will return to in-person sessions this Summer for the first time since Spring 2020!
The Rochdale Catholic Summer term meeting will be on Progression in Conceptual Understanding.
This session identifies progression within broad conceptual understanding themes of the primary science curriculum. Teachers will:
identify the progressive features of substantive knowledge within Primary Science curriculum
reflect on current school practice and plan towards enhancing progression across Key Stages
If you attended the Spring Network meeting, please revisit the delegate Dropbox to remind yourself of the Gap Task if you haven't already share it.
Please note that as the Summer Network meeting will take place in person, it will run for 3 hours. Please take note of the venue and ensure that you have allowed time to attend the full session. If you find that you are unable to attend, please let us know as soon as possible so that we can offer your place to another Subject Leader.
If you have any special requirements that will assist you to take part in this session, please email fascinate@manchester.ac.uk and we will do our best to accommodate your needs.