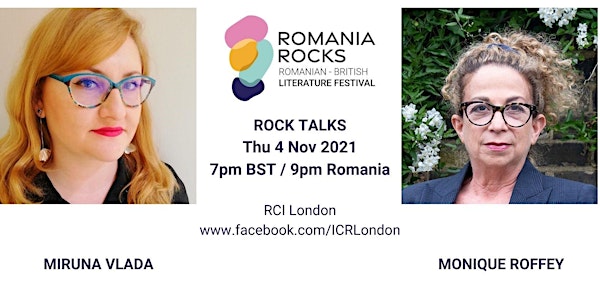 Rock Talks (Romania Rocks ) - Monique Roffey meets Miruna Vlada
Location
Romanian Cultural Institute (RCI London)
1 Belgrave Square
London
SW1X 8PH
United Kingdom
MONIQUE ROFFEY meets MIRUNA VLADA
About this event
ROMANIA ROCKS* is a joyfully original festival of Romanian-British literary events, initiated by the Romanian Cultural Institute in London and featuring the best and brightest "rock star authors" from both countries in conversation about the literature and ideas that matter to them and to the world today.
MONIQUE ROFFEY meets MIRUNA VLADA
The prize-winning British Trinidadian writer meets the outstanding Romanian poet. Hosted by Rosie Goldsmith.
Monique Roffey is an award winning Trinidadian-born British writer of novels, essays, literary journalism and a memoir. Her most recent novel, The Mermaid of Black Conch, won the Costa Book of the Year Award, 2020 and was nominated and shortlisted for several literary awards.
Miruna Vlada is a young poet and political scientist specialised in European and Balkan studies, born in 1986. She has published 4 collections of poetry: Poemextrauterine (Ectopic poems; 2004), Pauza dintre vene (The break between the veins; 2007) Bosnia. Partaj (Bosnia. Separation; 2014) and Prematur (2021).
Rosie Goldsmith is a former BBC journalist, writer, presenter and director of the European Literature Network. She is an award-winning journalist specializing in arts and foreign affairs. In twenty years at the BBC she travelled the world and presented several flagship programmes.