Romanian Traditions in Motion Festival, London, 2 December 2013,19.00-21....
Description
A marvellous evening, a magical encounter with the profound and mysterious Romanian folklore and tradition presenting:
Magura – Where legend is life by George Smarandache
Romanian costumes display by Alina Pop of the Cultural Encounters Group
Traditional food and drinks prepared by Casa Romaneasca Restaurant
Magura – Where legend is life is a romantic comedy written by George Smarandache that will immerse you in traditional, Romanian village life. Whether experiencing its culture for the first time, or dusting-off old childhood memories, Magura, will transport you to a magical, enchanting world of legend and folklore.
Performed in Romanian with English subtitles.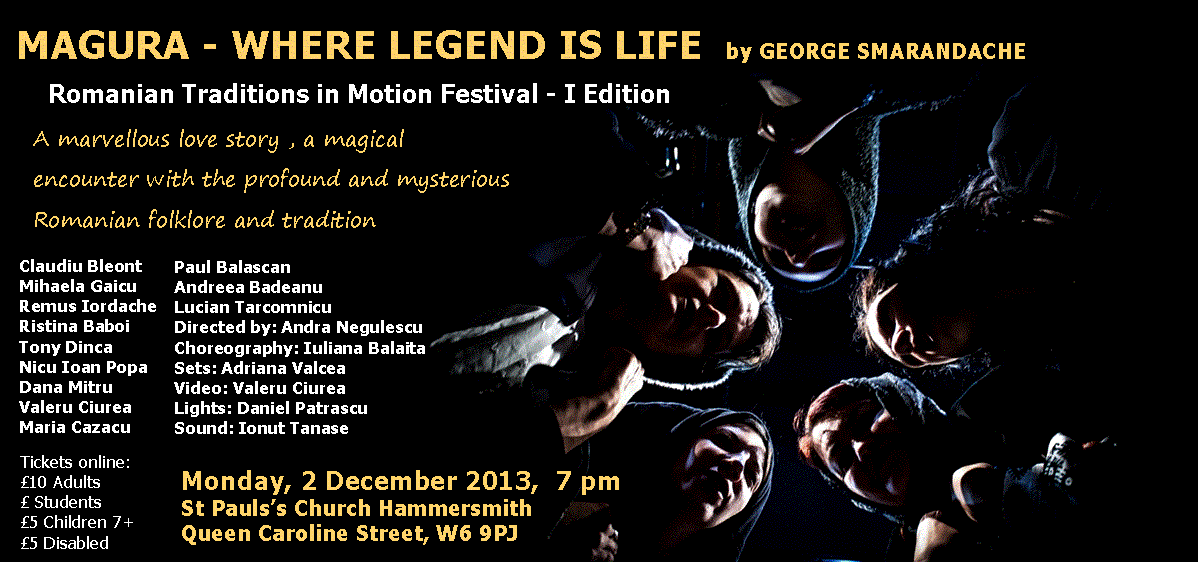 Photo: Florin Stan
Design: Cosmin David
Magura – Where legend is life.For one night only!
Enjoy an evening of magical drama and the extraordinary music of rural Romania.
Tickets at the door:
£10 Adults
£8 Students
£5 Youth 14+
£5 Disabilities
Children 5-14 FREE
Get your tickets online:
http://www.eventbrite.co.uk/event/8119911875/eorg
Organisers:
Romanca Society in partnership with Town Hall Slatina, Local Council Slatina, Romanian Centre Interart, Romanian Orthodox Church in UK
Sponsors:
Casa Romaneasca Restaurant, Moneygram, Roexport
Partners:
• Ziarul Romanesc• Radio Catch 22, • Radio TV Unirea • Romania in Contact • Sharehoods • My Romania Group • Romanian Tourism Office London • LSRS United Kingdom • Info Manager Association • Bucharest Shop • Casa Transylvania • La Casa Buna Ltd• Noroc Restaurant • Cornelius Restaurant
Partener media:Romani in UK