Event Information
Location
Rush Green Community Association
Rush Green Road
Romford
RM7 0LB
United Kingdom
A fun event to showcase the benefits of joining Toastmasters International.
About this event
Romford Speakers is a friendly Toastmasters Club. Members meet twice a month to improve their communication skills.
We are hosting an Open House event to showcase how our members benefit from everything Toastmasters has to offer.
Join us and find out how you can:
- Become a confident public speaker
- Improve your communication skills
- Answer 'on the spot' questions
- Develop your leadership skills and much more
Come along to Romford Speakers Toastmasters Club Open House to hear testimonials from members about how the club has enhanced their personal and professional life.
Monday 24 January 2022
6:30pm - 8:30pm
Rush Green Community Association
Rush Green Road, Romford
RM7 0LB
Limited amount of tickets available due to covid restrictions.
RSVP and don't look back!
If you have any questions regarding this event please contact us via email romfordspeakers@gmail.com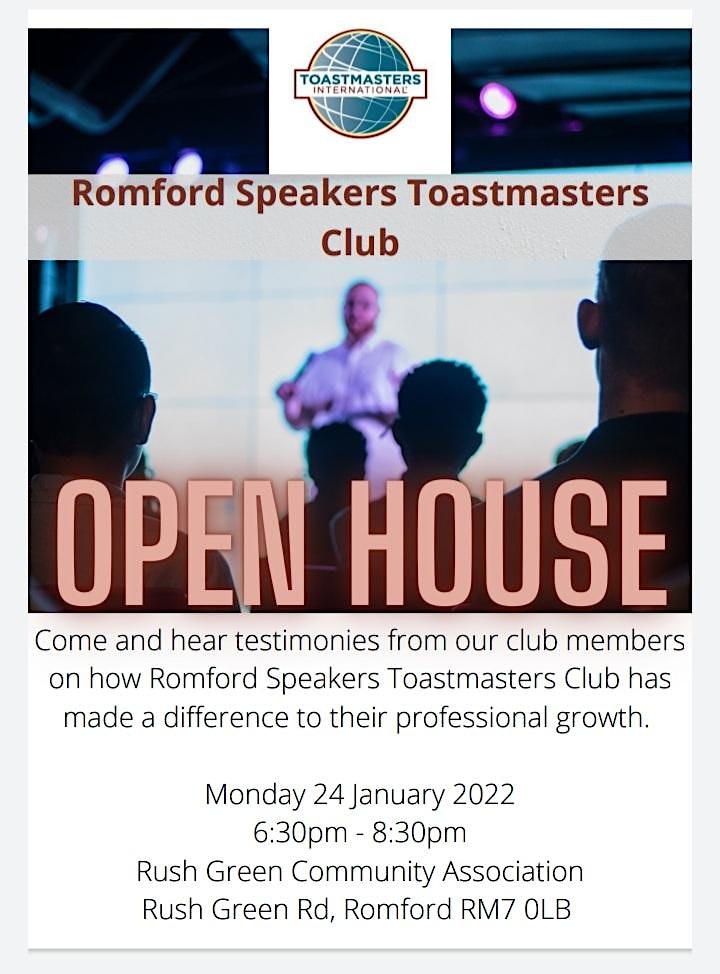 Date and time
Location
Rush Green Community Association
Rush Green Road
Romford
RM7 0LB
United Kingdom