Rooftop Ranking

Saturday, July 21, 2012 at 3:00 PM

-

Sunday, July 22, 2012 at 12:00 AM (BST)
Event Details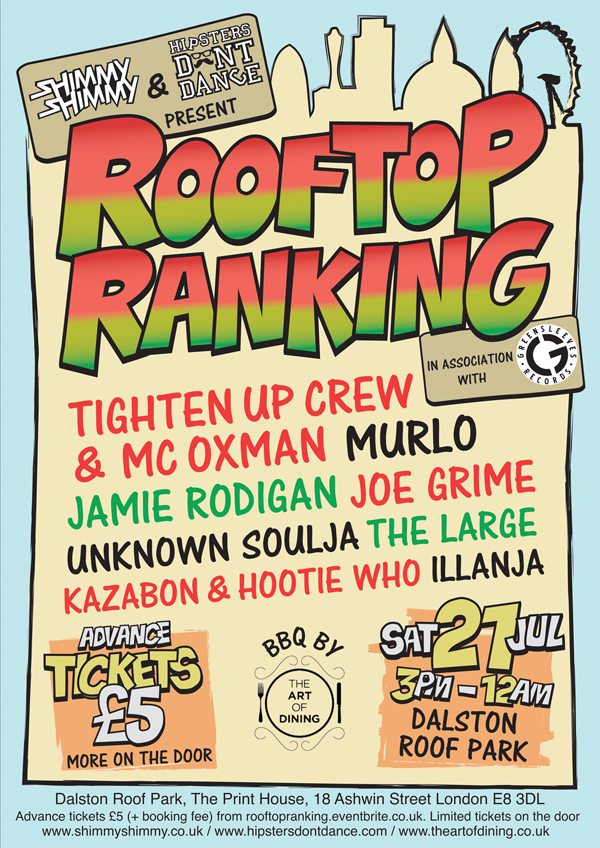 This summer sees the 50th anniversary of Jamaican independence, and to celebrate we are holding a rooftop party featuring London DJs & MCs championing the Caribbean sound.
Tighten Up Crew (selectors Mistah Brown & Tim P)
MC Oxman(Dub Vendor All-Stars)
Murlo (Pollinate)
Jamie Rodigan (Mudd Up)
Joe Grime (Deja Vu Fm) 
Unknown Soulja (Commandments)
The Large (Shimmy Shimmy) 
Kazabon & Hootie Who (Hipsters Don't Dance) 
Illanja (Hipsters Don't Dance)
This one-off, all-day party will take place on July 21st at Dalston Roof Park, an established roof venue unlike any other in the city, and will bring the outdoor summertime vibe that can only be matched by carnival. Rooftop Ranking is presented by two of London's main promotion forces pushing dancehall, Hipsters Don't Dance and Shimmy Shimmy. There will also be giveaways from the UK's number one reggae label, Greensleeves to celebrate the release of their Reggae Gold 2012 compilation, alongside a BBQ helmed by the excellent Art of Dining.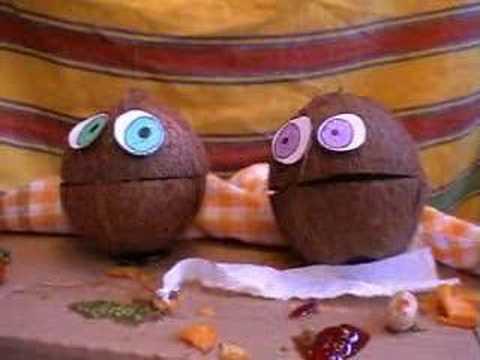 Rooftop Ranking BBQ by The Art of Dining

£15 for 3 courses




Crunchy coconut and lime salad 

Jerk chicken and pineapple kebab with cheese, red cabbage and coriander slaw served with your very own bottle of AOD chilli sauce 

Carrot and Pimento cup cake




Email theartofdining@gmail.com to reserve your 3 course meal


BBQ will be available from 5pm - 10pm 

 
ROOFTOP RANKING TERMS & CONDITIONS 
PLEASE READ CAREFULLY BEFORE PURCHASING YOUR TICKETS
Weather: We do live in the UK so sunshine  is not guaranteed but if it happens to rain on the day we have a huge inflatable roof which will shelter half of the roof  garden. The inflatable roof  will help keep us all dry but maybe bring a few layers to keep warm – just to be on the safe side. If there happens to be strong  winds on the day please be aware that we may need to cancel the event. If that is the case ticket holders will be refunded.
Door Times: Doors open at 3pm and the party will run until 12am. Advance ticket holders must arrive before 6pm,
Advance Ticket Holders: Capacity is very limited on the  roof  but we are hoping that as many people as possible can enjoy the party during the day.  As a result advance ticket holders MUST arrive before 6pm, after 6pm we will be letting non ticket holders in on a one in one out basis. Advance ticket holders who arrive after 6pm will have priority but only as spaces come available.
Non Ticket Holders: If you are a non ticket holder and are keen to come and join us for the Roof Party we'd love to have you, as long as we can fit you up there.  Please come down at 6pm when we will be letting people in one a one in one out basis. We are expecting that some people won't turn up and that some people will leave early so come on down and get involved. If you are patient we should be able to get you in. Tickets on the door will be £7 after 6pm  and £8 after 9pm
Bar: The bar will be open from 3pm selling all the usual drinks. Please note, drinks are not  allowed to be brought onto the roof from outside as itis a licensed premises.
BBQ: The BBQ will be run by The Art of Dining between 5pm and 10pm. There won't be a card reader so please bring cash if you want to order food on the day.
Remember! Please be aware that there will be no re-entry to this event. As places are so tight on the roof and we want to ensure its busy up there if you leave we will let someone in in your place and you will have to join the back of the queue if we are at capacity.
Cash / Money: The Bar has a card reader – The BBQ doesn't have a card reader, so make sure you bring cash as well as cards. Be prepared!
If you have any other questions about the event please email shimmyshimmyyay@gmail.com or hipstersdontdance@gmail.com
When & Where

Dalston Roof Park
18 Ashwin St
E8 3DL London
United Kingdom


Saturday, July 21, 2012 at 3:00 PM

-

Sunday, July 22, 2012 at 12:00 AM (BST)
Add to my calendar