Rooftop Workout with Cyc Fitness | Decoded Fashion House @ SXSW 2016

Saturday, March 12, 2016 from 9:30 AM to 10:15 AM (CST)
Event Details
Decoded Fashion House Rooftop Workout with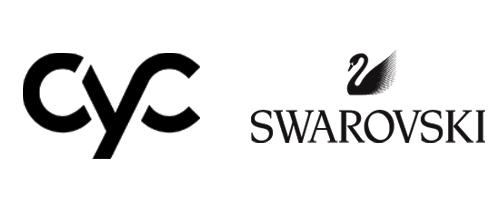 Need to sweat out those SXSW toxins? Cyc Fitness is here to help. Join us on the rooftop of The Decoded Fashion House as NYC-based trainer Steph Dietz leads you through a full body workout off of the spin bike. You will work your core, arms, shoulders and glutes in an exceptionally fun 45-minute session that combines power strength moves, plyometric intervals, and isometric freezes -- all while utilizing Cyc sand weights. The last portion of class will offer a deep restorative stretch to launch you forward into your Saturday.
Get ready to experience the same electric energy, uplifting music, and endorphin rushing sweat that you do in our studios.
Tech got a makeover...

Swarovski's Activity Tracking Jewelry marries style with innovative functionality. It's wearable technology that tracks steps taken, distance traveled, sleep patterns and calories burned while effortlessly transitioning from day to night. It synchronizes wirelessly your smartphone, and is perfect as a standalone accessory or in combo with your favorite Swarovski bracelets. 
Great news - we'll be giving one out to every Cyc class participant!
Fancy a juice after your workout? Daily Greens will provide the perfect post-sweat refresh.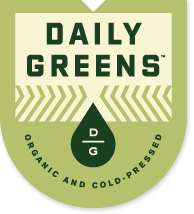 Daily Greens
™ is an Austin-based organic cold-pressed green juice company founded by avid juicer and breast cancer survivor Shauna Martin to encourage a healthy and balanced lifestyle for all. Daily Greens™ is committed to creating pure, healthy and delicious green juices for the whole family. Made with four and a half pounds of raw, organic and non-GMO produce, these 12-ounce bottles are USDA Organic Certified, low in calories, high in nutrients and naturally vegan, naturally gluten-free and soy-free. A portion of
Daily Greens
™ sales are donated to organizations that assist young women battling breast cancer.
Date: March 12, 2015

Time: 9.30am - 10.15am

Location: Rooftop of the Hangar Lounge, 318 Colorado St, Austin, TX, 78701
SXSW BADGE HOLDERS HAVE PRIORITY TO ALL EVENTS AT THE DECODED FASHION HOUSE @SXSW 
Hosted By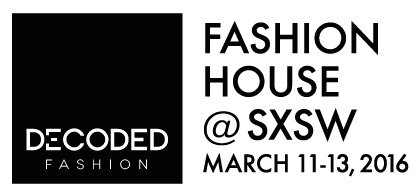 More information on Decoded Fashion House @ SXSW
http://decodedfashion.com/sxsw/
SNAPSHOT 
DAY 1 - MARCH 11, 2016
2.00pm: Fashion House Opens
2.00pm – 5.00pm: Mentorship Hub in partnership with Swarovski
2.00pm: The Visionaries: Creative Innovation
3.30pm: Failing Fast & Moving On In Fashion
6.00pm: Decoded Fashion & #FashMash Mixer
DAY 2 - MARCH 12, 2016
9.30am – 10.15am: Rooftop Workout with Cyc Fitness
11.00am – 2.00pm: Mentorship Hub in partnership with Swarovski
11.00am: How to Win Wild-Card Consumers
12.00pm: The New Menswear Consumer
2.00pm: Meet The Innovators: Content, Commerce and Conversation
3.30pm: Shoppable Content & Cocktails with Curalate
5.15pm: The Queens of Tech: Meet the Gals that are Killing it in the Digital Space
DAY 3 - MARCH 13, 2016
11.00am – 2.00pm: Mentorship Hub in partnership with Swarovski
11.00am: Mass-Customization: Beyond the Perfect Fit
12.00pm: Retail Disruptors: Next Generation Payments
12.45pm: The Future of Retail Isn't What You Think
2.00pm: The Rise of Influencers
3.00pm: The Influencers: New Ways to Engage in the Digital Era
4.30pm: Cocktails & Conversation: The Future of Wearables is Not Wearables at All
When & Where

Hangar Lounge
318 Colorado St
Austin, TX 78701


Saturday, March 12, 2016 from 9:30 AM to 10:15 AM (CST)
Add to my calendar
Organizer
We fuel innovation by scouting the best new tech from around the world and bringing it to fashion, beauty and retail brands.
The Decoded Fashion Summit launched in 2012 as the first global event series and networking community encouraging entrepreneurship and advancing innovation in Fashion & Retail. Its events are based in New York, London and Milan and include summits, tech expos, startup competitions and hackathons for Fashion.