Actions and Detail Panel
Room Full of Referrals
Fri 27 January 2017, 13:00 – 16:30 GMT
Description
Attention networkers looking for a flood of referrals
Increase your sales, immediately by attracting your ideal client through
Rapport, Relationships & Referrals
Are you ready to reap the rewards?
If you struggle to consistently build relationships with ALL of your contacts, then this will be the most important message you'll read.
This will be a rare and unique opportunity to hear Sarah Owen, an International Expert in behavioural styles.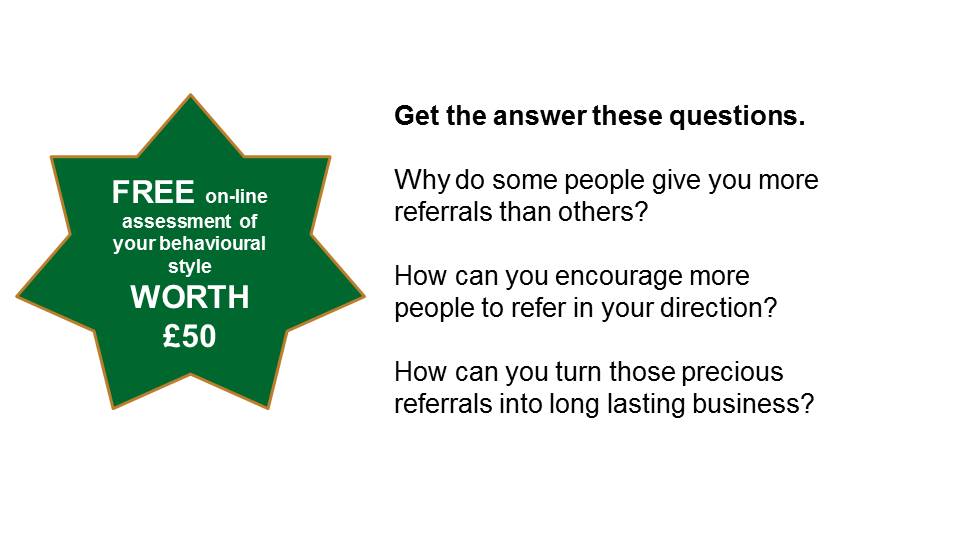 Last time we ran an event like this we SOLD OUT in 2 weeks.
So, book your place early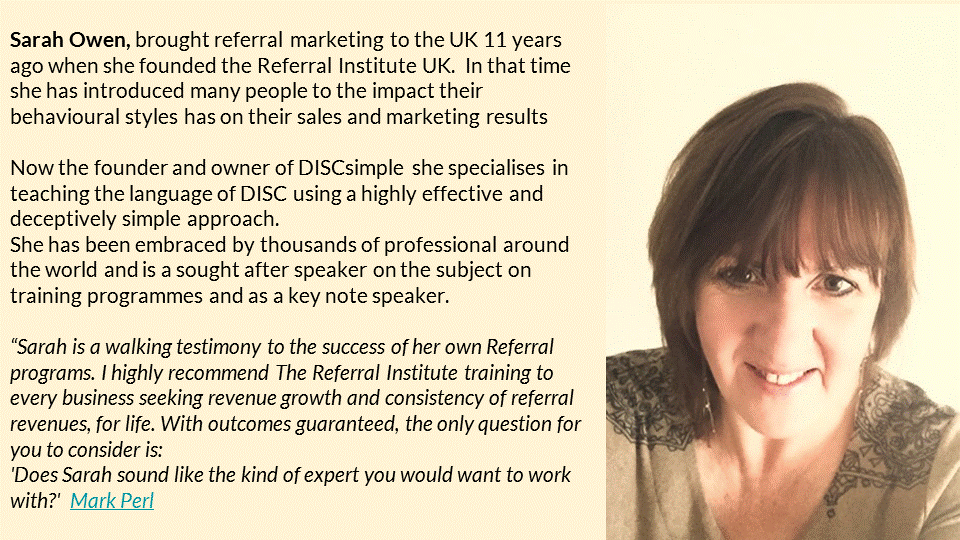 If you take action today you will learn strategies that will help you build relationships with ease that will lead to immediate referrals.
These systems have been taught across the world and are based on understanding how we, and others think, enabling you to adapt your strategies to resonate with others, leading to instant referrals!
What will you learn by attending A Room Full of Referrals
Make an impact the first time you meet someone because you talk their language.

Learn how to recognise different behavioural styles – starting with your own – you will get a complimentary on-line assessment of your DISC profile as part of this workshop.

Unlock the secrets to building rapport and relationships across your network so that people quickly learn to trust you and want to pass business to you

Foster better communication with people in all sorts of contexts both within your business and with the wider community you operate in.

Learn how to make your networking more natural, more fun, and more profitable.

Most importantly you will get the results you want, and know how to recognise and optimise the time you spend with all manner of people in business.
If you have ever enjoyed leads from referrals you will already know how powerful referrals are and that it is so much easier to gain clients this way.
When you start to generate referrals you will want to build your own referral community, just like having a team of sales people working for you, for free!
"I attended the Room Full of Referrals and on the day walked out with 3 great contacts, 2 of which I am still working with today. I also learned how to identify different personalities and adapt my presentations to those types of people which has helped me improve my consultation conversion rates from 63 to 87%. DO this, you will be amazed at the results you can get."
Damien O'Dwyer
Business Growth Midlands LTD.
FAQs
Would this be suitable for my team? Yes this is a brilliant way of helping your team understand each other and to relate more personally with your customers. Bring them along with you. Just book a block of tickets.
Will it really make a difference? We know how easy it is to go on a training couse, learn some interesting information and yet nothing changes. This workshop is highly interactive and will give you immediate skills to apply straight away. As you are in the room with a large group of like-minded people you have a ready made group of your peers to give you immediate feedback and new productive introductions.
Will I get a return on my investment? Only you can answer that. Your investment is just £100 plus 3 hours of your time. How many new clients would you need to get to recover that? Remember that the more skilled you get at using this knowledge the more clients you will get. And those skills are yours forever.
Can you really deliver what you say you will? Don't take my word for it. Take a look at the multitude of testimonials we get on LinkedIn. Just look up Jacky Sherman.
You could pay thousands of pounds to hear speakers of Sarah's calibre speak. But for a small investment of £100 you will learn cutting edge strategies that could transform your business AND your life. So don't delay, the last time we ran an event like this it sold out in 14 Days!
Reserve your place NOW
Want some more information
Contact Jacky Sherman on jackys@asentiv.com 07970 638857.

PS. Asentiv is the new look for The Referral Institute. The new name reflects our evolution from a training company to a wider committment to helping our clients develop their business and fulfill their life's purpose.
Refund policy. We know that sometimes life stops you doing what you really want to do despite your best intentions. So if you give us 2 working days notice we will refund your ticket. Before you ask for a refund why not gift your ticket someone who has helped you in business it's a great way to say thank you.
Date and Time
Location
The Barns
The Hunsbury Hill Centre
Harksome Hill
Northampton
NN4 9QX
United Kingdom