Rotary's Birthday - Purple4Polio Tea Party.
About this event
Tuesday 23 Febuary 2021 - 16.00 - 17.00
Join us at our Purple4Polio Tea Party celebrating Rotary's 116th birthday. Hosted by two of our Purple4Polio Ambassadors, TV and radio presenter, screenwriter and children's author Konnie Huq and Anne Wafula Strike MBE, a Paralympian, author, sporting ambassador and polio survivor this will be an hour of #Purple4polio fun with songs, poetry, readings and more. There will even be time for a chat and a virtual cuppa and cake. Brought to you by Rotary in Great Britain and Ireland.
Why not wear something purple, design a purple hat, dye your hair purple or create a purple work of art you can share with us.
Free admission - if your circumstances allow please make a donation to help Rotary End Polio Now
Zoom room Access
This hour of fun will be held live in the Rotary Great Britain and Ireland Zoom Room. As well as being entertained you can get involved as little or as much as you want in chat room conversations and sharing your #Purple4Polio appearance and/or creations in a short breakout session.
Make sure you register to receive event reminders and immediate access to the Tea Party at 4pm on 23rd February.
This event is open to anyone anywhere and we look forward to welcoming the whole family of Rotary, members of the British Polio Fellowship, all our family, friends and supporters and everyone who wants to join us for Rotary's birthday party.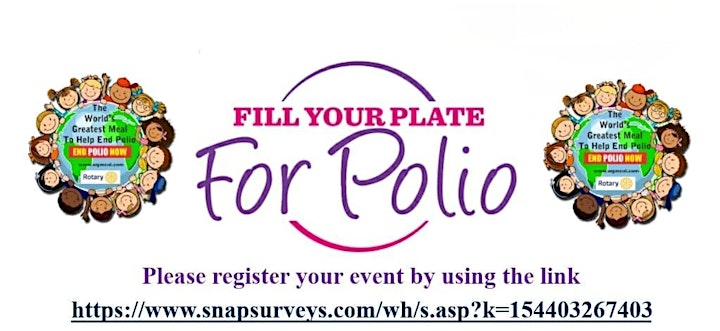 Entertainment will include:
Songs from Rotary Young Citizen Award winners Grace O'Malley, Jessica May Frost and Bethany Hare. Bethany is the new acting star playing 'Cher' in Channel 4's Hollyoaks.
A poem from Sheerhatch Primary Rotakids
Queen Elizabeth Sixth Form Interact Club's video explaining what polio is and why vaccination is so important
A book reading by poet and author Sarah Passingham
and more!
Sit back in the comfort of your home and enjoy our Purple4Polio Tea Party raising awareness of the need to keep up efforts to wipe polio off the face of the earth and ensure that there never has to be a new polio survivor ever again.
Working across the world, with global partners, Rotary has led the fight to rid the world of polio.
Because of the efforts of Rotary and our partners did you know
since 1988, about 3 billion children have received the oral polio vaccine
nearly 19 million people who would otherwise have been paralysed are walking
more than 650,000 paralytic cases of polio are now prevented every year
more than 1.5 million people are alive who would otherwise have died
90% of the world's population now live in wild polio-free countries
unless we finish the job over 200,000 children could succumb to polio every year across the globe
every £1 donated to Rotary End Polio Now campaign is worth £3 thanks to a 2:1 match by the Bill and Melinda Gates Foundation
The job is not done but the end is in sight.