A beautiful 8 mile Northamptonshire walk, followed by a tour of Rothwell Bone Crypt (with tea, coffee and biscuits).
About this event
Note, please arrive by 9.15 am we will set off at 9.30 am sharp.
The Walk
An 8 mile walk which includes a few hills, some stunning scenery, a country park and lunch in a beautiful church yeard. (Bring a packed lunch).
After the walk (and included in your ticket price)
We have organised a guided tour of the Holy Trinity Church in Rothwell, including the very unusual Bone Crypt.
Deep under the floor of the church, near the south door exists Holy Trinity's crypt or Charnel House. Local legend suggests that little was known about its existence until the day a hapless gravedigger fell into the crypt whilst working in the church many years ago. Falling some twelve feet through pitch darkness into a mass of bones was too much for the individual to bear, and it is reputed that he lost his mind through the incident, remaining that way until the day he died.
More latterly, the crypt has been reorganised such that the skulls are now displayed on shelves around the walls, and the thigh bones displayed in two large square piles in the centre. A favourite pastime of guides on Sunday afternoons is to enter the crypt in front of visitors so that they can witness the gasps of sheer amazement as visitors first enter!
The 13th century crypt contains the remains of around 2500 individuals
MEETING PLACE:  We will meet in the Market Hill Car Park (use the What3Words Link below for exact location).
WHAT3WORDS:  https://what3words.com/reclining.melons.wiser
WALK LEADER: Julia Doherty
ABOUT THE WALK – grade: Moderate Walk
WHAT TO BRING WITH YOU
Good trainers or walking shoes (and other clothes of course!).
A drink. 
Hand sanitizer 
A packed lunch.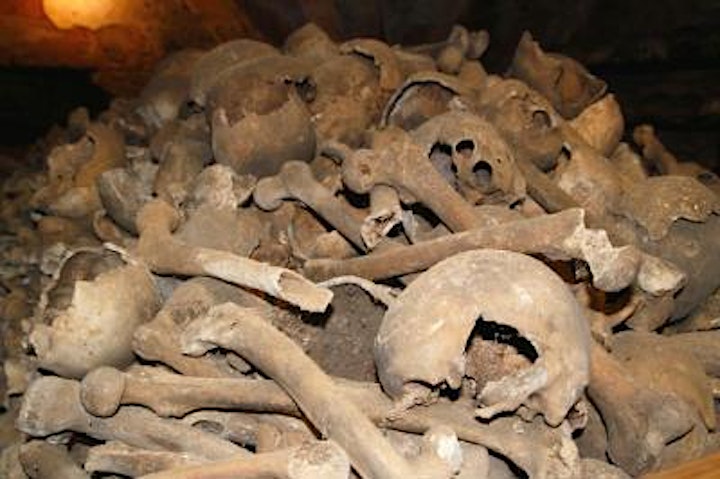 Organiser of ROTHWELL BONE CRYPT WALK | 8 MILES | NORTHANTS | MODERATE
Adventure Geek is a Northants based walking club, that walks a minimum of three times a week.   In addition to the weekly walks, we also produce self guided walks, weekend adventures and longer hikes such as the Camino in Spain, and other long trail walks in the UK. 
Click the website below for more information.