Event Information
Location
Blaak
Blaak
Rotterdam
Netherlands
3 days of pure carnival vibes in Rotterdam ! 2 nights accommodation + parade package all-inclusive Join us to mashup the #ZomerCarnival !
About this event
In partnership with Caribbean Love, Pure Fete and Rotterdam Carnival Events, FRENCH KISS AND WINE offer you an amazing weekender !
What is a carnival trip with French Kiss and Wine :
A great quality accommodation close to events and a few step away the parade, 5 to 8 beds dormitories (with only our participant in them), non-mixed gender optional
Goodies included
Our photograph/videomaker WLS will catch all our amazing time
Receive for the weekend a booklet with all the information needed for your trip, our team also will be there for you
Follow us on our instagram to get all infos : https://www.instagram.com/frenchkissandwine/
Join a french crew organising carnival trip since 2013 !
PARADE
Join CARIBBEAN LOVE in their "fun mas" section for the Rotterdam carnival, also called #ZomerCarnival. They will offer you an amazing experience of it :
soft and hard beverage "all you can drink" responsibly... ;)
Snacks and meal included
Fun mas costume with different options
Bag, cup and goodies
ACCOMMODATION
We booked an hostel because we want to offer you an affordable weekender, but it don't mean low-quality... Our place is very famous for its amazing architecture, but also offer the best service for an hostel !
Located in the center of the city, close to the parade
Dormitory from 5 to 8 beds
non-mixed room optionnal
Ensuite
Breakfast included
Towel location
For security reasons, we give our accommodation name and adress only to our participants, but you can ask us every infos.
EVENTS
INFOS COMING SOON (sold separately)
FAQ
We suggest 3 pm on friday afternoon. there will be a boat party starting at 6:30 PM on friday, we suggest you to arrive early enough to do the check-in, get your bed and package and be ready to go to the boat party
Can i pay with multiple instalment payment ?
You must contact us for that.
The wekender is for adult so it will not be possible to have people under 21.
I want just the parade, is it possible ?
Our goal is to make a group weekender, not only sell events, so we choose to make package in order to offer the full experience of our trips.
What is the limit date for the sale ?
We stop the sale the 15th june.
You have other questions about our trip ? contact us on our Instagram page FKW instagram page or texting us on +336 50 25 75 15 (Valentina)
***
- Parties events and parade are organised by CARIBBEAN LOVE, PURE FETE and ROTTERDAM CARNIVAL EVENTS, FRENCH KISS AND WINE is a partner organising the trip so we have no responsabilities on the content of their events.
- FRENCH KISS AND WINE is a voluntary association, we don't do profit, each trip include unrefundable membership fees allowing you to participate in the trip.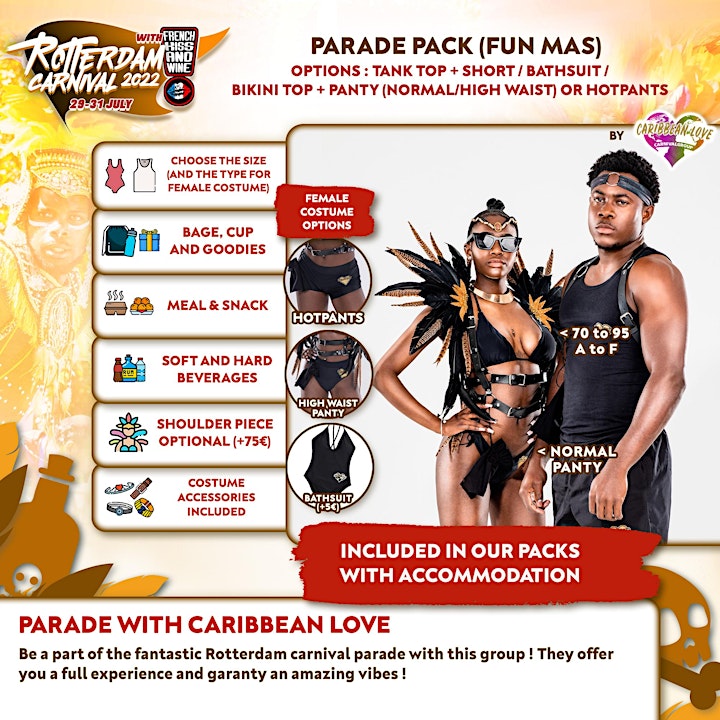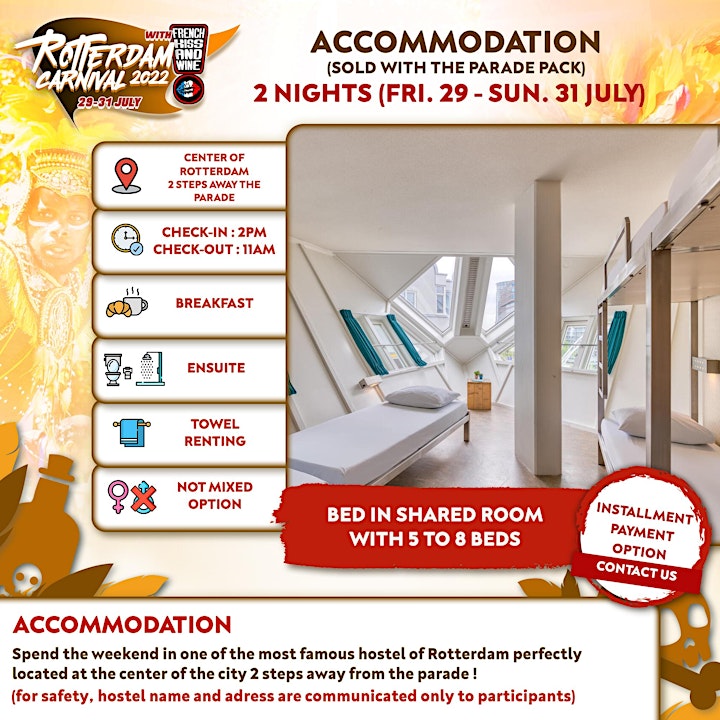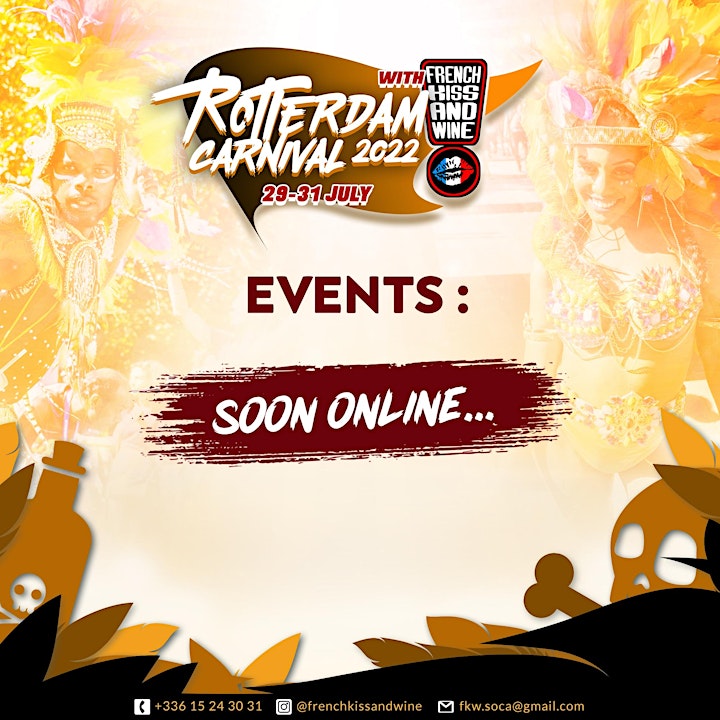 Date and time
Location
Blaak
Blaak
Rotterdam
Netherlands
Refund policy