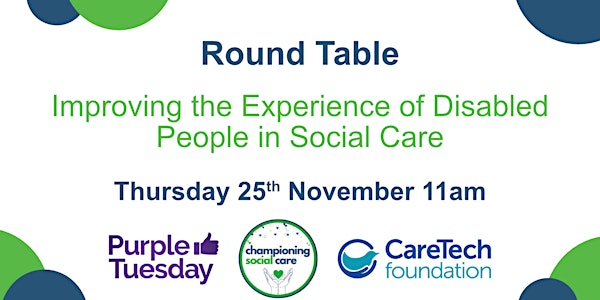 Round table - Improving the Experience of Disabled People in Social Care
Purple, the cross-sector Championing Social Care initiative and CareTech Foundation will come together for this round table discussion.
About this event
Join leaders and experts from across the social care sector to discuss next steps for the sector and set the agenda to improve the experience of disabled customers and colleagues. The event will be live-streamed via Zoom.
Across the social sector, there is a need to drive better awareness, understanding, knowledge and best in class practice for disabled people, both as people we support and as employees in our teams.
What should we as a social care sector be doing to improve the experience of disabled people? How do we set the standard for all industries?
Improving your customer experience for disabled people might be as simple as reviewing your website and making sure it is accessible to everyone who might be trying to find out more about the care you offer.
When 22% of people in the UK have a disability and the social care sector faces increasing workforce pressure, recruiting and supporting disabled colleagues is more important than ever.
The session will conclude with practical steps the sector can take into 2022, to improve the experience of the disabled people the sector supports and our disabled colleagues.
Join us to share your experiences and help set our future agenda.
Our fantastic round table participants include:
Martin Green, Chief Executive, Care England
Ruth Owen, CEO, Leonard Cheshire
Angela Boxall, COO, Majesticare
Mike Adams, CEO, Purple
Jonathan Freeman, CEO, CareTech Foundation
Tim Reddish, Board Member, International Paralympic Committee & Advisory Council Member, CareTech Charitable Foundation
Palvi Dodhia, Founder and COO, Serene Care
Adam Hutchinson, CEO, Belmont Healthcare
Jonathon Brooks, Director, Gilbert Meher
Mandip Bhogal, Associate, Knight Frank
Margaret Willcox, Regional Assurance Lead for the West Midlands, Department of Health and Social Care
Who should attend?
Those within the social care sector including; operations, admissions, lifestyle, recruitment and marketing teams. The session will also be helpful for those who work with and supply the sector.
Purple, the cross-sector Championing Social Care initiative and CareTech Foundation have come together to celebrate Purple Tuesday in Social Care, and we want you involved to make a real difference.
Over the last four years, Purple Tuesday - created and coordinated by Purple - has become the number one brand for improving the disabled customer experience. Organisations commit to making changes to their activities and wider practice to raise the quality of their service for disabled people.
For more information about Championing Social Care click here