Roundtable for Governance and Climate Action with Maja Groff
Maja Groff will interact on the key elements of governance for climate action roundtable summit Ban Ki Moon invited her to in South Korea
About this Event
Maja Groff will interact sharing some of the insights she offered and others she gathered during the Roundtable on Governance for Climate Action that recently took place in South Korea.
Below a short taster of her highlights.
"It was a pleasure to participate in the Roundtable on Governance for Climate Action on Friday 11th December, hosted by the Ministry of Foreign Affairs in collaboration with the Global Challenges Foundation and the Stimson Center, as a "hybrid," global event, online and with a small group in person, in line with the current global health conditions.
The event outlined how it is necessary to establish governance that responds effectively to global challenges, by combining the efforts of government and the civic and private sectors-a system where stakeholders participate in decisions and in effective implementation to achieve common goals. International solidarity, collaboration, inclusiveness and partnerships are more needed than ever to address our global challenges. This event was an opportunity to share views on current conditions and what values and actions we should take into consideration to address climate change together to "building back better and greener."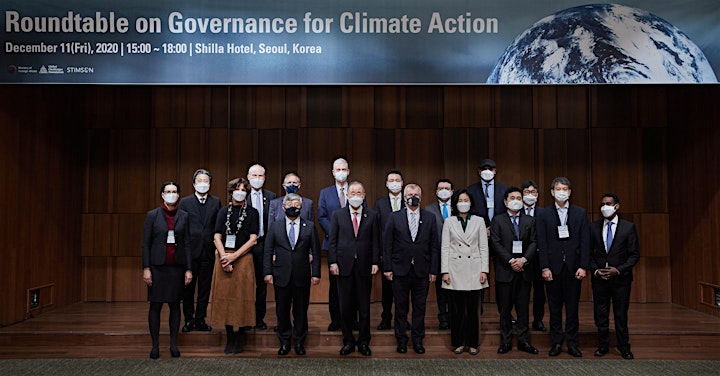 Maja Groff left-most in the image with other Governance Climate Action leaders present at the Summit.