Description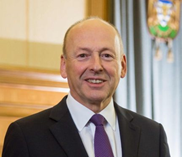 On 13 February 2019 SP Broadway is hosting a Politics of Planning breakfast roundtable with Cllr David Williams, Leader of Hertfordshire County Council.

Cllr Williams was elected to Hertfordshire County Council in 2013, representing the Harpenden North East Division. He became Council Leader in November 2017.

Cllr Williams has shown a consistently positive approach toward development in Hertfordshire. In February 2018 he suggested Green Belt land at Radlett Airfield in St Albans could be used as a possible site for a garden village with 2,000 new homes, citing the necessity for 13,700 new homes in St. Albans District. He has also expressed support for the £350m redevelopment of Stevenage town centre, saying in February 2018 that he was "very supportive of this imaginative and impressive scheme - what's good for Stevenage is good for Hertfordshire". He also expressed disappointment at TfL's recent decision not to proceed with the proposed Metropolitan Line extension to Watford Junction, arguing that the scheme would "unlock housing development to help meet housing needs across the wider area".

In addition to his role as Leader of the County Council, Cllr Williams also sits on the Hertfordshire Local Enterprise Partnership (LEP). The LEP plays a major role in developing strategic infrastructure for the county such as the ongoing regeneration of Hatfield town centre - known as Hatfield 2030+ - as well as a new 'leisure quarter' at Old River Lane in the centre of Bishop's Stortford, which has been described as a lynchpin for future development in the area.

SP Broadway is delighted to welcome Cllr Williams to the Politics of Planning roundtable for a discussion on planning, development and infrastructure issues in Hertfordshire. We hope you will join us.