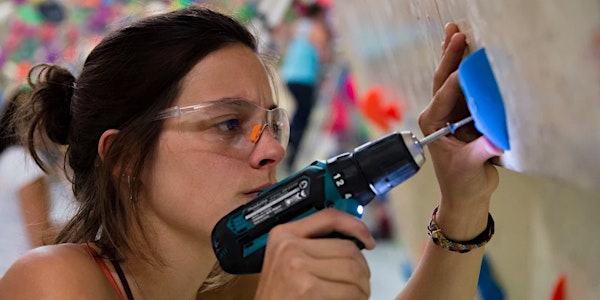 Route Setting Masterclass & Intro with Jacky Godoffe | #womensbouldering
Location
Karma - Salle d'escalade
Route Militaire
77300 Fontainebleau
France
Refund policy
Contact the organiser to request a refund.
Eventbrite's fee is nonrefundable.
Learn & Develop Your Route Setting Skills | A Full-Day Masterclass & Intro Workshop with Jacky Godoffe & Professional Female Setters
About this event
ABOUT THE DAY:
This bouldering setting course is divided into two groups: professionals and beginners.
The MASTERCLASS is dedicated to professionals looking to improve their skillset in both commercial and competition setting, boost creativity and learn from the experience of the very best in the industry.
Professional setting experience isn't required to join this group but participants must be fully confident in working with tools and able to set without supervision. The Masterclass will challenge your imagination and creativity, as well as touch on the best professional practices such as work flow, testing your blocs, etc.
Instructors will share their tips and experience of working in the industry, freelancing, working as a resident setter, teamwork, creating a good working environment, competitions and more.
The curriculum details will be developed at a later date in accordance with the participants experience levels.
The MASTERCLASS group is capped at 8 participants. If possible, please bring your own tools.
________________________________________________
The INTRO is dedicated to novices looking to take their first step in the world of route setting. You will learn how to work with tools, health & safety, common problems and how to solve them (broken holds, spining bolts, etc.), as well as have an insight into the purposes and goals of route setting. The course will also deepen your understanding of climbing movement.
This perfect tester session will allow you to learn the basic ins and outs of the route setting craft.
Although this session is suitable to complete setting beginners, please note that a climbing level of approximately 6A/V2 is recommended to make the most of the session.
The curriculum details will be developed at a later date in accordance with the participants experience levels.
The INTRO is capped at 12 participants.
__________________________________________________
ABOUT THE INSTRUCTORS:
Jacky Godoffe
A genuine climbing and route setting legend that is approachable, funny and always ready to help others! Author of many groundbreaking ascents in Fontainebleau such as the Forest's first 8A ("C'était Demain"), or "Fat Man" 8B. Technical consultant of the French Federation of Mountaineering and Climbing (FFME) with 30 years of experience as a national and International route setter National and international instructor.
Author of "My Keys to Route Setting" as well as books about Fontainebleau climbing.
Jacky in his own words: "65 years old, 40 years of passion for bouldering in Fontainebleau, 20 years as International route setter. Still crazy for climbing and setting!"
Learn more about Jacky here.
Nataleigh Bell
A climber, coach, route setter and co-founder of BlackBox Boulder, Nat has climbed extensively all over the world and has numerous 8A blocs to her name. She is the the first female and the only national setter in Belgium. Nat works as a freelance route setter all over Europe, setting both commercially and for high-level international competitions such as the IFSC European Youth Cup 2022. With a background in gymnastics, she is as passionate as she is knowledgable about training and knows a thing or two about preventing and managing injuries as a professional setter.
Nat about climbing: "I like that it challenges everyone, regardless of their level."
Nat about setting: As a route-setter, you will never stop learning and it will always be challenging. If you think you know everything and you think you do not need to learn any more, you are fooling yourself.
I also find that route-setting can help you train your weaknesses for climbing. I am getting slightly better at coordination jumps, and I am trying to experiment with making purely unisex boulders that are equally hard for any gender, but that's hard!"
Natalia Boltukhova
Beyond international commercial and competition route setting, Nat's experience includes personal training, climbing instruction, parkour coaching (Level 2 ADAPT) and more. She is a passionate educator, always ready to come up with new ideas on how to teach complex movement and creative skills.
Nat has been involved with the Women's Bouldering Festival from its beginnings, contributing with her extensive skillset through teaching our route setting workshops, as well as leading injury prevention clinics and parkour taster sessions. She is a rare example of a jack of all trades who excels at everything she does while being extremely humble.
Nora Caterin Born
A full-time itinerant freelance route setter, Nora sets both boulders and routes for commercial climbing gyms as well as competitions. Passionate about bringing diversity into the profession, she is part of the team behind the Routesetting Symposium where she is responsible for the organisation as well as leading problem solving workshops, and more.
Nora about setting: "I love to set routes that require both mental and physical strength, muscles and mind, technique and good footwork."
You can follow Nora's travelling, climbing and route setting adventures on her Instagram.
__________________________________________________
ABOUT THE VENUE:
Karma Climbing Gym, owned and managed by the FFME, is the premiere indoor climbing venue in Fontainebleau. The Route Setting MASTERCLASS & INTRO will be held at the former French National Team area.
__________________________________________________
IMPORTANT INFORMATION:
Read before you book!
remember to bring your climbing shoes, chalk,
in case of The MASTERCLASS participants, please bring any route setting tools you might have (impact driver, protective gear, etc.),
please note that transport to and from the venue is not provided. The Gym can be accessed by public transport - make sure to pre-plan your journey,
please bring your own snacks and water - there are no shops/restaurants in close proximity to the venue,
each group will be with two instructors at all times. Jacky will split his time between both groups so that all can benefit from his extensive experience
The event can only take place if it is fully booked as otherwise we are not able to cover the costs of the instructors, their travel and gym rental. In the unlikely case that we are not able to hold the event, your ticket price will be refunded.
We are unable to process individual refunds but in case your plans change, we might be able to pass your ticket on to the Wait List and therefore reimburse your costs.
__________________________________________________
INCLUSIVITY:
As part of the Women's Bouldering Festival, this is an inclusive event open to all but prioritising the needs of underrepresented groups within the climbing community, especially women and gender non-conforming persons. The organiser reserves the right to deny entry to persons who do not respect the event's goals.
Please get in touch if you have any mobility/access requirements.
womensbouldering[at]gmail.com
__________________________________________________
Our others 2022 events will be soon listed at womensbouldering.com