Visit the

Royal College of Physicians Museum after hours until 8pm on the first Thursday of the month. Explore exhibitions, art, medical objects and more than 500 years of history at England's oldest medical college.



Discover our collections, featuring everything from artworks by Sir Joshua Reynolds, Sir Thomas Lawrence and Dame Elisabeth Frink, to scarce anatomical preparations and extraordinary medical instruments, all housed in a grade 1 listed 'modernist masterpiece' designed by acclaimed architect Sir Denys Lasdun. See free temporary exhibitions from our award winning team, and join a curator-led tour.

Next Museum Late:
The Anthropology of tobacco with Prof Andrew Russell
Thursday 1 August, 5.30-8pm
This Lates event is centered around the social history of tobacco and smoking. Join Life of Breath's Professor Andrew Russell for a talk on the nature of tobacco and the implications of its journey across the world, based on his newly released open access book The Anthropology of Tobacco: Ethnographic Adventures in Non-Human Worlds .

The evening will also be an opportunity to encounter breath-taking documents from the RCP's tobacco and smoking related archival collections, including drawings, responses from the public to the ground-breaking 1962 Smoking and Health report, and insights into the use of tobacco from the 16th century onwards. The talk will be preceded by an exhibtion tour at 6pm.
Programme
5.30-6.45pm: RCP archives on display (and throughout the evening)

6.00-6.40pm: Catch Your Breath exhibition tour
6.45-7.45pm: Tobacco: Shape Shifting Substance from South America talk and Q&A
For details of our changing monthly programme of drop-in activities, talks and workshops please check our website here
Highlights of any visit include:
medical rarities such as the Symons collection of self-care instruments and medical apparatus, the Hoffbrand collection of apothecary jars and the Prujean chest of surgical tools from the era of the English Civil War
a remarkable set of 17th-century human remains, providing a fascinating insight into dissection and discovery in anatomy
regular displays from our archive and rare books collections
a changing programme of acclaimed temporary exhibitions
Forthcoming Museum Lates:
Thursday 1 August 2019

Thursday 5 September 2019

Thursday 10 October 2019 (one week later than usual)

Thursday 7 November 2019

Thursday 5 December 2019
About this Event
As our library, archive and museum remain closed for the time being, while we work on a safe reopening plan, our usual events are going digital.
Our digital RCP Museum lates will explore our interesting exhibitions and fascinating collections. Our current temporary exhibition 'Under the skin: anatomy, art and identity' features work by 14 contemporary artists alongside the RCP's historical collections. Book your place on one of our lates to explore the exhibition with our expert speakers.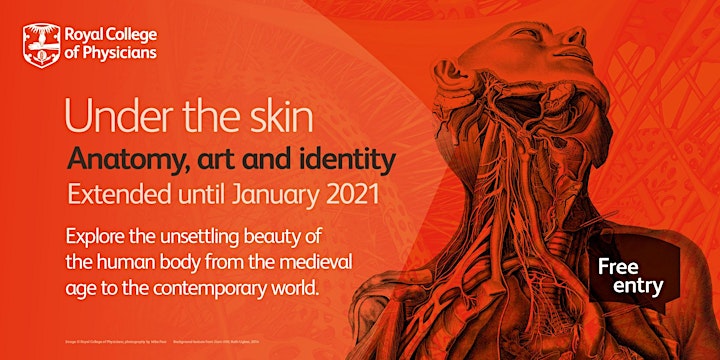 Regular programme:
At 6pm the evening begins with an introduction to our collections and exhibition from the museum team.
An expert speaker(s) will then join us to deliver a talk with interactive Q&A.
Changing speakers will join us each month, click here to check the Royal College of Physicians website for more details.
Forthcoming Digital Museum lates in 2020:
Thursday 3 September 2020: Virtual exhibition tour with curator Katie Birkwood - past event
Thursday 1 October 2020: 'Stitching science' with Rebecca Harris - past event
Thursday 5 November 2020: 'boundaries and the body' with Andrew Carnie - past event