Royal Economic Society Annual Public Lecture (University of Manchester) - 30/11/2016

Wednesday, 30 November 2016 from 17:30 to 20:00 (GMT)
Event Details
Royal Economic Society – 2016 Annual Public Lecture – hosted by The University of Manchester
'In Search of the Perfect Match – the economics of picking our partners and jobs'  - Professor Philipp Kircher (The University of Edinburgh)
The University of Manchester is very proud to be hosting one of the country's most inspiring economists to give the Royal Economic Society's Annual Public Lecture. Prof. Philipp Kircher will be giving a lecture this Autumn on the process of matching. Economists have long acknowledged that it takes time to find the right partner. But how can we think about this process? For example, how do employers and employees find each other? Do firms randomly meet workers? Or do they compete for workers? And, what is the difference?
The RES Annual Public Lecture's purpose is to demonstrate to students at Sixth Form Colleges and Schools that the subject of economics is as exciting as ever. In fact new developments like matching markets, the topic that Prof. Kircher will talk on, will deliver new insights, making it relevant to both your AS/A level Economics students, but also to those students specialising in other areas such as Mathematics.
So, if you are interested in bringing a group of your students to The University of Manchester for this lecture we want to hear from you. Furthermore, as we anticipate this to be a very popular event in the North West, we are giving your School/College the opportunity to reserve up to 15 seats at this early stage (the public launch of the event will be in September).
Date/time: Wednesday 30th November 2016. Doors will be open from 5.30pm. The lecture will take place from 6.00-7.00pm
Location: Lecture Theatre A in University Place, The University of Manchester, Oxford Road, Manchester, M13 9PL.
Campus map: Building 37 (pictured below). For an interactive version of our campus map please click here. To find the University Place on Google Maps please click here.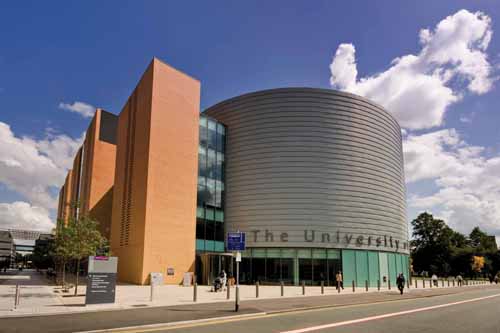 Travel
Travelling by train – we're located close to both Piccadilly and Oxford Road train stations. The Oxford Road link bus (number 147) runs from Piccadilly right to the centre of campus. Please ask your bus driver to let you off at University Place. If you're travelling to Oxford Road station, go down the station approach to Oxford Road and turn right; University Place is 10-15minute walk, or a short bus ride on any Magic Bus marked East Didsbury or West Didsbury (runs very frequently). 
Travelling by car – if you're using SatNav our postcode is M13 9PL. The nearest car park to University Place is the Aquatics Centre Car Park on Booth Street. This is the car park marked with the letter B on the campus map above (Booth St East). From here you want to walk out of the road leading into the car park and take a left to go down Booth Street East. Continue walking until you get to the crossroad and take a left to go down Oxford Road. This is the main road running through the University campus. Walk down Oxford Road and University Place is the big 'tin can'-looking building on the left.
Enquiries
If you have any further queries about this booking, please contact us via email: RESlecture@manchester.ac.uk
When & Where

University Place (Theatre A)

M13 9PL Manchester
United Kingdom


Wednesday, 30 November 2016 from 17:30 to 20:00 (GMT)
Add to my calendar