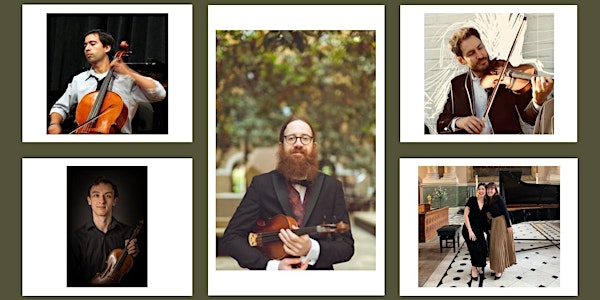 Royal Foundation Queen's Platinum Jubilee Celebrations Concert
Location
The Royal Foundation of St. Katharine
2 Butcher Row
London
E14 8DS
United Kingdom
Refund policy
Contact the organiser to request a refund.
Eventbrite's fee is nonrefundable.
Royal Foundation Queen's Platinum Jubilee Celebrations Concert
About this event
A special RFSK Jubilee Celebration Concert in the Chapel with various artists including The Epping Quartet, Yoshino Kitao(Soprano) and Minah Lee(Piano).
The Epping Quartet will be performing: Purcell: 4 numbers from The Fairy Queen Suite; Handel: Overture of the Music for the Royal Fireworks; Elgar: Nimrod
Herman Ringer: leader/violin, Herman Ringer was born in Buenos Aires, Argentina. Together with his conducting, arranging and composing expertise he has accumulated over 30 years of experience in orchestral and contemporary music. His passion for instrumentation and versatility with string instruments have prompted diverse individual and collaborative recordings with renowned artists around the globe.
Maxim Del Mar: violin, British violinist Maxim Del Mar is a recent graduate of the Royal College of Music. A music graduate from the University of York, where he began to explore historically-informed performance, Maxim has gone on to specialise in this field, performing a wealth of solo, chamber, and orchestral music spanning from Monteverdi to Beethoven on original set-ups. He also performs regularly with leading period orchestras such as the Hanover Band, London Handel Orchestra and Florilegium, and has made guest appearances with the BBC singers, Solomon's Knot, Yorkshire Baroque Soloists and London Early Opera.
Martin Ash: viola, Martin Ash is a London-based freelance viola player and folk fiddler/mandolinist. His performance experience stretches from prog-folk-rock (!) bands to baroque consorts, through recitals and a wealth of orchestral work. He holds an Associate of Trinity College London viola recital diploma. Martin also runs his own function string quartet and flexible commercial-chamber group, Flux Ensemble (fluxensemble.com).
Marcos Vives: cello, Marcos Vives is a native of Buenos Aires, Argentina. He performed as part of the National Symphony and Argentine Opera Theater orchestras. He then relocated to the United States where his orchestral activities included performances as principal cellist in venues such as the Kimmel Center, Carnegie Hall (with Penn State's Philharmonic) and Florida State University's Ruby Diamond among others. In 2018 he was invited to give guest masterclasses at Penn State, Florida State and Azusa Pacific Universities.
Yoshino Kitao (Soprano) and Minah Lee(Piano) will be performing: Debussy Prelude book1 no.3,4,5. Bellini: Vaga luna, che inargenti; Bellini: Ma rendi pur content; R. Schumann: Myrthen, Op.25, No.1 Widmung, and No.24 Du bist wie eine Blume Strauss: 8 Gedichte aus 'Letzte Blätter', Op.10, No.1 Zueignung Kosaku Yamada/Kitahara Hakushu: Karatachi-no-Hana (Orange Blossoms) P. Mascagni: Ave Maria; Puccini: Gianni Schicchi, O mio Babbino Caro.
Minah Lee, born in London and raised in Seoul, South Korea, Minah has been playing the piano since the age of three, self-taught from thirteen till before she started her study in London.
She is currently studying piano at Trinity Laban Conservatoire of Music and Dance with Trinity College London Scholarship under the tutelage of Gabriele Baldocci. As a pianist, Minah has participated in competitions since a young age, winning various prizes. She has performed in Royal Victoria Hotel, St James's Church in Paddington, Old Royal Naval Chapel, and annual concerts in Seoul. She is an active pianist and accompanist with experience playing on a variety of instruments / vocals and church choir. As she continues her master's studies at Trinity Laban, she had opportunities to deepen her repertoires with Pascal Rogé and Mikhail Kazakevich. ​
Apart from training in solo piano performance, Minah is also studying piano pedagogy and advanced instrumental teaching. She is an experienced and very friendly piano teacher who taught piano in a one-to-one setting and worked with groups of students at Greenwich Music School and Ben Singer Music. She tailors the content of her lessons according to each students' abilities, goals and aspirations. Minah feels passionate about sharing her musical knowledge with others.
Yoshino Kitao (1999) started training as a soprano singer at age 16, studying with Tomoko Shimazaki, Hiroshi Kawakami, Naho Kashiwabara and Hiranaka Maki at Tokyo College of Music, Japan. During her music studies in Japan, she also learned how to play traditional Japanese percussions and performed in various occasions including Hakusan Ajisai Festival.
In 2020 she moved to London to attended the International Foundation Music course at Trinity Laban, where she is currently enrolled in the second year of bachelor of Music in vocal studies with Lynton Atkinson. Yoshino performed in Trinity Laban's Chamber Choir as both choir member and soloist, and she is a member of Trinity Laban Choral Society. She took master classes from Taikai Takahashi, Emiliano Blasi and Ubaldo Fabbri, who helped her master her technique focusing on Italian music.
Our Music in the Chapel programme of events aims to support local artists. We are offering these events on a 'Pay what you can' basis to allow this events to accessible to all those in the community. We ask that you pay what you can afford, and if you can pay more than the suggested price we would greatly appreciate it.