About this Event
Want to raise money for a good cause while also getting a little messy and having a whole lot of fun?
Middlesex Students Union and Royal Free Hospital Charity are joining up to offer local Students and members of the community a chance to get involved in a Colour Run in Hendon's Sunny Hill Park!
It only costs £10 (+ £1.19 booking fee) to take part which gets you a t-shirt and the rest goes to the Charity. Want to go the extra mile? Why not set up a fundraising page and help contribute to patient well being, life-saving hospital equipment and much more.
Fundraising page set up link: www.justgiving.com/campaign/SplashofColour
We advice that you come to the event by public transport as the colour involves getting very dirty and paint may stain car interiors plus, it is better for the environment.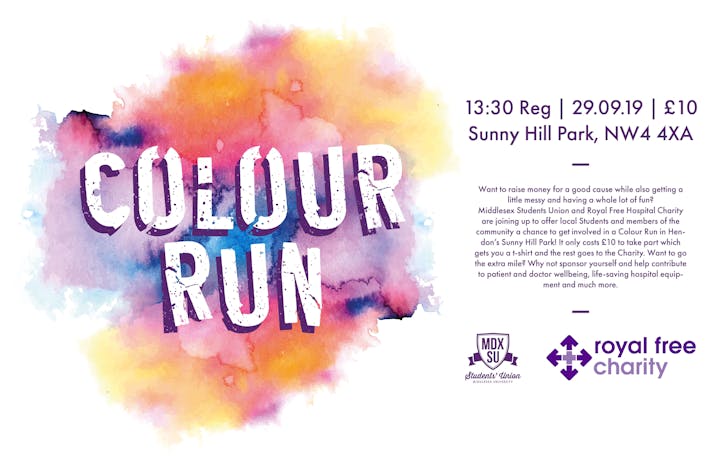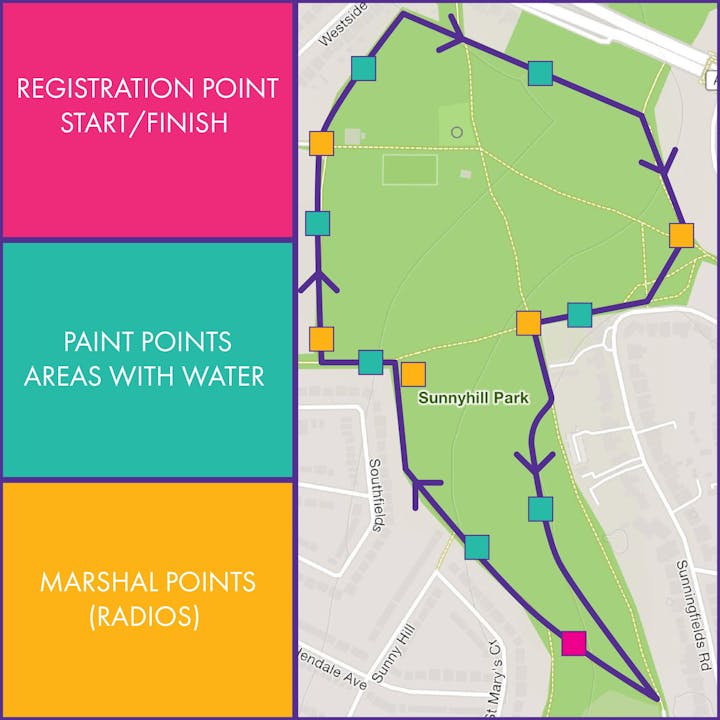 To take part in the colour run all participants will have to fill in and bring with them this medical form
Download medical Form here
NAME …………………………………………………………………………………….
MEDICAL INFORMATION
Please note that all information recorded on this form will remain STRICTLY CONFIDENTIAL
This form MUST be completed by ALL participants in the Colour Run.
NO TO ALL TICK HERE 
YES NO
Has a doctor said that you have a heart condition and recommended only supervised physical activity? Y N
Do you have chest pain brought on by physical activity? Y N
Have you developed chest pain in the past month? Y N
Do you tend to lose consciousness or fall over as a result of dizziness? Y N
Do you have a bone or joint problem that could be aggravated by the proposed physical activity? Y N
Has a doctor ever recommended medication for your blood pressure or a heart condition? Y N
Are you aware through your own experience, or a doctor's advice, of any other physical reason against your exercising without medical supervision? Y N
Have you ever had any of the following?
Convulsions/epilepsy? Y N
Asthma Y N
Eczema Y N
Diabetes Y N
A blood disorder Y N
Head injury Y N
Digestive problems Y N
Heart problems Y N
Problems with bones or joints Y N
Disturbance of balance/co-ordination Y N
Numbness in hands or feet Y N
Disturbance of vision Y N
Ear/hearing problems Y N
Thyroid problems Y N
Kidney or liver problems Y N
Please give any additional details on any medical conditions (from above).
____________________________________________________________________________________
Please give details of any current medical treatment, including medication.
____________________________________________________________________________________
____________________________________________________________________________________
Do you have any allergies (I.e. to medication etc)? 
(If yes, please describe)………………………………………………………………….…
…………………………………………………………………………………………..
I agree that all information on this form is correct and by signing this form I see no medical reason why I cannot participate in the Colour Run. I also agree that I am of a fitness level consistent with the demands of the run. I accept responsibility for my personal belongings, my actions and myself during the Colour Run.
I acknowledge receipt of, and understand, the information regarding the proposed Colour Run on Sunday 29th September 2019.
I have ensured that I understand that it is important for my safety and for the safety of the team that any rules and instructions given by the Event Organisers or marshals are obeyed.
I undertake to inform the Organisers of any changes in my health prior to the date of departure.
I am in agreement that those in charge of the event may give permission for me to receive medical treatment in an emergency.
Print Name:…………………………………………………
Signed: ……………………………………………………… Date: ………………….