Description
Join us on Tuesday 9th July 2019 from 7pm on Olympic Way, Wembley Park, for a free open-air live screening of Royal Opera House: The Marriage of Figaro, broadcast live from Covent Garden.
*Please note: limited deckchair seating is available, early arrival recommended. An event registration does not guarantee a deckchair reservation. Deckchair seating is on a first come, first served basis. Additional seating will be available on Olympic Way.*
Before the performance
Mouth-watering, edible entertainment; delight and delicious in equal measure. More than a feast for the eyes; dancers will pirouette and plie along Olympic Way draped in elegant robes and golden vines laden with gleaming clusters of chocolate grapes. As the dancers flow through the audience to classical routines, they, along with stiltwalkers, will be inviding the audience to pluck grapes, and enjoy an extravagant pre-show snack.
The Marriage of Figaro - The Story
Part of Royal Opera House: BP BIG Screens Festival, Le nozze di Figaro was Mozart's first collaboration with Lorenzo da Ponte, who also wrote the librettos for Don Giovanni and Così fan tutte. The opera is based on Pierre Caron de Beaumarchais' controversial play Le Mariage de Figaro. This play was banned in Vienna due to its potentially seditious content, and Da Ponte had to excise much of its political content in order to get the opera accepted for performance. Figaro was a success in Vienna, and even more so in Prague, where Mozart reported 'nothing but Figaro!' was heard. It has remained one of the composer's best-loved works.
The score of Le nozze di Figaro is packed full of wonderful arias covering a huge range of emotions, from the humour of Figaro's ironic farewell to Cherubino ('Non più andrai') to the poignancy of 'Dove sono', as the Countess remembers past happiness. The opera also contains remarkable ensembles, such as the closing scene of Act II, in which Figaro's plans unravel at breakneck speed. As so often with Mozart, forgiveness is a key theme, and the Count's Act IV plea to his wife, 'Contessa, perdono', is one of opera's most moving moments. David McVicar sets the action in a château in 1830 on the eve of France's second revolution, exploring the political and class conflicts at the core of Beaumarchais' play, but also maintaining Mozart and Da Ponte's humanity and wit.
Credits

Music: Wolfgang Amadeus Mozart
Choreography:
Designer: Tanya McCallin
Orchestra
Royal Opera Chorus
Associate Concert Master: Ania Safonova
Royal Opera House Orchestra
*Please note: limited deckchair seating is available, early arrival recommended. An event registration does not guarantee a deckchair reservation. Deckchair seating is on a first come, first served basis. Additional seating will be available on Arena Square.*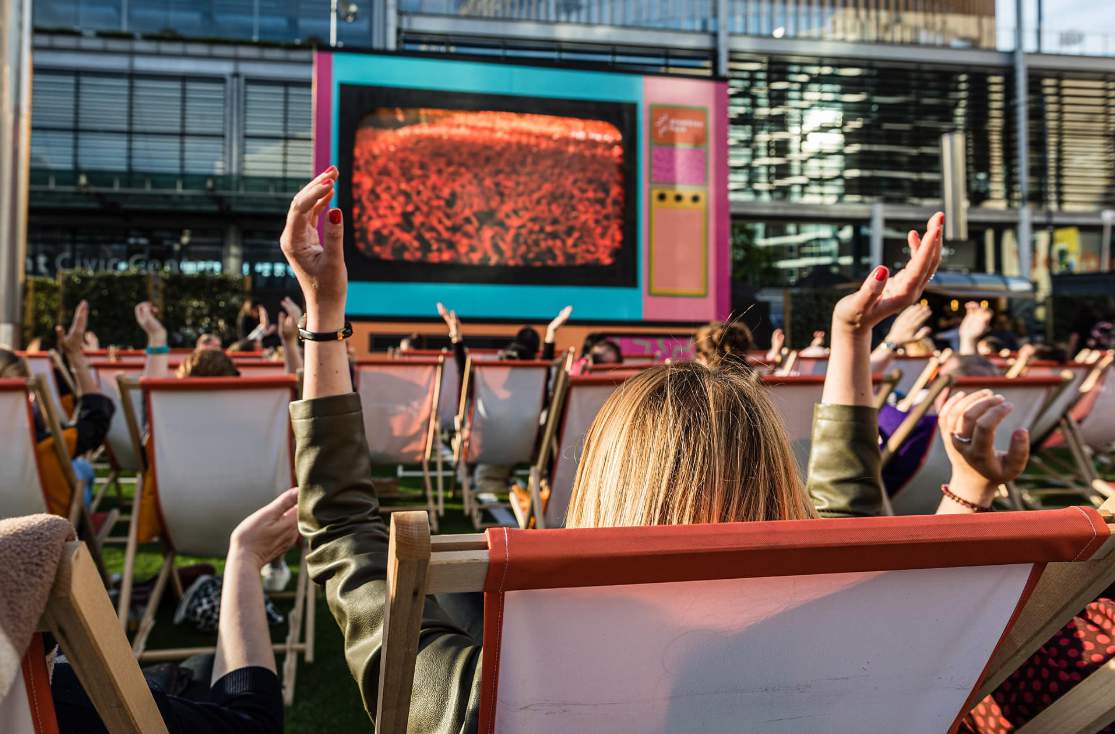 FAQ's
Is this event ticketed?
No, the event is absolutely free! There will be limited deckchair seating available, with plenty of other great viewing points on Olympic Way. Please make sure you arrive early if you want to secure a deck chair seat, as these are usually quite popular.
Can I pre-book a ticket?
No need to print anything! Registration allows you to stay up to date leading up to the event. There will be no allocated tickets for this event.
Where are the screenings?
Summer on Screen is located in Arena Square in Wembley Park, directly adjacent to The SSE Arena, Wembley.
How can I get to Wembley Park?
Wembley Park is easy to reach from central London with three tube lines and an overland line. The Jubilee Line offers access to Bond Street in 19 minutes from Wembley Park Station. The Metropolitan Line has fewer stops to reach Wembley Park Station, and many people swap onto it at Baker Street or Finchley Road. The journey time from Baker Street to Wembley Park Station is 12 minutes. The Bakerloo Underground Line is accessed from Wembley Central Station, offering access to Paddington, Charing Cross and Waterloo. The London Overground Line also runs from Wembley Central Station and gets you to Clapham Junction in 22 minutes.
Wembley Park has over 3,000 secure car parking spaces. Wembley Park's official marshalled car parks are all close to Wembley Park's iconic venues. The nearest car park to Olympic Way is The Yellow Car Park..
Is parking available?
Yes, we have three car parks available (Yellow Car Park, Red Car Park, and Gold Car Park). Please note that event day rates may apply. Please check wembleyofficialparking.com ahead of your visit for rates.
Will there be seating available?
Yes, deckchairs and cushions are available, though there is no reservation as seating is first come first served.
Will there be food and drinks available?
Yes we will have a great selection of food/drinks in Boxpark Wembley just around the corner, and London Designer Outlet.
Are these screenings family friendly?
Yes, all outdoor screenings at Wembley Park are suitable for all ages – bring your nan!
What about the famous London rain?
Unless in case of extreme weather, screenings will be rain or shine, so pack an umbrella! Please check our twitter @wembleypark for on the day updates.