Join us as we launch Roy's Crazy 88 Trek To The Coast fundraiser for an evening of music, magic and fun!
About this event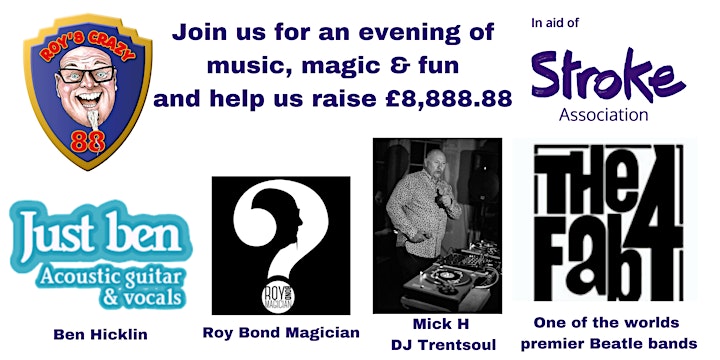 Team Roy's Crazy 88 would love you to join them as they officially launch Roy's Crazy 88 Trek To The Coast.
The walk (or trek) takes place next April starting from Nottingham City Centre on Wednesday 13th April and arriving at The Dunes Complex in Mablethorpe 88 miles later on Good Friday, 15th April.
With an ambitious fundraising target of £8,888.88 in aid of the Stroke Association the team are supporting their fundraising efforts by hosting a couple of additional events that you can support without having to walk 88 miles!
This event on November 14th is the first of two with the next being in February. More news about that will be announced on November 14th.
You can read all about how this crazy idea came about and meet all the team over of their website www.crazy88.co.uk, but before you head off over there please book your tickets and the team will look forward to welcoming you on Sunday, 14th November from 6pm for an evening of music, magic & fun at The Southbank Bar on Friar Lane in Nottingham City Centre.
There will be a sprinkling of magic from Roy Bond Magician, some fabulous music from Just Ben, DJ Trentsoul and The Fab 4 and, as no fundraising event is complete without a raffle, we'll be having one of those too! We have some fantastic prizes lined up for you. You can learn more about those on the team's website www.crazy88.co.uk and there may well be a few surprises throughout the evening too!
See you on November 14th!
Organiser of Roy's Crazy 88 Official Launch
Deborah Labbate - Helping Business Owners Go Further, Faster . . .
With experience of start up and exit and a lot of 'stuff' in between which I've gained since starting my first business back in the '80s. I've exited successfully from one business and under some distress from another. It's all gone in the experience pot which I share with my clients. 
You can read what my clients have to say about working with me here 
My passion for the last 12 years has been supporting businesses, both start-up and established.
I offer mentoring support and practical business advice across a range of sectors to business owners and their teams to drive growth using the tried, tested and proven ideas I've worked with myself.
Often called a confidante, or a critical business friend and sometimes a 'Secret Weapon'.
It really doesn't have to be lonely at the top!
My no nonsense, straightforward approach combined with a unique blend of skills and years of practical business experience could be just what you need if you want an improved bottom line, progress in your business or looking to exit. Maybe even get a bit of your life back into the bargain!
It really doesn't have to be lonely at the top!
I know what that can feel like - I've been there!
An initial chat costs nothing and could be just what you need.
 Check out my services on the website  
 Message me if you have any questions. 
Star Connections by Deborah Labbate  

Connecting you to the people you want to meet.
Business development strategy and planning 

Business development done for you

Networking

Introductions

Referrals

Events