R&R: Remember & Release

Tuesday, 24 October 2017 from 14:00 to 18:00 (BST)
Event Details
R&R: Remeber & Release 
A powerful collaboration between @Omega Axsal, creator of internationally known @YUSALIFE, and @Annika Spalding, award-winning author and Writing Coach, this workshop intends to empower and inspire.
 Beginning with an interactive presentation by Omega Axsal which will focus on an accurate and uplifting historical account of women's role in society, and how their total inclusion and representation was the foundation for the success of many African societies such as Ancient Kemet (Egypt.)
 If you're vocal and love to learn, you'll enjoy the discussion around the importance, power and need for the uprise of the divine feminine energy. As a community, we'll also discuss real-time solutions that we can implement today to fast-track the female revolution.
You'll witness a showcase of black excellence, a showcase of powerful sisters that history lessons in schools fail to teach.
 This is followed by a gentle writing exercise, facilitated by Annika Spalding, which will allow you to identify disempower and release negativity, making room for self-acceptance and self-love. The Dear Inner Child workshop enables you to identify the parts of you that need healing, and allows you to address that through creative writing. Expect to address your past with the power of your written words, and indulge in the opportunity to share that with the sisters in attendance.
The aim of the day is to not only educate, empower and heal but to bring like-minded people together, the entire session will be interactive and will allow you to engage in conversations that are typically swept under the carpet.
Children may attend, but spaces are limited so must be booked in advance.
You may purchase YUSALIFE and What's Your Story? From Omega Axsal and Annika Spalding directly.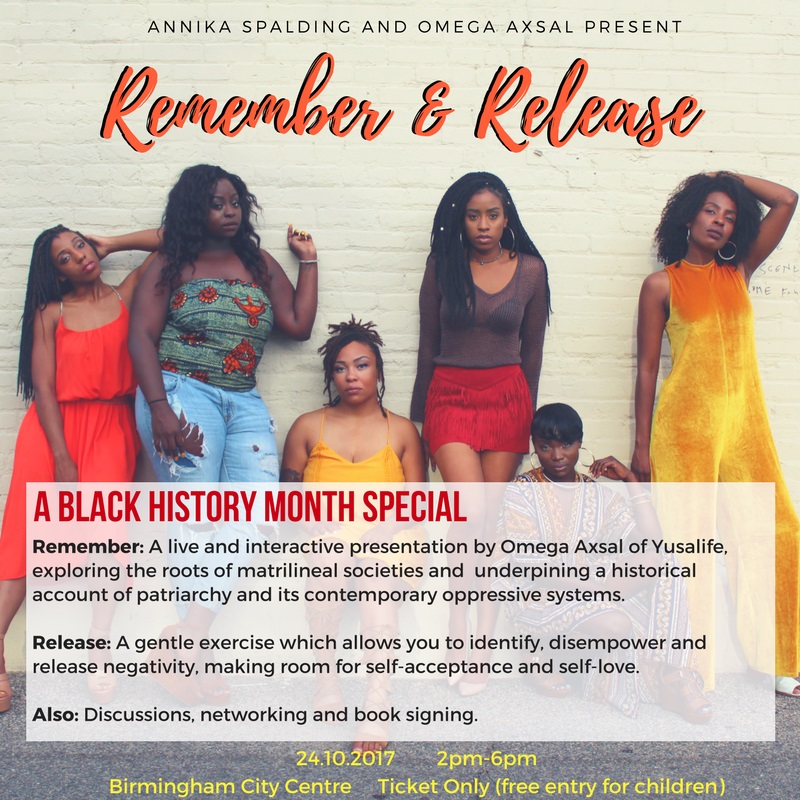 When & Where

3 Three's Coffee Lounge ( Birmingham Coffee Shop)

B2 4UW Birmingham
United Kingdom


Tuesday, 24 October 2017 from 14:00 to 18:00 (BST)
Add to my calendar
Organiser
#ANCESTORSWORK
Welcome to #AncestorsWork Events HQ
Here you can find information about upcoming and past events. 
For more Information or to get in touch please:
Email: Axsal@YUSAbundance.com
IG: www.Instagram.com/Omega_Axsal or www.Instagram.com/AncestorsWork
Please also take time to support www.Patreon.com/UneferAxsal